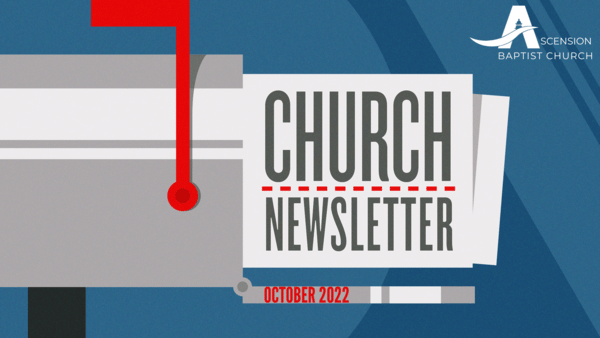 October 2022 Newsletter
A Glance of What's Going on at ABC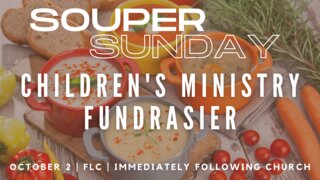 We are selling soups/gumbo by the quart. The funds collected will assist children in deferring the cost for various ministry opportunities. Thanks in advance for your support of this fund raiser!
You can pick up your quart or quarts in the Multi-Purpose Building after church.
Listed below are the types and prices of gumbo and soup.
Gumbo
Chicken and Andouille - $15.00
Chicken and Sausage - $10.00
Soup
Beef and Cabbage - $10.00
Beef and Vegetable - $10.00
Cajun Italian and Sausage - $10.00
Chicken Noodle - $10.00
Corn and Shrimp - $15.00
Taco - $10.00
Tomato Basil - $10.00
Vegetable - $10.00
Misc.
Chili - $10.00
Shrimp Chowder - $15.00
Trunk or Treat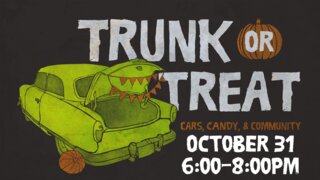 We still need help with Trunk or Treat!
This is a huge ministry opportunity for our church. People in the community are already talking about it and looking forward to it. In order for this to be a huge success, WE NEED YOU TO SERVE! Here are a few ways you can begin to help:
Pray. Pray for good weather. Pray for safety. Pray for the people attending. Pray for receptive hearts. Without the Holy Spirit our best efforts are in vain. I am asking the entire church to begin praying now and trust God for what only He can do.
Sign up for a trunk. Trunk or treat does not work without trunks and the more trunks we have the better. Rain or shine, we will have Trunk or Treat so be prepared to decorate inside if need be.
Sign up to cook chili. Each year we have an annual chili cook-off. This year will be no different. The chili will provide food for all of our visitors as well as be judged by a trained professional.
Be apart of the Gospel Presentation Team. While passing out candy and food to our community is a good thing, it is not the most important thing. We need people who love to talk and are willing to share with others the Good News of salvation. If you would be interested in serving in this way see Charles Thompson.
Donate Candy. Beginning Sunday, you can start dropping candy off at the church! We will have collection totes in the foyer and hallway outside of the sanctuary. We can never have too much candy for Trunk or Treat and each year we always end up purchasing more.
You can sign up through the link below or sign up in the foyer on Sunday or Wednesday.
https://www.signupgenius.com/go/409044bada82dabfb6-trunkrtreat2
Wednesday Night Meal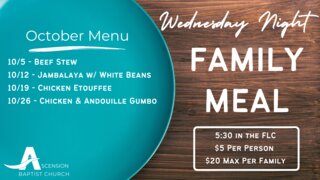 Make plans to join us for the Wednesday Night Family Meal!
Sign up through the link below or in the Foyer on Sunday or Wednesday.
https://www.signupgenius.com/go/409044bada82dabfb6-wednesday
Upcoming Events
Download
Senior adults, meet us at the church at 8:30am for this fun day excursion to Vermillionville Village. See Bro. Red to sign up and for more information.
Thursday, October 6th  •  8:30 am – 5:00 pm (CDT)
Download
The men will meet in the Family Life Center for breakfast.
Saturday, October 8th, 8 am (CDT)
Download
Join us for Food, Fellowship, and a Bible Study on the 4th Tuesday of each Month.
Tuesday, October 25th  •  11:30 am – 12:30 pm (CDT)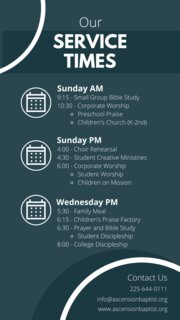 Explore | Equip | Empower
Our address is: 13432 Airline Hwy, Gonzales, LA 70737, USA