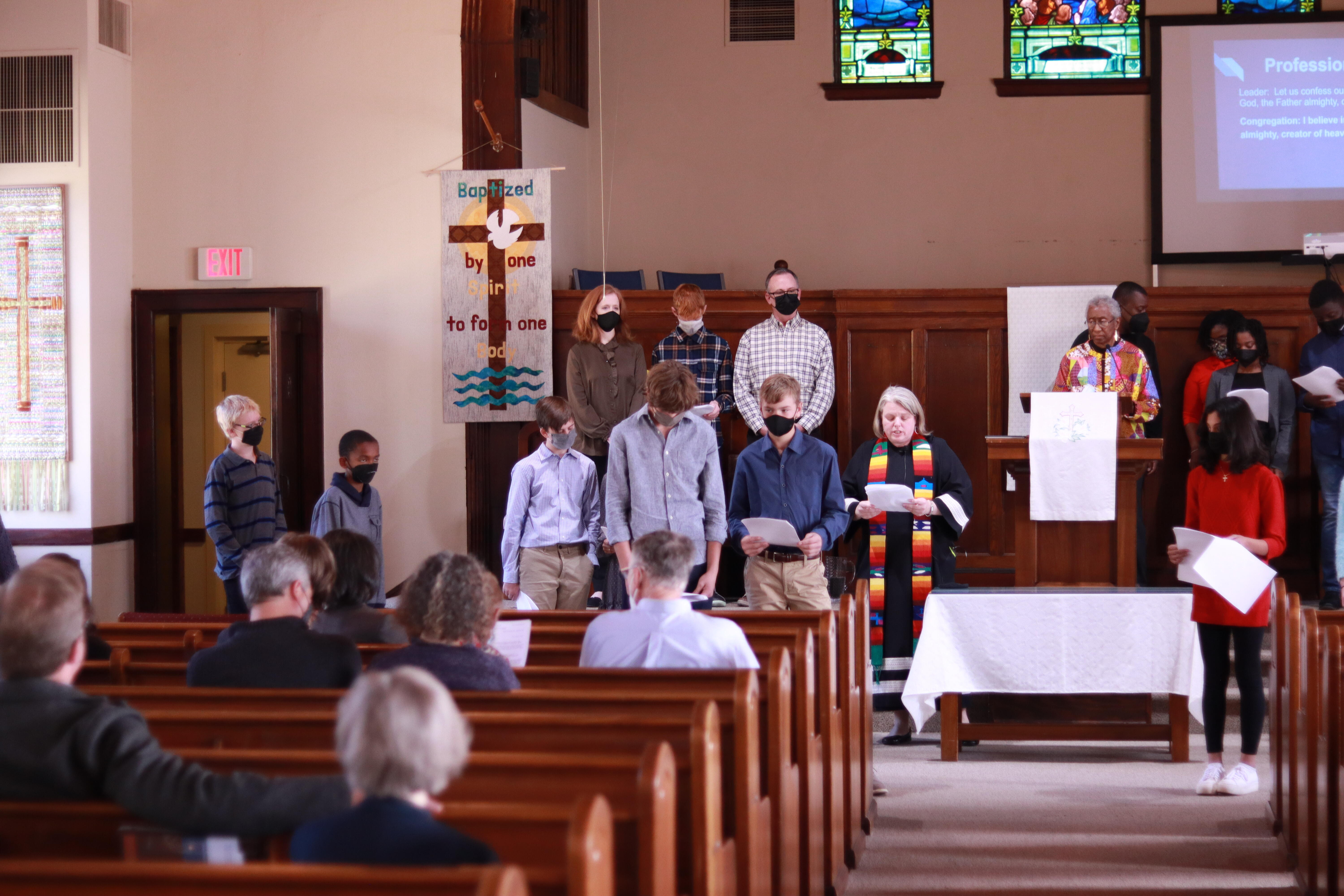 Oakhurst Presbyterian Church, USA
January 2, 2022
January 2, 2022
Oakhurst Presbyterian Church USA
January 2, 2022 Worship
Second Sunday of Advent
Order of Worship
Prelude
WE GATHER
Welcome and Announcements Rev. Heather Chase
Call to Worship
We have life because God chose that for us.
Life had its beginning in God.
Our new year gives us new life.
Through our worship, God is honored.
All creation, including us, will find our new life in God.
Now we see only a part of what God has in store. We shall soon see what God has planned. Let us worship God, who is the Creator of Life and all things new in 2022 and beyond!
Invocation Rev. Amantha Barbee
Opening Hymn O Come All Ye Faithful
OUR HUMANITY
Prayer of Confession & Pardon Rev. Heather Chase
God of goodness and guidance,
In baby Jesus you sent us ligpht to guide our ways,
yet we seek the false security of shadows in which to hide.
In Jesus, you promise new life,
but we prefer to live out of habit, not trusting you,
nursing grievances and clinging to familiar opinions.
You are generous with your love,
but we reject neighbors and fear strangers who differ from us or we don't
Understand because we have made so little effort.
Remake, restore, renew, refresh us in the image of your Son with your mercy,
and teach us how to follow him in the year ahead. In Jesus' name, Amen
Passing of the Peace
THE WORD
Prayer of Illumination Jackie Randolph
Old Testament Reading: Psalms 147:12-20
Anthem Star Child
New Testament Reading: John 1:1-18 Rev. Amantha Barbee
Sermon: Beacons of Light
IN RESPONSE TO THE WORD
Song of Praise Angels From the Realms of Glory
Holy Communion
Communion Hymn The Blood
Invitation to the Table
The Lord be with you.
And also with you.
Lift up your hearts!
We lift them up to the Lord.
Let us give thanks to the Lord our God.
It is right to give our thanks and praise.
…..
Holy, holy, holy, Lord
God of power and might.
Heaven and earth are full of your glory.
Hosanna in the highest!
Blessed is the one who comes in the name of the Lord.
Hosanna in the highest!
Prayers for the People
The Lord's Prayer
Words of Institution
Partaking of the Bread and Cup
Prayer after Communion
Tithes and Offerings
Baskets are at the exits to offer your gifts. You may give online at oakhurstpcusa.org/give ~ PayPal oakhurstpcusa@gmail.com ~ CashApp $oakhurstpcusa ~ Mail 118 2nd Ave. Decatur, GA 30030.
Prayer of Thanksgiving
Final Blessing
Sending Song Lord Make Us More Holy
Worship Leaders today include: Rev. Amantha Barbee, Senior Pastor;
Rev. Heather Chase, Associate Pastor; Matt Wauchope, Musician; Jackie Randolph
Oakhurst Presbyterian Church (USA)
118 Second Ave, Decatur, GA 30030
www.oakhurstpcusa.org
Happening this week at Oakhurst Presbyterian Church:
Tuesday, January 4
6:00 pm Gospel Choir - Contact Rev. -Dr. Lisa Allen-McLaurin In-person Cancelled
Wednesday, January 5
4:30-5:30 pm Racial Justice Vigil - Stand with others who believe Black Lives Matter
7:30 pm Chancel Choir - Contact Matthew Wauchope In-person Cancelled
Thursday, January 6
10:30 am Prayer Group - Contact Rev. Heather Chase for more information
4:30-5:30 pm Racial Justice Vigil - Stand with others who believe Black Lives Matter
Saturday, January 8
10-11:00 am Racial Justice Vigil - Stand with others who believe Black Lives Matter
Sunday, January 9
11:00 am Worship via ZOOM
Check out the calendar on OneChurch to get more upcoming events
https://oakhurstpcusa.onechurchsoftware.com/events/calendar?month=10&year=2021
If you have not signed on to OneChurch please do so. It's easy. If you need help simply call the church office.