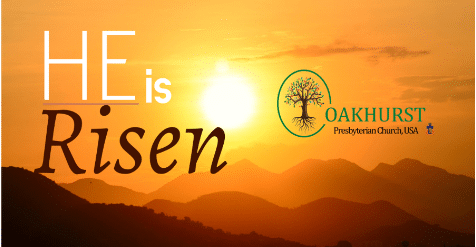 Oakhurst Presbyterian Church, USA
April 24, 2022
Bulletin April 24, 2022
Oakhurst Presbyterian Church USA
April 24, 2022 Worship
Order of Worship
Prelude Rev. Dr. Lisa Allen-McLaurin
WE GATHER
Welcome and Announcements Rev. Heather Chase
Focus On Ministry Opportunities Worship Committee
Call to Worship
Praise the Lord!
Praise God in this earthly dwelling;
Praise God in the heavens!
Praise God for the mighty works;
Praise God unequaled greatness!
Praise God with a blast of the trumpet and clapping hands;
Praise God with the piano keys!
Praise God with the drums and dancing;
Praise God with guitars and horns!
Let everything that has breath sing praises to the Lord!
Praise the Lord!
Invocation
Opening Hymn Praise Ye the Lord, the Almighty #35
OUR HUMANITY
Prayer of Confession & Pardon Rev. Amantha Barbee
Call to Confession
How often have we heard the good news of forgiveness and restoration? Yet, we are still reluctant to believe. God offers us new life, yet we are afraid to let go of the old. Let us confess our doubts and fears to the One who waits to make us whole.
Unison Prayer of Confession
We use a lot of words, Gracious God, but do little to turn them into deeds. Instead of being of one heart and soul, we choose sides and form groups of folks just like us. Blessed with great grace, we have trouble sharing it with those who need it the most. Forgive us, God of love. Forgive us, as we step out of our shadows into your light. Restore us, as we reveal our brokenness. Hear us, as we proclaim Jesus Christ as our Lord and our God. ~Thom Shuman
Silent Prayers
Passing of the Peace
THE WORD
Prayer of Illumination Jane Royall
Old Testament Reading: Psalm 150
Anthem Praise Him
New Testament Reading: John 20:19-31 Rev. Amantha Barbee
Sermon: Let Me See!
IN RESPONSE TO THE WORD
Prayers of the People Text Your Prayer Requests to: 404-551-3791 Rev. Heather Chase
The Lord's Prayer
Tithes and Offerings Rev. Amantha Barbee
You may give online at oakhurstpcusa.org/give ~ PayPal oakhurstpcusa@gmail.com ~ CashApp $oakhurstpcusa ~ Mail 118 2nd Ave. Decatur, GA 30030.
Song of Praise I Will Bless Thee, O Lord
Doxology - Prayer of Thanksgiving
Praise God from whom all blessings flow
Praise Christ all people here below
Praise Holy Spirit ever more
Praise Triune God, whom we adore
Final Blessing
Sending Song Sweet, Sweet Spirit
There's a sweet, sweet Spirit in this place,
And I know that it's the Spirit of the Lord;
There are sweet expressions on each face,
And I know they feel the presence of the Lord.
Sweet Holy Spirit
Sweet Heavenly Dove
Stay right here with us, filling us with your love.
And for these blessings we lift our hearts in praise.
Without a doubt we'll know that we have been revived
When we shall leave this place.
Worship Leaders today include:
Rev. Amantha Barbee, Senior Pastor, Rev. Heather Chase, Associate Pastor;
Rev. Dr. Lisa Allen McLaurin, Musician; Jane Royall, Liturgist
Oakhurst Presbyterian Church (USA)
118 Second Ave, Decatur, GA 30030
www.oakhurstpcusa.org
Happening this week at Oakhurst Presbyterian Church
Tuesday, April 26
12:00 pm Lunch Bunch We will have lunch together at Athens Pizza in Decatur. Everyone is welcome to enjoy the good food and fellowship (Contact: Anne Hughes - 404-312-8513)
6:00 pm Gospel Choir -virtual- Contact Rev. Dr. Lisa Allen-McLaurin
Wednesday, April 27
10:00 am Liturgical Arts
4:30-5:30 pm Racial Justice Vigil - Stand with others who know Black Lives Matter
7:30 pm Chancel Choir-virtual - Contact Matthew Wauchope
7:30 pm Prayer Vigil for Ukraine - First Baptist Church
Thursday, April 28
10:30 am Prayer Group - Contact Rev. Heather Chase for more information
6:30 pm Session by Zoom
Saturday, April 30
10-11:00 am Racial Justice Vigil - Stand with others who believe Black Lives Matter
Sunday, May 1 Earth Day Worship
11:00 am Worship in the Outdoor Sanctuary, lower parking lot, with communion.
If you would like to be added to the weekly email list, contact Cheryl@oakhurstpresbyterian.org
Let us get to know you!
Please take a moment to send us your information so that we may stay connected with you. Your information is carefully managed and protected.
How did you hear about us?