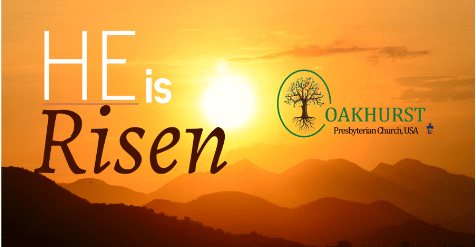 Oakhurst Presbyterian Church, USA
May 15, 2022
Oakhurst Presbyterian Church USA
Asian American Pacific Islanders Heritage Month
May 15, 2022 Worship
Order of Worship
Prelude Matt Wauchope
WE GATHER
Welcome and Announcements Rev. Amantha Barbee
Call to Worship Rev. Heather Chase
Praise be to God,
Creator of time and space!
Who has set eternity in the human heart.
Who gives us today
in which we can be happy and do good.
Today,
in which we can eat and drink and find satisfaction.
Today,
which is a gift from God.
Let us worship the One who makes everything beautiful in its time.
For everything God does will endure forever.
Forever and ever. Amen. ~Joanna
Invocation
God of all glory, on this first day you began creation,
bringing light out of darkness. On this first day you began your new creation, raising Jesus Christ out of the darkness of death. On this Lord's Day grant that we, the people you create by water and the Spirit, may be joined with all your works in praising you for your great glory. Through Jesus Christ, in union with the Holy Spirit, we praise you now and forever. Amen.
Opening Hymn Praise Ye the Lord # 633 J. Cleveland
OUR HUMANITY
Prayer of Confession & Pardon (From the Confession of 1967 - PCUSA) Rev. Amantha Barbee
In Jesus of Nazareth, true humanity was realized once for all. Jesus, a Palestinian Jew, lived among his own people and shared their needs, temptations, joys, and sorrows. He expressed the love of God in word and deed and became a brother to all kinds of sinful men and women. But his complete obedience led him into conflict with his people. His life and teaching judged their goodness, religious aspirations, and national hopes. Many rejected him and demanded his death. In giving himself freely for them, he took upon himself the judgment under which everyone stands convicted. God raised him from the dead, vindicating him as Messiah and Lord. The victim of sin became victor, and won the victory over sin and death for all.
Wise and virtuous men and women through the ages have sought the highest good in devotion to freedom, justice, peace, truth, and beauty. Yet all human virtue, when seen in the light of God's love in Jesus Christ, is found to be infected by self - interest and hostility. All people, good and bad alike, are in the wrong before God and helpless without God's forgiveness. Thus everyone falls under God's judgment. No one is more subject to that judgment than those who assume that they are guiltless before God or morally superior to others.
Passing of the Peace
THE WORD
Prayer of Illumination Ruth Anne Foote
Old Testament Reading Ecclesiastes 3: 1-8
Anthem Spirit, Open My Heart R. Duck
New Testament Reading Matthew 7:1-11 Rev. Brady Radford
Sermon: A Reason, A Season, A Lifetime
IN RESPONSE TO THE WORD
Prayers of the People & Lord's Prayer Rev. Heather Chase
Text Your Prayer Requests to: 404-551-3791 or use the "Green Sheets" in the window sills and
return to the baskets when completed
Tithes and Offerings Rev. Amantha Barbee
You may give online at oakhurstpcusa.org/give ~ PayPal oakhurstpcusa@gmail.com ~ CashApp $oakhurstpcusa ~ Mail 118 2nd Ave. Decatur, GA 30030.
3rd Sunday Hunger Offering Collection - please add your offering to the plate as it is passed
with a note on your check or gift to signify it is for Hunger offering.
Song of Praise Give Thanks # 647 H. Smith
Doxology - Prayer of Thanksgiving
Praise God from whom all blessings flow
Praise Christ all people here below
Praise Holy Spirit ever more
Praise Triune God, whom we adore
Final Blessing
Sending Song Lord, Make Us More Holy #313 (verses 1,2,4)
Worship Leaders today include: Rev. Brady Radford, Rev. Amantha Barbee, Senior Pastor;
Rev. Heather Chase, Associate Pastor; Matt Wauchope, Musician;
Ruth Anne Foote, Liturgist
We welcome Rev. Brady Radford to our pulpit today. Rev Brady served as an Interim Associate Pastor for Oakhurst Presbyterian and now is Pastor of Trinity Presbyterian Church, in Decatur, and the owner of The Lovewell Collective, counseling practice. They aim to help individuals and organizations build healthy relationships and strategize for positive outcomes. The delight of his life centers on the love Rev Brady shares with his partner and wife, Celestine and three adventurous children, Aniyah, Brayden and Kalia.
Let us get to know you!
Please take a moment to send us your information so that we may stay connected with you. Your information is carefully managed and protected.
How did you hear about us?