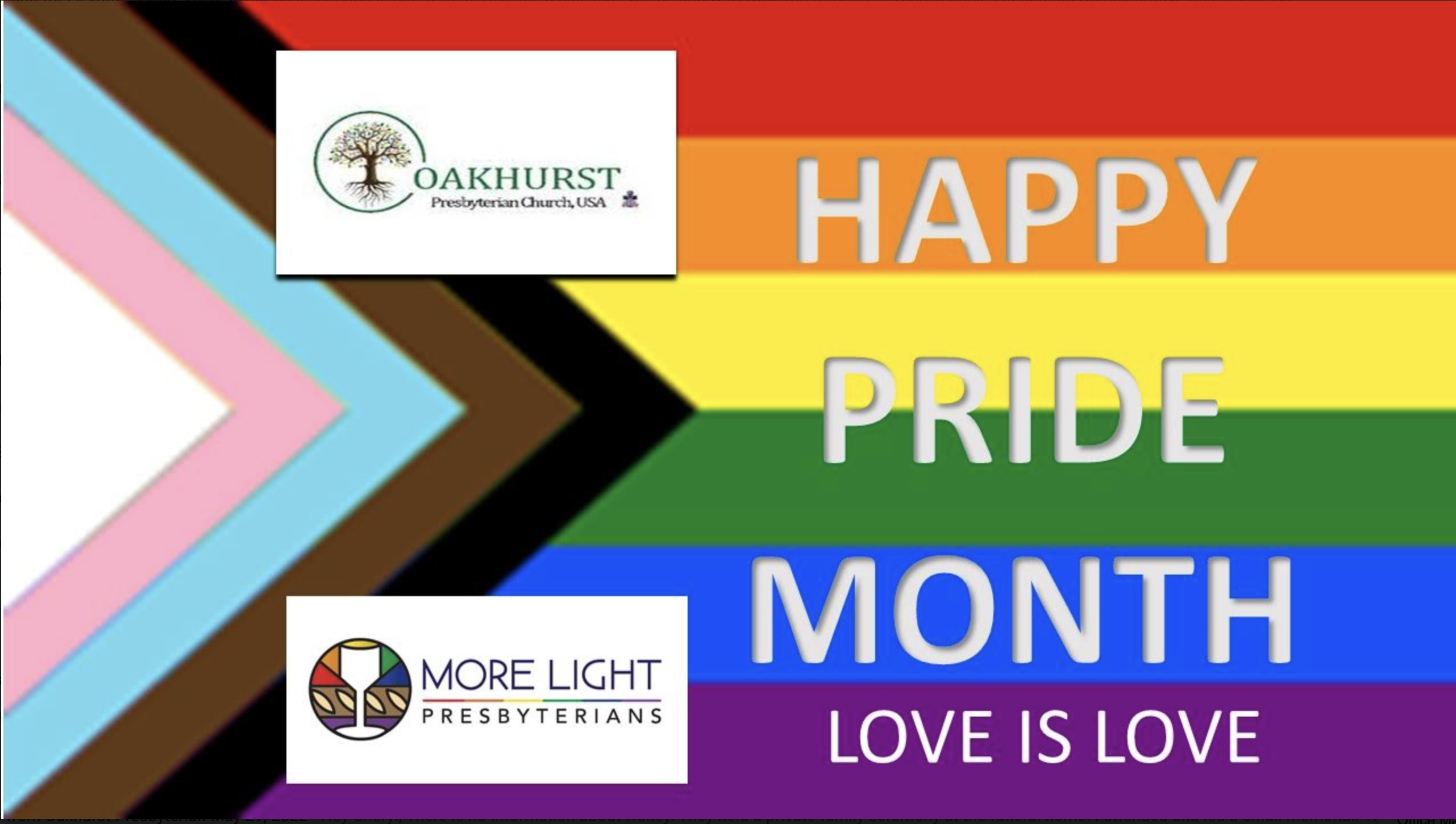 Oakhurst Presbyterian Church, USA
Bulletin Pentecost
Bulletin June 5, 2022
Oakhurst Presbyterian Church USA
June 5, 2022 Worship
Pentecost
Order of Worship
(*please rise in body or spirit)
Prelude Peace, I Leave with You Jean Pasquet
WE GATHER
Welcome and Announcements
Pentecost Offering
* Call to Worship Rev. Heather Chase
The grace of our Lord Jesus Christ,
the love of God, and the communion of the Holy Spirit be with you.
And also with you, let us worship God together.
* Opening Hymn Wa Wa Wa Emimimo (Come Oh Holy Spirit Come) #283
* Litany for Pentecost Readers
In the beginning God created the heavens and the earth.
The earth was without form and void,
and darkness was upon the face of the deep;
and the Spirit of God was moving over the face of the waters. (Genesis 1: 1-2)
The voice of the Lord is upon the waters; the God of glory thunders, the Lord, upon many waters. (Psalm 29:3)
The wind blows where it chooses,
and you hear the sound of it,
but you do not know where it comes from or where it goes.
So it is with everyone who is born of the Spirit. (John 3:8)
The voice of the Lord causes the oaks to whirl, and strips the forest bare;
and in God's temple all cry, "Glory!" (Psalm 29:9)
When you send forth your Spirit all living things are created;
and you renew the face of the earth. (from Psalm 104:30)
The earth is the Lord's and all that is in it,
the world and those who live in it. (Psalm 24:1)
I baptize with you water;
but one more powerful than I is coming
who will baptize you with the Holy Spirit and with fire. (from Luke 3:16)
The voice of the Lord flashes forth flames of fire. The voice of the Lord shakes the wilderness; the Lord shakes the wilderness of Kadesh. (Psalm 29: 7-8)
May the Lord give strength to the people!
May the Lord bless the people with peace! (Psalm 29:11)
* Passing of the Peace Rev. Heather Chase
THE WORD
Prayer of Illumination Karen Owens
Old Testament Reading: Joel 2:28-32 Karen Owens
Anthem Breath Of God Adam Tice, Sally Morris
New Testament Reading: Acts 2:1-12 Rev. Heather & speakers
Pentecost Play Pentecost: Everyone's Talkin' by Andrea Burton Sunday School Kids
Affirmation of Faith adapted from Brief Statement of Faith (PCUSA) - 10.4
We trust in God the Holy Spirit, everywhere the giver and renewer of life.
The Spirit justifies us by grace through faith, sets us free to accept ourselves and to love God and neighbor, and binds us together with all believers in the one body of Christ, the Church.
The same Spirit who inspired the prophets and apostles rules our faith and life in Christ through Scripture, engages us through the Word proclaimed, claims us in the waters of baptism, feeds us with the bread of life and the cup of salvation, and calls women, men, and people to all ministries of the Church.
In a broken and fearful world the Spirit gives us courage to pray without ceasing, to witness among all peoples to Christ as Lord and Savior, to unmask idolatries in Church and culture, to hear the voices of peoples long silenced, and to work with others for justice, freedom, and peace. In gratitude to God, empowered by the Spirit, we strive to serve Christ in our daily tasks and to live holy and joyful lives, even as we watch for God's new heaven and new earth, praying, "Come, Lord Jesus!"
IN RESPONSE TO THE WORD
Holy Communion
*Communion Hymn Hallelujah Pelo Tsa Rona #538
Invitation to the Table Rev. Heather Chase
The Lord be with you.
And also with you.
Lift up your hearts!
We lift them up to the Lord.
Let us give thanks to the Lord our God.
It is right to give our thanks and praise.
…..
Holy, holy, holy, Lord
God of power and might.
Heaven and earth are full of your glory.
Hosanna in the highest!
Blessed is the one who comes in the name of the Lord.
Hosanna in the highest!
Words of Institution
Prayers of the People
Partaking of the Bread and Cup
Prayer after Communion
Offering
You may give online at oakhurstpcusa.org/give ~ PayPal oakhurstpcusa@gmail.com ~ CashApp $oakhurstpcusa ~ Mail 118 2nd Ave. Decatur, GA 30030.
*Doxology
Praise God from whom all blessings flow
Praise Christ all people here below
Praise Holy Spirit ever more
Praise Triune God, whom we adore
Prayer of Thanksgiving
Benediction
*Sending Song Shalom, Chaverim #540
Worship Leaders today include:
Rev. Heather Chase, Associate Pastor; Matt Wauchope, Musician; Tom Burton, Tanya Myers, Tadesse Owens, Karen Cobham-Owens, Ginny Merritt - Liturgists; Sunday Schooler Players (see cast list below);
Oakhurst Presbyterian Church (USA)
118 Second Ave, Decatur, GA 30030
THANK YOU to Suzannah Lipscomb and Jennifer Kimball for their leadership of the Pentecost Play!
THANK YOU to the cast for the play:
Bennett Copp - Mack Ada Gage - Classmate #1
Baxter Copp - Matt Kiera McPherson - Classmate #2
Isaac Chase - Tristan Erin Myers-Beck - Classmate #3
- Classmate #4
Happening this week at Oakhurst Presbyterian Church:
Sunday, June 5
11:00 am Worship
Monday, June 6
6:00 pm Rev. Barbee's Monday Night Class 6 pm on Mondays Zoom Meeting
Tuesday, June 7
6:00 pm Gospel Choir - Contact Rev. Dr. Lisa Allen-McLaurin
Wednesday, June 8
4:30-5:30 pm Racial Justice Vigil - Stand with others who know Black Lives Matter
7:30 pm Chancel Choir - Contact Matthew Wauchope
Thursday, June 9
10:30 am Prayer Group - Contact Rev. Heather Chase for more information
Saturday, June 11
10-11:00 am Racial Justice Vigil - Stand with others who believe Black Lives Matter
Sunday, June 12
11:00 am Worship
High School Senior Recognition & Middle School Mission Trip Commissioning
Check out the calendar on OneChurch to get more upcoming events
https://oakhurstpcusa.onechurchsoftware.com/events/calendar?month=10&year=2021
If you have not signed on to OneChurch please do so. It's easy. If you need help simply call the church office.
Let us get to know you!
Please take a moment to send us your information so that we may stay connected with you. Your information is carefully managed and protected.
How did you hear about us?