ARISE!
A weekly newsletter brought to you by the Oregon City church of Christ
VOL 1, ISSUE 10 - 6.6.2021
Government
Ron Writes
I have been shocked at how submitting to governing authorities has been seen as showing a lack of faith in God by many Christians today.
Oh, I get it. I'm a rebel at heart. Don't tell me what to do. Don't tread on me. Rebellion? I'm in! I want my rights. It's all about freedom. Too many mandates. Too much regulation. There's a little lawyer inside me that rises up within me and cries "I object!" That's my old self for sure. It sneaks out of me if I'm not careful.
When did rebelling against government authorities become a sign of faith in God? Especially when God's Word tells us the opposite. Romans 13:1-3, "Every person is to be in subjection to the governing authorities. For there is no authority except from God, and those which exist are established by God. Therefore whoever resists authority has opposed the ordinance of God; and they who have opposed will receive condemnation upon themselves." How much clearer can God be? You are not obey-ing God by refusing to submit.
But if I obey it will be taken as agreement. It's not as if there has ever been a perfect government. In Paul's day, when he wrote Romans the government was filled with corruption, inefficiency, injustice, and every conceivable vice. Obedience doesn't mean that you necessarily agree – it means that you love God enough to obey! Re-fusing to submit to the government is not a demonstration of faith – it's disobedience to God!
Peter wrote "Submit yourselves for the Lord's sake to every human institution, whether to a king as the one in authority, or to governors as sent by him…." (1 Pt. 2:13-14a). "For the Lord's sake" clarifies that it is God who wants us to submit. Eve-ry inconvenient mandate is not an afront against Christianity.
What did Jesus say? If you see a Christian compelled by the government to go one mile, then taunt him for his lack of faith. No, remember to go the extra mile (Mt. 5:41). Jesus wants us to be known by our humility and submission.
"Remind them to be subject to rulers, to authorities, to be obedient, to be ready for every good deed, to malign no one, to be peaceable, gentle, showing every consideration for all men" (Tit. 3:1-2).
Drive-in Worship
Drive-in worship will end on June 13
Beginning on Father's Day, June 20 we will only have indoor worship and live-streaming.
In order to stay in compliance with the OHA COVID guidelines, the elders will immediately adopt the following measures:
Oregon is no longer requiring face coverings outdoors, so masks can be removed outside of the building for those com-fortable doing so.
Oregon is allowing fully vaccinated individuals with proof of vaccination to be admitted indoors without a face covering and they do not need to physically distance.
Oregon still requires unvaccinated individuals to wear masks indoors and continue physical distancing.
We understand everyone's concerns and appreciate your willing-ness to follow these guidelines.

Prayer Requests
Linda Riley has been in the hospital with COFID pneumonia.
Liz Rininger had a spill on her scooter resulting in road rash, cuts and bruises.
Bob Reynolds—is improving after being in the hospital with an infection. He is i a rehab facility to gain some strength back.
Judy Headrick's neighbor, Donna broke her leg in several places. She will be in a cast for quite some time and is asking for prayers.
Chery Ruhl recovering from foot surgery.
Janet Powers' sister, Karen Trigs, who has been diagnosed with breast cancer.
The Nelson Family as they make adjustments.
Camp Yamhill as they prepare for Summer Camps. Steve Haney will be counseling at several camps this summer.
Susan Nickell—Recovering from surgery for a broken wrist.
Barbara Broadbent—continuing back issues.
Rick Murphy - cancer.
RuthAnn and David Reynolds - general prayers and RuthAnn's cancer.
Our elderly, general health: Bob and Ruth Reynolds, Joyce Poyser, Frances Hicks, Gracie Burnham, Ann Bessire, Fay Leighton, Ida Pruitt
Anil, Simbarashe and Nhamo - Ministers we help support in other countries.


INDIA MISSION
Please remember Anil and his family and congregation, and all the peoples of India during this COVID crisis.
From Eduardo.
Benito Ibarra iis better; they are already giving him rehabilitation to be able to walk with his prosthesis and he will soon leave the hospital to continue his treatments from home.
Ofelia Chavez, Ramiro's sister is already at home and she is better after being in the hospital for almost a month due to Covid.
Rosa Chapina, stage 4 cancer.

Around Our Area
Registration for Summer camps is open.
Everyone must register on-line, https://campyamhill.org/
See Steve Haney for ANY questions. Every kid goes to camp!
Servants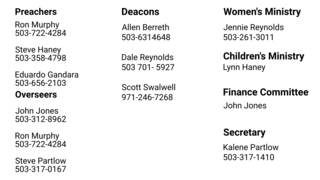 Contact Information
Please call 503-656-8656 to leave a message at the building.
email us at—churchofchristoc@gmail.com
View our web site
https://www.oregoncitychurch.org
or find us on Facebook at
www.facebook.com/oregoncitychurchofchrist
To view the weekly bible classes and weekly sermons, look us up on
Type, Oregon City Church of Christ in the search bar.
Ministries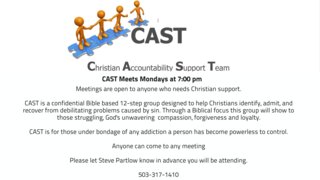 Our address is: 335 Warner Milne Road, Oregon City, OR, 97045