ARISE!
A weekly newsletter brought to you by the Oregon City church of Christ
VOL 1, ISSUE 9 - 5.30.2021

Understand
Ron Writes
Have you ever been misunderstood? Don't you understand anything? Murphy's law says that if you make something absolutely clear, someone will be confused. Human interaction is fraught with miscommunication. Some days seem to be filled with the frustration of clearing up misunderstandings. At times it seems that some want to misunderstand. I know you think you understand what I said, but what I said isn't what I intended to say.
The dialogue in the upper room (Jn 13-17) appears to be driven by misunderstandings. Peter asks, "Lord, where are You going? Jesus answered, "Where I go, you cannot follow Me now; but you will follow later." Peter said, "Lord, why can I not follow you right now" (Jn. 13:26-27)? Thomas said, "Lord, we do not know where You are going, how do we know the way" (Jn. 14:5)? Phillip doesn't understand, "Lord, show us the Father, and it is enough for us" (Jn. 14:8). Judas (not Iscariot) asked, "Lord, what then has happened that You are going to disclose Yourself to us and not to the world" (Jn. 14:22)? Some disciples were asking "What is this thing He is telling us" (Jn. 16:17)? And "What is this that He says…. We do not know what He is talking about" (Jn. 16:1)? John uses dialogue and these misunderstandings to teach us some of the most amazing truths from Jesus.
Sometimes you're the windshield and sometimes you're the bug. Sometimes we feel the frustration of Jesus and wonder why we have to be surrounded by those who just don't get it. Why do people always seem to disappoint us? Unfortunately, most of us don't have the patience of Jesus.
Then there are the times when we're so dense, we just don't get it. Jesus' disciples were physically with Him for years, but they still didn't always understand Him.
So what's the lesson? Stop being so hard on yourself. Especially stop being so hard on others. Now, who doesn't understand what I'm talking about?
Drive-in Worship
Drive-in worship will end on June 13 . Beginning on Father's Day, June 20 we will only have indoor worship and live-streaming.
In order to stay in compliance with the OHA COVID guidelines, the elders will immediately adopt the following measures:
Oregon is no longer requiring face coverings outdoors, so masks can be removed outside of the building for those com-fortable doing so.
Oregon is allowing fully vaccinated individuals with proof of vaccination to be admitted indoors without a face covering and they do not need to physically distance.
Oregon still requires unvaccinated individuals to wear masks indoors and continue physical distancing.
We understand everyone's concerns and appreciate your willing-ness to follow these guidelines.

Prayer Requests
Shari Kay and Linda Riley both have COVID. Please pray for their speedy recovery
Judy Headrick's neighbor, Donna broke her leg in several places. She will be in a cast for quite some time and is asking for prayers.
Connie Branecki's co worker, Jan had surgery for an aneurism.
Chery Ruhl had surgery on her foot. It looks like everything is good and Cheryl is recovering well.
Janet Powers' sister, Karen Trigs, who has been diagnosed with breast cancer.
The Nelson Family as they make adjustments.
Camp Yamhill as they prepare for Summer Camps. Steve Haney will be counseling at several camps this summer.
Susan Nickell—Recovering from surgery for a broken wrist.
Barbara Broadbent—continuing back issues.
Rick Murphy - cancer.
Bob Reynolds—Was admitted to Providence Milwaukie Friday night with with an infection.
RuthAnn and David Reynolds - general prayers and RuthAnn's cancer.
Our elderly, general health: Bob and Ruth Reynolds, Joyce Poyser, Frances Hicks, Gracie Burnham, Ann Bessire, Fay Leighton, Ida Pruitt
Ann Bessire – now in a memory care facility.
Grace Burnham is now in assisted living.
Anil, Simbarashe and Nhamo - Ministers we help support in other countries.


INDIA MISSION
Please remember Anil and his family and congregation, and all the peoples of India during this COVID crisis.
From Eduardo.
Benito Ibarra is better; they are already giving him rehabilita-tion to be able to walk with his prosthesis and he will soon leave the hospital to continue his treatments from home.
Ofelia Chavez, Ramiro's sister is already at home and she is better after being in the hospital for almost a month due to Covid.
Felipe Alcantara's foot is already better and is working normally.
Rosa Chapina, stage 4 cancer.

Around Our Area
Registration for Summer camps is open.
Everyone must register on-line, https://campyamhill.org/
See Steve Haney for ANY questions. Every kid goes to camp!
Servants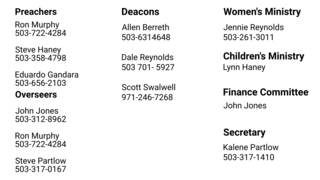 Contact Information
Please call 503-656-8656 to leave a message at the building.
email us at—churchofchristoc@gmail.com
View our web site
https://www.oregoncitychurch.org
or find us on Facebook at
www.facebook.com/oregoncitychurchofchrist
To view the weekly bible classes and weekly sermons, look us up on
Type, Oregon City Church of Christ in the search bar.
Ministries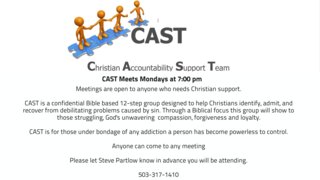 Our address is: 335 Warner Milne Road, Oregon City, OR, 97045