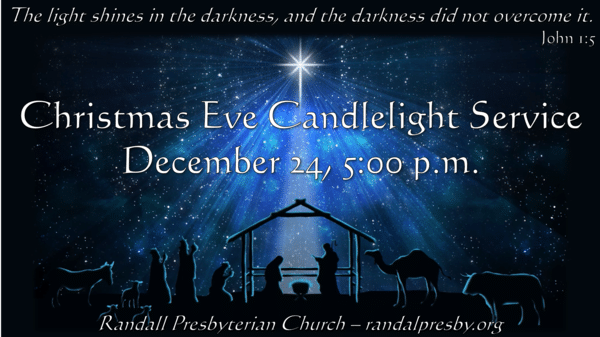 Randall Presbyterian Church
Merry Christmas
Join us Christmas Eve at 5:00 p.m.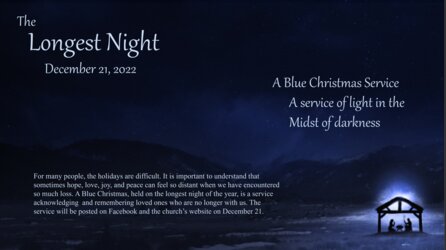 The Sunday after Christmas
Sunday, December 26, 10:00 a.m.
Sunday Scripture: Luke 2:8-15
"The Year Christmas Was Almost Cancelled"
The Worship service is indoors.
Masks are recommended, but not required.
On-Line Worship
The service will be streamed live at 10:00 a.m. It will also be recorded and can be viewed anytime the church's webpage. A link will also be on Facebook.
Prayer Concerns
Tori Clark
Tori is home and doing better after a trip to Mayo Hospital.
Gary & Beverly Pietz
Both are suffering from Covid. Gary is hospitalized in Staples.
Joyce McDonald
Please keep Joyce and Gary in your prayers as Joyce struggles with cancer.
Chris Magee
Please keep Chris and his family in your prayers as Chris struggles with cancer.
Betty Pasela
Betty is Mary Skoog's sister. Please keep her in your prayers.
Chad Keller
Brad's cancer has returned. Chad is Kari Magee's brother.
Upcoming Birthdays
Nick Turner, Dec 25
Coyer Waldoch, Jan 3
Steve Magee, Jan 4
Readers Needed to Help with Worship
Readers are needed to assist during the Sunday Morning worship services. Volunteers can signup at the church or online.
Our address is: 217 1st Street, Randall, MN, 56475