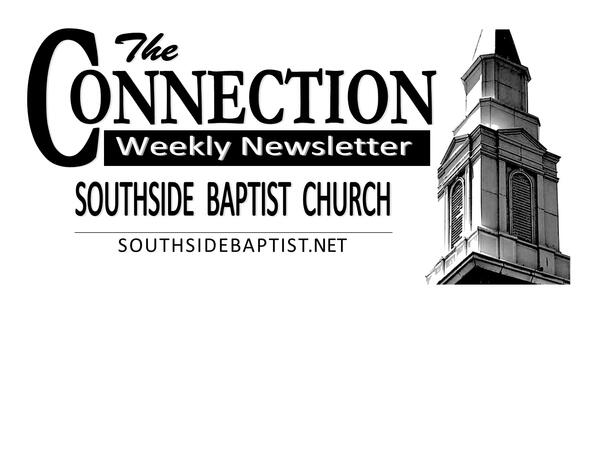 The Connection
June 20, 2022
Special Prayer Requests This Week

Thank you for passing on prayer requests! If you would like to add someone to the prayer list or have a special request, please contact Pam in the church office. 256-353-8814
Peggy Pangle - not doing well
Charles Spears - heart issues
Travis Cavnar - broken hip, in rehab
Bob McGrew - recovering from gall bladder surgery
Jim McCulloch - health issues
Frank Harrison - health issues
Donna Mathis - health issues
Tom and Peggy Pangle - recent move and health issues
Martha Sharp - recovering from back surgery
Paul and Dot DeVine - health issues
Barbara Smith - strength
Frank Smith - health issues
Nancy Davis
Bryan Carpenter - health issues
Glynice McGrew - health issues
Kay Hamilton - healing, rehab for knee
Sandra Cavnar - health issues, moving to assisted living
Louise Means - back health issues
Larry Moats - health issues
Mike and Sandra Clemons
Mack Wyatt - return to church
Prayer Requests for our family members, friends, people in our community...
John Cook Jr. - still in Atlanta for outpatient rebab and making great progress.
Debbie Collins - Tom Pangle's niece - diagnosed with ovarian cancer
Michael Allen - Ann Allen's son - cancer
Mary Kelley - Sandra Clemon's sister - aggressive breast cancer
Maude Terry - Kay Trussell's family - stage 4 cancer
Caleb Russell - Tom Pangle's nephew
Sanctuary Flowers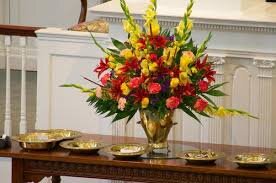 If you would be interested in providing flowers for the sanctuary in memory or in honor of someone, please contact the church office.
Approximate cost is $75.00 for a beautiful arrangement to use in the vestibule or on the alter table. Checks should be made payable to Southside Baptist Church, and indicate for floral arrangement. You can choose the week and even make requests for what flowers you would like to have used in the arrangement.
Contact the church office for more details or to reserve a week.
Speaker this Sunday
Our guest speaker this Sunday, June 26, will be Evangelist Spencer Bell.
Wednesday Book Study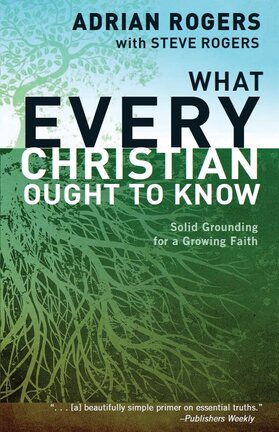 Bill Means will be teaching the Wednesday Night Book Study, "What Every Christian Ought to Know" beginning this Wednesday, May 18th at 5:00 pm in the Fellowship Hall. He will be picking the study up at Chapter 5. Bill will not be teaching from an outline so please read the chapter before class and be prepared for discussion and to ask a lot of questions.
If you haven't been attending the study, it's not too late! Bill encourages everyone to join in. Books are still available in the church office and in the sanctuary on the welcome table. At the end of the study Bill will go back for those who start the study now and teach the first four chapters.
Pastor Search Committee
The Deacon Body will call a Special Called Business Meeting for the selection of a Pastor Search Committee. During that meeting nominees will be made by the church membership. This Special Called Business Meeting will be announced at a later date.
Procedures you should follow if you wish to make a nomination:
Contact the person you wish to nominate and secure their willingness to serve.
Contact Pam in the church office and a form will be provided to complete.
Verlon Whaley, Chairman of the Deacons
Southside Deacons
Southside active deacons are: Verlon Whaley, Chairman, J.B. Dye, John Jones, Ray Cox, Vernon Chance, Sam Ward, Chuck LaMar.
Car Magnets Available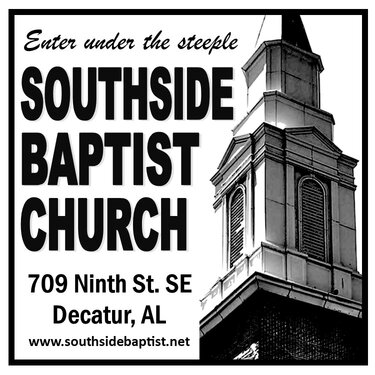 We just received the above 5"x5" car magnets available to our church members. If you would like one they will be on the back table in the sanctuary or in the church office.
Announcements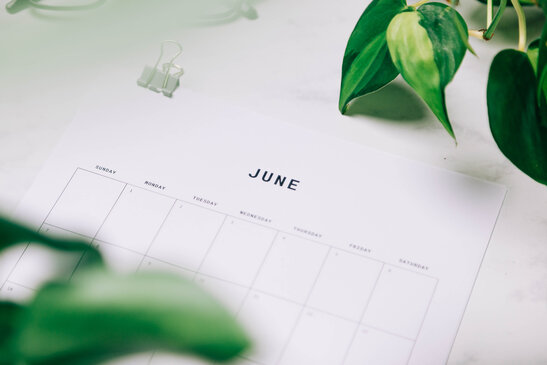 Notary Public - Pam is a notary public - if you need a document notarized come by the church office, Mon.-Thu., 9 to 3.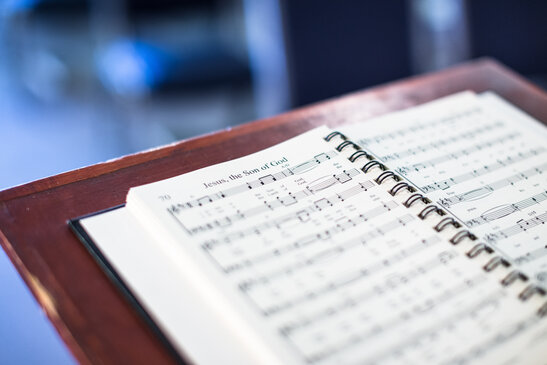 Choir Rehearsal
Choir rehearsal this Wednesday night, June 22nd at 6:00 pm in the sanctuary. Special thanks to the choir and worship leader Ray Cox for the great job they do every Sunday leading us in worship!
There is still room for you in the choir - join them for rehearsal Wednesday night or at 10:00 am Sunday morning in the sanctuary.
Missionary Birthdays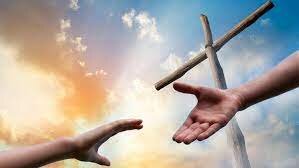 Monday, June 20
IMB: LH, (Central Asian Peoples); DJ, Dena Odom, (European Peoples); JS, (Northern African and Middle Eastern Peoples); MM, (Sub-Saharan African Peoples). Retired: Michael Adams, Milton Allred, Nancy Calvert, Jesse Hoyer, Dennis McCall, Kaye Morrison, Linda Rice, Jeri Smith.
NAMB: Kyungho Lee, (CA); Arthur Goncalves, (FL); Eric Groce, (IL); Randall Waller, (IN). Retired: Frances G Baumgardner, (NC); Gerald Lunsford, (OK); Donald Childress, Elma Perez, (TX).
Worship Attendance & Small Groups

Don't have number today. Sunday School begins at 9:15 am to 10 am. Choir members go to the sanctuary for rehearsal at 10 am. Remaining group is encouraged to fellowship for 15 minutes then make their way to the sanctuary.
78 in Sunday Worship in the sanctuary. Join us for worship service on Sunday at 10:30 AM. Measures are in place to make you as safe as possible! If you are a high risk individual or feel safer at home, please continue to gather with the church online.
We want to know if you are present with us!! Help us record your attendance in worship this past Sunday in the Sanctuary or online by visiting this link: https://southsidebaptist.net/attendance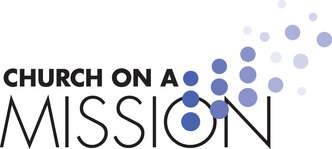 2,000 Pill Bottle Donated!!!!!
Southside Baptist has contributed 2000 medicine bottles! Continue to bring your bottles to the church - collection baskets are in the sanctuary or drop by the church office. Matthew 25: Ministries accepts donations of empty plastic pill bottles for inclusion in shipments of medical supplies and for shredding and recycling. This pill bottle program fulfills the dual needs of improving medical care in developing countries and caring for our environment. Acceptable collection items include: Prescription and over the counter pill bottles, large and small pill bottles, pill bottles with or without secure caps (child resistant).
Bill and Louise Means collect the pill bottles. If you have any questions contact Bill 1-615-405-4060 or Louise 1-615-513-9551.
June Birthdays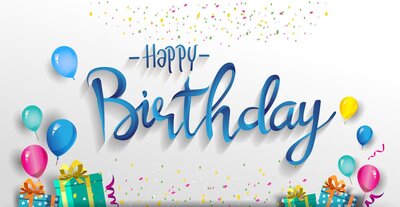 June
6/20 - Glenda McCulloch (305 Courtney Dr. SW Apt. 801, Decatur, 35601)
6/20 - Luke Hood (1704 Yorktown Cir. SW, Decatur, 35603
6/23 - Peggy Hairrell (210 Wilson St. NE Apt 1105, Decatur, 35601)
6/24 - James Fowler (2100 Sunset Dr. NW, Hartselle, 35640)
6/28 - Helen Hill (2201 Eastbrook SE, Decatur, 35601
6/29 - Sandra Cavnar - Priceville Terrace
6/30 - Mike Clemons (3310 Cedar Cove SW, Decatur, 35603)
6/30 - Butch Hill (2201 Eastbrook SE, Decatur, 35601)
Homebound Members
Please remember our homebound members - send them a card, give them a call!
Ski Belovsky (4087 Hwy 31 South, Rm 9, Falkville, 35622)
Travis and Sandra Cavnar - Priceville Terrace
Paul and Dot DeVine (3303 Deere Rd, Decatur, 35603)
Peggie Hill (1824 Presbyterian Dr. SW, Apt. 607, Decatur, 35603)
Edith Hodges (115 Barons Cr NW, Madison, 35757)
Dean Lee (1820 Vest Rd NW, Hartselle, 35640)
Virginia Penney (436 Autumnwood Dr. SW, Decatur, 35601)
Anne Quarles (3928 Greenside Terrace, Hoover, 35226)
Ann Ray (2119 Parkplace St. SE, Decatur, 35601)
Frank Smith (3712 Sabine Ct. SW, Decatur, 35603)
Christine Maddox (1052 Natural Bridge Rd, Hartselle, 35640)
Mary Virginia Roan (2115 Point Mallard Dr, Apt 148, 35601)
Our address is: 709 9th Street Southeast, Decatur, AL, 35601