Traces of Grace
Volume 64- July 8, 2021
"WELCOME RAMBO FAMILY"


We invite you to join us in welcoming our new Pastor, Scott Rambo, his wife Meg and their four sons, Tim, Ben, Josiah & Eli, as they begin their ministry here at FUMC! This Sunday morning service, Pastor Scott will be delivering the message titled, "Let's Repent ", from Luke 19:1-10, the second in his series, "Let's Eat! You won't want to miss this Sunday and please be sure to introduce yourselves to the Rambo Family!
The link to access the livestream will be available on our website at fumccollingswood.org, where you'll also be able to view a recording of the service throughout the week.
Worship Service Update:
We have relaxed our COVID protocols based on new guidelines released by the CDC and the State of NJ:
Pre-registration is no longer required to attend our services in-person, but Sign-In for attendance purposes is needed.
Temperatures will not be taken.
Seating in the sanctuary will be relaxed to every other pew. (instead of every 3rd pew)
All pews will once again have a pew pad.
Hymnals & Bibles will be available in all pews.
Masks will no longer be required.
NOTE: The decision whether to wear a mask or not is an intensely personal one. We request that everyone participating in our services respect one another's personal decision regarding masks. If you see someone wearing a mask, please be sure to keep your distance as you approach that individual. If you choose to wear a mask and remain distanced from others, our Welcome Team will do their best to accommodate that request.
We will continue to live-stream the service as well, so if you are not yet comfortable in a public setting, we understand and invite you to join us virtually through our website. The building will also be available - on a scheduled basis - for use by various small groups.
Please contact Pat Gunning for building availability.
Soul Cafe's Summer Events:
Some upcoming events to help support Soul Cafe, a United Methodist Faith Community doing church differently, located in Magnolia, NJ. :
Sat., 7/31 , 11:00am-sell out, FISH FRY!
Sat., 8/14, 8:30am-12:30pm, SERVICE PROJECTS!
**Flyers with more detailed information will be available at the Sign-in tables on Sunday or you can call: 856-739-1052 for more info.
" Missing Reference Books" Mystery!
We have discovered recently that we have many sets of Reference Books in our church library. Unfortunately, many of those sets are missing a volume or two! Please check to see if perhaps you borrowed one and shelved it in your own book shelf. If you have a book(s) to return, please leave them on the first desk of the office or on the Sign-in table before Sunday Service. Thank you!
"Baby Bottle" Collection Ends
Just a reminder that our "Baby Bottle" collection to support Options for Women, a pregnancy care center, in Cherry Hill, NJ, has ended. If you still have your Baby Bottle(s) to turn in, there is a designated spot, near the Sign-in tables for you to drop it off before or after our Sunday Service. If you have any bottles that are empty, please return those also. Envelopes for check donations can be found at our Check-in tables if you would still like to donate. Many thanks to all of you who were able to give to this very worthy cause. If you have any questions, please contact Judy Boswell. To find out more about Options for Women, be sure to check out their website at optionscherryhill.org. There are many ways you can help this ministry throughout the year!
Summer Camp Days - "Lots of Fun"
For all children, Pre-K to Grade 6, Summer Camp Days are coming soon! Beginning 10:00-11:30am, outside behind the church, we will have a Bible story, games, prizes, a craft or two and a snack! There may even be a Carnival Day and a Water Balloon fight- you won't want to miss it!!


Upcoming Camp dates :
Wednesday, July 14th
Thursday, August 5th
Thursday, August 19th
*Any questions please call Miss Pat -(856)962-8010
A Message from Pastor Scott
Dear First UMC Family,
Thank you for the way you warmly welcomed me and my family on our first Sunday with you! We are grateful for the time you took to introduce yourselves, get to know us a little bit, and the words of encouragement you shared with us. We are excited to join you all in ministry and to become part of the First UMC family. We are also really looking forward to meeting those of you we haven't had the chance to meet yet and for the opportunity to get to know you more this summer through the "get to know you" gatherings.
So much has changed in our world, our nation, our community, and even our church over the past 18 months since COVID-19 first came to New Jersey, but the God we serve is still the same God yesterday, today, and forever. I know many of us do not really like change and are looking forward to things getting "back to normal" but, as the pandemic recedes, I believe we are not heading "back to normal", but to a "new normal". I can't tell you all of what the new normal is going to look like, but I want to ask you to join me in praying about what it looks like for First UMC to be faithful to who God has called us to be as we adapt to the new realities that are emerging. I have been praying that God would give us a new vision of how to reach our community with the "old, old story of Jesus and His love".
Would you join me in praying? And would you take time this summer to help me get to know who you are and who First UMC has been and needs to be in the future?
-Pastor Scott
New Sermon Series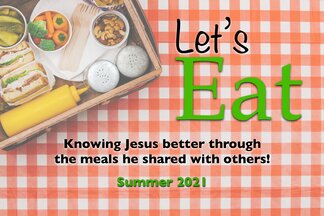 Please join us for our upcoming sermon series called, Let's Eat.
July 4 - Let's Party - Luke 5:27-32
July 11 - Let's Repent - Luke 19:1-10
July 18 - Let's Give It Away - Luke 9:10-17
July 25 - Let's Wash - Luke 11:37-52
August 1 - Let's Remember - Luke 22:14-38
August 8 - Let's Be Humble - Luke 14:1-24
August 15 - Let's Believe - Luke 24:36-43
August 22 - Let's Listen - Luke 10:38-42
August 29 - Let's Love - Luke 7:36-50
September 5 - Let's Recognize - Luke 24:28-32
Job Opportunity
We're still actively seeking an Office Manager (aka Church Secretary). If you know of anyone who has moderate computer skills, good organizational skills, and a heart for Jesus, who might be interested in this paid position, please ask them to contact Carol Doron at the email listed below...
Office Manager for FUMC Collingswood
20 hours/week
Tuesday - Friday
9am - 2pm
If interested, please contact Carol Doron at bcdoron@aol.com
Praises!
We praise God and thank Him for all the prayers that have been answered throughout this challenging time and also:
For His guidance and direction during our Pastoral transitions.
For all God is doing, even in the smallest of details!
July's - Verse of the Month
When Jesus was at the table with them, He took the bread and blessed and broke it and gave it to them. And their eyes were opened, and they recognized Him. - Luke 24:30
Prayer Requests
Philippians 4:6 tells us:
Do not be anxious about anything, but in everything, by prayer and petition, with thanksgiving, present your requests to God.
Our "Prayers on the Porch" are still happening every Monday through Thursday at noon at 638 Park Ave. Feel free to come out and join us if you can!
Please continue to pray for...our homebound members; our church members who are in need of spiritual, emotional and financial care; any families and relationships that have been strained during this time, our Troops, and our Missionaries - the list is long, but God is BIG!
Please pray for the following:
Pastor Scott, Meg and boys -as they begin their ministry here at First Church and in the community.
Carmen O'Brien - home from hospital and is recovering.
Linkin Miller - medical concerns (Grandson of Joyce &John Cluelow)
Bill & Karen Walters & Family - Bill's mother recently passed
Lorraine Rudderow's - Grandson, Jake is going to Surfside, FL to help where building collapsed.
Carl Schopfer(Brother of RuthMarie Weinberg)-doing better with his medical challenges
Nicholas Ferrara(Grandson of Charles & Joan)-recently deployed to Saudi Arabia.
Frank Persicano - will be leaving for Naval Basic Training on July 26th for 8 weeks.
Joy, Craig, Claire and Neil Evans - continued prayers for Joy and family for strength during this journey.
Arnie Arnold - challenges with breathing
Dottie Escuti -recovering from wrist surgery. Please pray for her twin sister, Diane, who has been fighting leukemia and now must move to a nursing facility.
Sharon Bailey -recuperating from surgeries at Collingswood Manor.
Hazel Fraley - continues to recover from ankle surgeries. She is the 16 year old granddaughter of Pastor Leon and Rhonda.
Marilyn Ellis
Mary Mondatsos - heart and cancer concerns
Gus Mondatsos - seeking help for back issues
Joel & Kay Shannon
Ahiz & Joyce Toure - their baby girl, Nyameye, is getting stronger each day.
Recent Graduates
God's provision for a new Office Manager
SPR - as we continue to transition with Pastor Scott & staffing
Missions & Evangelism - Leadership and new Treasurer needed.
God's hand upon our towns, state and country and our elected leaders.
If you have any other prayer concerns or ways we can serve you please let us know. We desire to journey with you.
Remember, you are loved!
In His Grace,
The FUMC Staff
... to see all people WORSHIP God, CONNECT with His people, and join His MISSION in this world.
Our address is: 201 Dayton Ave, Collingswood, NJ, 08108