Traces of Grace
Volume 66- July 21, 2021
SUNDAY WORSHIP SERVICE


We invite you to join us this Sunday as Pastor Scott continues in our series, Let's Eat! with the message titled, "Let's Wash", from Luke 11:37-52. We encourage you to read this passage of scripture and to pray for Pastor Scott as he prepares for this service.
The link to access the livestream will be available on our website at fumccollingswood.org, where you'll also be able to view a recording of the service throughout the week.
Worship Service Update:
We have relaxed our COVID protocols based on new guidelines released by the CDC and the State of NJ:
Pre-registration is no longer required to attend our services in-person, but Sign-In for attendance purposes is needed.
Temperatures will not be taken.
Seating in the sanctuary will be relaxed to every other pew. (instead of every 3rd pew)
All pews will once again have a pew pad.
Hymnals & Bibles will be available in all pews.
Masks will no longer be required.
NOTE: The decision whether to wear a mask or not is an intensely personal one. We request that everyone participating in our services respect one another's personal decision regarding masks. If you see someone wearing a mask, please be sure to keep your distance as you approach that individual. If you choose to wear a mask and remain distanced from others, our Welcome Team will do their best to accommodate that request.
We will continue to live-stream the service as well, so if you are not yet comfortable in a public setting, we understand and invite you to join us virtually through our website. The building will also be available - on a scheduled basis - for use by various small groups.
Please contact Pat Gunning for building availability.
Upcoming Events
Download
Our Sunday Morning Worship Service begins at 10am in our sanctuary, and will also be livestreamed for those who are unable to attend in-person. Anyone at all can access this livestream, but if you'd like to chat with others throughout the service, you must have a Faithlife account and become of member of our Faithlife Group. If you aren't already a member of our group, and would like to become one, please email the church office at office@fumccollingswood.org and we will reply with an invitation. Here are all the links you'll need for the full Sunday Morning experience... Join our Live Stream Service - faithlife.com/fumccollingswood/livestream Access our Digital Bulletin - fumccollingswood.org/bulletins Online Giving - fumccollingswood.org/giving All of our past morning worship services can be viewed on our website by visiting fumccollingswood.org/services. You can also view the services on our YouTube Channel. If you attend/view our service, we'd appreciate you filling out our Weekly Connection Card to let us know that you joined us, and to tell us how we might be able to pray for you in the coming week.
Sunday, July 25th, 2021, 10 am (EDT)
Memorial Service for Joy Evans
Just a reminder that on Saturday, July 24th, there will be a Memorial Service for Joy Evans, here at First Church. Visitation begins at 1:00pm and the Service will start promptly at 2:00pm.
*We are asking that if you are unvaccinated that you wear a mask for the visitation and service. Masks will also be worn during the singing of the hymns.
Thank you!
Soul Cafe's Summer Events:
Some upcoming events to help support Soul Cafe, a United Methodist Faith Community doing church differently, located in Magnolia, NJ. :
Sat., 7/31 , 11:00am-sell out, FISH FRY!
Sat., 8/14, 8:30am-12:30pm, SERVICE PROJECTS!
**Flyers with more detailed information will be available at the Sign-in tables on Sunday or you can call: 856-739-1052 for more info.
Reference Books Missing
Many sets of our Reference Books in the church library are missing a volume or two! Please check to see if perhaps you borrowed one and forgot to return it. If you have a book(s) to return, please leave them on the first desk of the office or on the Sign-in table before Sunday Service. Thank you!
Summer Camp Days - "Lots of Fun"
For all children, Pre-K to Grade 6, Summer Camp Days are coming soon! Beginning 10:00-11:30am, outside behind the church, we will have a Bible story, games, prizes, a craft or two and a snack! There may even be a Carnival Day and a Water Balloon fight- you won't want to miss it!!
Upcoming Camp dates :
Thursday, August 5th
Thursday, August 19th
*Any questions please call Miss Pat -(856)962-8010
Operation Christmas Child- Shoe Boxes
It's not too early to start collecting things for the Shoe Boxes, especially with all the Back-to-School sales. Suggested items: pens, crayons, soap, small toys, tablets, combs, rulers, pencil sharpeners, wash cloths, and toothbrushes. **Pencils & toothpaste are not needed.
Thanks for being a part of this important ministry to the children of our world! If you have any questions please contact Pat Gunning - (856)962-8010
A Message from Pastor Scott
First UMC Family,
COVID-19 has been a major interruption to many aspects of our lives; as individuals, as families, and as communities. So much had to be put on hold or adapted or let go of as we figured out how to respond to a life-defining season. The thing about interruptions though, is that after the interruption in over we expect things to pick up where they left off when the pause button was hit.
From fairly early on in the pandemic I became convinced that thinking about COVID as an interruption wasn't quite right. I think the term we should use to frame our COVID experience is not
"interruption," but "disruption." The impact of the COVID-19 pandemic is going to be felt far beyond the end of the crisis and some things may never go back to what they were prior to March 2020. This isn't to say that everything needs to change or even should change, but that we have to take an honest assessment of what has changed.
As we look toward the fall we need to remember that we are not "returning to normal," we are stepping into a "new normal."
And that's not necessarily a bad thing. New seasons come with new opportunities; Meg and I just returned from a trip that would not have been possible ten years ago, in the midst of our season of
babies and toddlers.
There are new opportunities in front of us in this new season, First Church. We need to be willing to ask God where He wants us to lean in and trust Him even if circumstances look different; He is still the same God He has always been. Would you pray with me and ask God to help us trust Him as He shows us who we as a church need to be in this, "new normal?"
Pastor Scott
New Sermon Series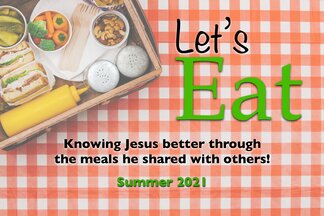 Please join us for our upcoming sermon series called, Let's Eat.
July 4 - Let's Party - Luke 5:27-32
July 11 - Let's Repent - Luke 19:1-10
July 18 - Let's Give It Away - Luke 9:10-17
July 25 - Let's Wash - Luke 11:37-52
August 1 - Let's Remember - Luke 22:14-38
August 8 - Let's Be Humble - Luke 14:1-24
August 15 - Let's Believe - Luke 24:36-43
August 22 - Let's Listen - Luke 10:38-42
August 29 - Let's Love - Luke 7:36-50
September 5 - Let's Recognize - Luke 24:28-32
Job Opportunity
We're still actively seeking an Office Manager (aka Church Secretary). If you know of anyone who has moderate computer skills, good organizational skills, and a heart for Jesus, who might be interested in this paid position, please ask them to contact Carol Doron at the email listed below...
Office Manager for FUMC Collingswood
20 hours/week
Tuesday - Friday
9am - 2pm
If interested, please contact Carol Doron at bcdoron@aol.com
Updated Church Directory
At this time, many of you have picked up your copy of the updated Church Directory and for that we "thank you." It has saved us a lot in mailing costs doing it this way, but if you are unable to come to church to get your copy, please contact us here at First Church. In your message, please leave your name, phone number and your full mailing address so we can connect with you. Thank You from the Office Staff!
Praises!
We praise God and thank Him for all the prayers that have been answered throughout this challenging time and also:
For all God is doing, even in the smallest of details!
For the children that have been attending the Summer Day Camps!
For our freedom to worship together in person.
July's - Verse of the Month
When Jesus was at the table with them, He took the bread and blessed and broke it and gave it to them. And their eyes were opened, and they recognized Him. - Luke 24:30
Prayer Requests
Jeremiah 33:3 tells us:
"Call onto Me, and I answer thee and show thee great and mighty things thou knowest not".
Our "Prayers on the Porch" are now, "Prayers in the Garden" and they are still happening every Monday through Thursday! Feel free to come and join us beginning at 8:00am. We will be gathering at the end of the Parsonage's driveway.
Please continue to pray for...our homebound members; our church members who are in need of spiritual, emotional and financial care; any families and relationships that have been strained during this time, our Troops, and our Missionaries - the list is long, but God is BIG!
Please pray for the following:
Pastor Scott & Meg -as they continue to settle in and become familiar with our church family.
The Evans Family - for strength and comfort during this time.
Nancy Gross - medication for her kidney infection has helped and she's feeling much better.
Carol & Bud Shropshire - health issues; son David's cancer; grandson Brian's cancer.
Karen Kline's son
Amy Chauffe (sister of Jonathan Schewhm)-her husband and son have health concerns.
Carmen O'Brien - continuing to recover.
Lorraine Rudderow's - Grandson, Jake, has returned home safely and thankful for all our prayers.
Nicholas Ferrara(Grandson of Charles & Joan)-recently deployed to Saudi Arabia.
Frank Persicano - will be leaving for Naval Basic Training on July 26th for 8 weeks.
Arnie Arnold - challenges with breathing
Dottie Escuti -recovering from wrist surgery. Please pray for her twin sister, Diane, who has been fighting leukemia and now must move to a nursing facility.
Sharon Bailey -has returned again to Collingswood Manor, after an infection caused her to be readmitted to Cooper Hospital.
Hazel Fraley - continues to recover from ankle surgeries. She is the 16 year old granddaughter of Pastor Leon and Rhonda.
Mary Mondatsos - heart and cancer concerns
Gus Mondatsos - seeking help for back issues
Joel & Kay Shannon
Our Missionaries: Tom Lowell-stomach surgery; Dick McCloy -Hodgkins Lymphoma; Lorraine Stirneman-a younger person to help with her missionary work.
Recent Graduates
God's provision for a new Office Manager
SPR - as we continue to transition with Pastor Scott & staffing
Missions & Evangelism - Leadership and new Treasurer needed.
God's hand upon our towns, state and country and our elected leaders.
If you have any other prayer concerns or ways we can serve you please let us know. We desire to journey with you.
Remember, you are loved!
In His Grace,
The FUMC Staff
... to see all people WORSHIP God, CONNECT with His people, and join His MISSION in this world.
Our address is: 201 Dayton Ave, Collingswood, NJ, 08108