Traces of Grace
Volume 71- August 26, 2021
A Message from Pastor Scott
Dear First Methodist family,
We are in interesting days as a church. Things look quite different than they did 2 years ago, before anyone even knew the word COVID. In the time since March 2020 we have had to adapt and adjust how we gather for worship and for ministry. Thankfully things have been moving toward a new normal through the spring and summer. The question now is, "Of the things that stopped because of COVID-19, which ones are worth restarting?"
There are some things that stopped because of COVID that need to stay dead. There are other things that need to be resurrected. There are still other things that need to be birthed in this new context. What will be in the future is never going to look exactly like what was before. And that is okay. We serve the God of creation who is always breathing new life into dead people and empty spaces.
I want to reiterate my invitation from this past Sunday. Beginning this Wednesday, Sept. 1, I will be in the sanctuary 7-8pm to pray over the future of our congregation. We will be asking God for wisdom and vision and listening for His Spirit to speak to us. If you long to see our church move forward into a vibrant future, I'd love for you to come and join your heart with mine in prayer.
-Pastor Scott
SUNDAY WORSHIP SERVICE


We invite you to join us this Sunday as Pastor Scott continues in our series, Let's Eat! with the message titled, "Let's Love", from Luke 7:36-50. You won't want to miss it! We encourage you to read this passage of scripture and to pray for Pastor Scott as he prepares for this service.
The link to access the livestream will be available on our website at fumccollingswood.org, where you'll also be able to view a recording of the service throughout the week.
Upcoming Events
Download
Our Sunday Morning Worship Service begins at 10am in our sanctuary, and will also be livestreamed for those who are unable to attend in-person. Anyone at all can access this livestream, but if you'd like to chat with others throughout the service, you must have a Faithlife account and become of member of our Faithlife Group. If you aren't already a member of our group, and would like to become one, please email the church office at office@fumccollingswood.org and we will reply with an invitation. Here are all the links you'll need for the full Sunday Morning experience... Join our Live Stream Service - faithlife.com/fumccollingswood/livestream Access our Digital Bulletin - fumccollingswood.org/bulletins Online Giving - fumccollingswood.org/giving All of our past morning worship services can be viewed on our website by visiting fumccollingswood.org/services. You can also view the services on our YouTube Channel. If you attend/view our service, we'd appreciate you filling out our Weekly Connection Card to let us know that you joined us, and to tell us how we might be able to pray for you in the coming week.
Sunday, August 29th, 10 am (EDT)
Upcoming Sermon Series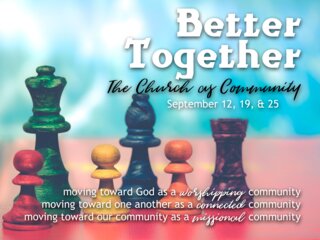 Our next sermon series will be "Better Together: The Church as Community." We're going to look at what it means to move toward God in worship, toward one another in connection, and toward our community on mission and how we're called to do all of that together, as a community. We hope you'll join us for this series because we really are "better together."
This 3-week series will launch on September 12.
Finally going to happen - Queen Esther
For all who have signed-up for the Bus Trip to Sight & Sound to see, "Queen Esther," please meet at 8:00am sharp, here at FUMC, on Sept. 16th. *Masks are required on the bus. If you have any questions please contact Pat Gunning-(856)962-8010 or Marva Wallace-(856)439-0345.
Tuesday Morning Bible Study to Resume
The "Followers", Tuesday morning Bible Study, is scheduled to resume on Tuesday, Sept. 21st, at 10:00am in the Church Parlor. Looking forward to seeing all of you there!
" Lost " Items
If you have lost an item, please check with our church office to see if it's been found! Presently we have found: an earring, hearing aid, and an electric frypan. Thank you!
Operation Christmas Child- Shoe Boxes
It's not too early to start collecting things for the Shoe Boxes, especially with all the Back-to-School sales. Suggested items: pens, crayons, soap, small toys, tablets, combs, rulers, pencil sharpeners, wash cloths, and toothbrushes. **Pencils & toothpaste are not needed.
Thanks for being a part of this important ministry to the children of our world! If you have any questions please contact "Miss Pat" Gunning - (856)962-8010
Mission Partnership -
Seeds of Hope Ministries', CELEBRATION BANQUET, will be held Thursday, October 7, 2021, at Sovereign Grace Church, Marlton NJ beginning at 6:15 pm. Tickets are available online in their weekly e-newsletter and Social Media. They invite us in celebrating God's work in Camden!
Current Sermon Series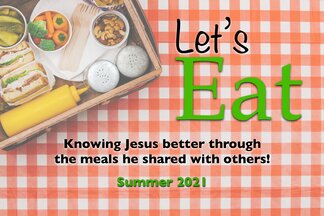 Summer Harvest!
If anyone has an abundance in your gardens that you'd like to share with our church family, please know that there is a basket in our church front entrance area for you to drop off your harvest! It will be there for all to have access to, before or after church service, and it will be a "first-come, first-serve" basis. Thanking you in advance for your generosity!
Praises!
We praise God and thank Him for all the prayers that have been answered throughout this challenging time and also:
For all God is doing, even in the smallest of details!
For our freedom to worship together in person.
August's - Verse of the Month
And let us consider how we may spur one another on toward love and good deeds. Let us not give up meeting together, as some are in the habit of doing, but let us encourage one another-and all the more as you see the Day approaching.
-Hebrews 10:24-25
Prayer Requests
Jeremiah 33:3 tells us:
"Call onto Me, and I answer thee and show thee great and mighty things thou knowest not".
"Prayers in the Garden" is a time to gather and pray over the requests of our congregation and happens every Monday through Thursday! Feel free to come and join us beginning at 8:00am. We will be gathering at the end of the Parsonage's driveway.
Please continue to pray for...our homebound members; our church members who are in need of spiritual, emotional and financial care; any families and relationships that have been strained during this time, our Troops, and our Missionaries - the list is long, but God is BIG!
Please pray for the following:
Pastor Scott & Meg -as they continue to meet throughout the summer with our church family in the small group settings.
Barbara Andraws - presently in Jefferson Hospital with pneumonia.
Shauna & Brian Coffey-friend, Robert Newcastle, is in Afghanistan helping with evacuation of US citizens.
Sharon Bailey - presently home and doing well.
Linda Hamrick -at home & recovering well from surgery.
Carol & Bud Shropshire - health issues; son David's cancer; grandson Brian's cancer.
Karen Kline's son
Nicholas Ferrara(Grandson of Charles & Joan)- presently serving in Saudi Arabia.
Arnie Arnold - challenges with breathing
Sherry Rappe - medical issues
Mary Mondatsos - heart and cancer concerns
Joel & Kay Shannon- grandson Andrew Sperry, helicopter pilot, has been recently deployed.
Our Missionaries
Recent Graduates -those preparing for further education.
Nominations Committee
Missions & Evangelism - Leadership and new Treasurer needed.
God's hand upon our towns, state and country and our elected leaders.
If you have any other prayer concerns or ways we can serve you please let us know. We desire to journey with you.
Remember, you are loved!
In His Grace,
The FUMC Staff
... to see all people WORSHIP God, CONNECT with His people, and join His MISSION in this world.
Our address is: 201 Dayton Ave, Collingswood, NJ, 08108