Traces of Grace
Volume 37 - December 18, 2020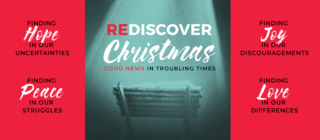 ReDiscover Christmas... Good News In Troubling Times
This is a season of hope. Advent is all about hope. The word Advent means "coming" or "arrival," and the season is traditionally a time of expectation, waiting, anticipation, and longing. Far too often our Christmases have become frenzied and overwhelmingly busy. We pack our schedules with so many seasonal happenings. Our season of peace is quickly overloaded and replaced by a season of stress. Advent is an opportunity to set all that aside. Advent is a time to prepare our hearts and help us place our focus on a far greater story than our own... the story of God's redeeming love for our world.
So wherever you are on your level of 2020 anxiety and uncertainty, wherever you are on your own spiritual journey, we invite you into this season of Advent. We'd like to even suggest that in the craziness and uncertainty of this year, we've been given a gift. We've been given the opportunity to rediscover Christmas. Throughout December, we've been exploring the attributes of Christ encapsulated in His birth and the Christmas season: hope, peace, love, and joy. And on Christmas Eve we will celebrate the arrival of Jesus, the Christ. This week we continue by rediscovering the JOY of Christmas, even in the midst of our discouragements.
Sunday Morning Worship
In-Person Worship Postponed
Due to the increasing spread of COVID-19 in our immediate area, our building will continue to be closed to the public for worship until further notice. This also applies to any small groups or ministries... they will not be able to meet at our building until further notice. Caution has been shared from both conference leadership, as well as Camden/Burlington counties which are now in the high red zones of transmission rates for COVID-19. We desire to care for, love, and keep everyone safe at this time. This is a decision based on love.
Live Stream Worship Service
Don't miss our live stream worship service Sunday morning at 10:00am. We will have a Kids Corner with Carol Doron, and Pastor Sam will continue our Advent series "ReDiscover Christmas... Good News In Troubling Times" with a message from Luke 1:11-20, 26-38 titled "Finding Joy In Our Discouragements". The link is available on our website at fumccollingswood.org, where you'll also be able to view the service throughout the week.
With Great Appreciation... We Look to the Future
At the close of this year our office secretary for over 21 years, Maria, will be retiring. We all have come to love and appreciate her cheerfulness and love for the FUMC church family throughout the years. We will be recognizing her years of service in the New Year.
We are now looking to fill the following position in order to care for the needs of our office staff and church ministries...
Office Manager - Twenty hours/week | Tuesday- Friday | 9am-2pm
If you or anyone you know might be interested in this position, please contact Carol Doron at bcdoron@aol.com for more information.
NOTE: Carol's email address was incorrect in last week's newsletter. The correct email address is above.
Christmas Baskets
We recognize this year has been difficult for many families. If you have a need or know another family that could use a basket, please contact one of the staff, call (856-858-1186) or email (office@fumccollingswood.org) the church office so we might serve you or anyone in need!
Online Christmas Eve Service
We invite you to join us for our Family Christmas Eve service on December 24th. This online service will be pre-recorded in our beautiful sanctuary in order to keep us all safe, but will still be a special time to worship from the comfort of our own homes. It will include Christmas carols, like "Silent Night" and "Joy to the World", our special music tradition of "O Holy Night", as well as scripture and a Christmas meditation to help encourage us. The service will be released at 2:00pm on December 24th, enabling you to view the service anytime in the afternoon or evening that best fits your schedule. It is our hope that you will make this service this a special part of your Christmas Eve activities, and maybe even share it with others!
Christmas Eve Silent Night Singalong
In collaboration with several other Collingswood community churches, our church family is participating in a special event on Christmas Eve. At 7:30pm on December 24th, we are asking all the families and people of Collingswood and beyond who would like to join us, to sing two familiar Christmas Carols (O Little Town of Bethlehem & Silent Night) from your porch or steps. A link will be posted on our website so that all who are interested can join a live-stream (from your phone) and follow along together as we sing with Hope for this season and the New Year. As we step out that night, bring a candle as a reminder of how the light of Christ can make a difference in the dark places of our world!
Thought For Today
"Suddenly a great company of the heavenly host appeared with the angel, praising God and saying, "glory to God in the highest and on earth peace to men whom his favor rests." - Luke 2:13-14
The angels brought a message to the shepherds 2000 years ago and still that message is real for us today! Even during a year where there have been so many challenges, the Lord desires to bring peace.
In preparing for the Christmas Eve service I have been thinking a lot about one of my favorite Christmas carols... Silent Night. This special song has touched so many lives for so many years! It was written on Christmas Eve many years ago by a pastor and a school master, Josef Mohr and Franz Guber. They lived in Oberndorf, Austria which, at that time, was locked in the grip of cold and hunger. Both people and animals were going hungry.
The people in Oberndorf looked forward to Christmas and the special service at church. It was a small church but the music on Christmas Eve was a bright spot because of the joy it brought to the people in the community.
When the pastor, Josef Mohr, and the school master, Franz Guber, started to work on the Christmas music they were horrified to find that the starving church mice had eaten the church organ bellows and the organ was not playable for their Christmas Eve service.
They considered canceling the Christmas Eve service, but then they decided to make the best of it. They spent most of the night before the Christmas Eve service writing a simple hymn tune that could be accompanied by guitar. The next night the congregation was blessed as they sang their new Christmas hymn accompanied by guitar:
Silent night, holy night.
All is calm all is bright,
Round yon virgin mother and child!
Holy infant, so tender and mild,
Sleep in heavenly peace.
Sleep in heavenly peace.
We still sing this amazing carol every year because of its tremendous message of the hope and peace of Emmanuel, God with us.
I pray for that true peace this week as we celebrate the birth of our Savior Jesus. I can think of no greater gift than experiencing the peace of Christ in our lives. If you don't know that peace,
invite the Prince of Peace to guide your life today.
Merry Christmas!
Prayers & Praises For This Week
We thank God for Pastor Matt and Bernie Peace as last Sunday Matt shared with our church family that he will need to be devoting himself full-time back to his missional ministries. God has blessed our church with Matt and Bernie in so many ways! Their love for Jesus, people, the community and for our church has been a tremendous gift the past 2 and half years. We love them, and will pray for them as they continue to serve the Lord in the future. They will always be a part of our lives here at FUMC.
We praise the Lord for the many special people who are caring for others inside our church and outside our walls as there have been some special stories of grace.
Our country and the effects of Covid-19. Also, please remember all the families and care teams whose lives are deeply affected by this pandemic.
Lord, please heal our land... 2 Chronicles 7:14
Lord, protect those working on the front-lines, those serving the sick and those in essential ministries
Lord, let all Christians and churches reach-out with hope and love while people's hearts are open
Lord, how can I continue to bless the kingdom financially during these challenging days? Please use me to bless others in Jesus' name.
Our church and the community
The schools and the children and staff
Our country and its leaders
Linkin Miller, Joy Evans, Margaret Robinson, Mary Mondatsos, Myrtle Aurig, Joel Shannon, and Helen Masarek
John and Betty Parsons with COVID-19
A continually growing list of loved ones and friends who are dealing with COVID-19
If you have any prayer concerns or ways we can serve you, please let us know. We desire to journey with you even through these days of social distancing. Remember, you are loved!
In His Grace,
Pastor Sam and the Staff
... to see all people WORSHIP God, CONNECT with His people, and join His MISSION in this world.
Our address is: 201 Dayton Ave, Collingswood, NJ, 08108