Traces of Grace
Volume 38 - January 8, 2021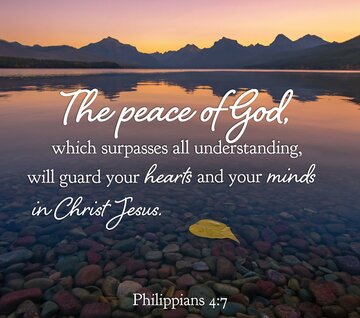 Sunday Morning Worship
Live Stream Worship Service
Don't miss our live stream worship service Sunday morning at 10:00am. Pastor Sam will begin a new sermon series called "Let God Have It!" Sunday's message, "Let God Have Your Worries... He'll Give You His Peace" will focus on Matthew 6:25-34. The service will conclude with Communion. Please grab some juice and bread or crackers before you view the service, so we can share communion together.
The link for the livestream is available on our website at fumccollingswood.org, where you'll also be able to view the service throughout the week.
In-Person Worship Postponed
Due to the increasing spread of COVID-19 in our immediate area, our building will continue to be closed to the public for worship until further notice. This also applies to any small groups or ministries... they will not be able to meet at our building until further notice. Caution has been shared from both conference leadership, as well as Camden/Burlington counties which are now in the high red zones of transmission rates for COVID-19. We desire to care for, love, and keep everyone safe at this time. This is a decision based on love.
New Sermon Series... "Let God Have It!"
Join us as we journey together in a trust adventure with the Lord in 2021. We give God what we have in return for what God has for us. It's a great way to begin this new year... it is like the after-Christmas gift return process, only what we receive has eternal benefits!
Thank You!
The staff of FUMC Collingswood wishes to thank our church family and friends for the generous love gift. Your thoughtfulness, kindness, and love that was expressed through your gift is deeply appreciated. What a privilege it is to serve as your church staff!
Love, Pastor Sam, Maria, Shawn, Will, Pat, Ed, and Mike.
Job Opportunity
Office Manager for FUMC Collingswood
20 hours/week
Tuesday - Friday
9am - 2pm
If interested, please contact Carol Doron at bcdoron@aol.com
Thought For Today
After the year 2020 many are saying they are looking forward to the New Year. Possibly this new year holds new opportunities and hopefully less challenges. Yes, Christmas was different but we still were able to worship Emmanuel, God with us, and experience God's love for us in some new and fresh ways this year. For that, I am grateful. But now even in this new year, the pandemic is still making its mark in many lives, and the political and other social tensions are still appearing! As we watched the events unfold in and around our Capitol building Wednesday into Thursday, it was a gripping reality to remember how much we need the Lord in our lives and world.
If you watched what took place it was one of those moments that caused you to say a prayer and possibly fall on your knees. As I sat and reflected upon theses events, I believe my heart was like so many others - hurting and silent, recognizing this is not a time to be silent or point fingers but to pray, and actively care for those in need: to pray and ask the Lord to begin a fresh work in me, his church body, and our country and leaders, and to pray for a deeper humility and holiness in our day.
There are two types of holiness, the first type is a personal holiness where we are set apart for an intimate relationship with Almighty God through Jesus Christ and empowered by His Spirit. He calls us to be holy for he is holy! This is where our lives are transformed, even though it's a process that can take a lifetime. The second is social holiness, because we love God with all our hearts, souls and minds and have surrendered our lives and snarky attitudes to Him! Now we have this desire to love our neighbor as we love ourselves and God uses us to transform our world.
I came across a spiritual challenge from the heart and pen of Don Whitney. I trust it will encourage you in your walk with God as we begin this New Year together!
One of the early explorers to the North Pole charted his journey hourly to ensure that he stayed on course through the white wasteland. At one point a strange phenomenon began to occur. As he checked his position, his instruments indicated that even though he had been moving northward, he was actually farther south than he had been an hour before. Regardless of the speed at which he walked in the direction of the Pole, he continued to get farther from it. Finally he discovered that he had ventured onto an enormous iceberg that was drifting in one direction as he was walking in the other.
There is a world of difference between activity and progress. That is as true on a Christian's journey toward our eternity in heaven as it is on a North Pole expedition.
The Christian life is meant to be one of growth and progress. We are even commanded in 2 Pet. 3:18, "But grow in the grace and knowledge of our Lord and Savior Jesus Christ."
How can we know that we are growing in God's love and grace, that we are making real progress and not merely faking ourselves out with activity? It's often hard to recognize spiritual advance over a week's time or maybe even a month's time. Trying to determine the progress of a soul is like looking at the growth of an oak tree - you can't actually see it growing at the moment, but you can compare it to where it was some time ago and see that there has indeed been growth. The question we need to ask is simply…Am I more like Jesus than a year ago? Maybe another way to determine that is with this question: Are you more thirsty for God than ever before?
The writer of Ps. 42:1 said, "As the deer pants for streams of water, so my soul pants for you, O God." Have you been thirsting for God like that? Is He your passion? If so, your thirst for God is a sign of spiritual growth.
As we begin this new year let's seek the Lord together…allowing the Lord to move us, and stir us into His likeness. Let's commit ourselves to more times of prayer and study of His Word. Last night I received something by email that moved me and I appreciated the sender's heart for the Lord. So here is what I'd like you to consider...
"... that we pray daily at least through January at either 7:04 a.m. or 7:04 p.m. (reminder of 07/04 or July 4th) You choose the time best for you-- morning or evening. Perhaps each one of us could encourage a few other people to do the same. Even if we are not able to meet together to pray, we could encourage others to do this together. Our country needs believers to pray."
"Trust in Him at all times, O people. Pour out your heart before Him. God is a refuge for us." - Psalm 62:5.
What a great way to pray together - along with our Porch Prayer times - Monday through Thursday at noon at 638 Park Ave, in a small way to keep praying for our country, which is so important this New Year. Remember we want to continue to pray for those affected by the pandemic in so many ways, essential workers, many who are sick, who need spiritual, emotional and financial care. Many families and relationships that have been strained on so many fronts during this time... the list is long, but God is BIG!
Let's always begin with gratefulness and praise. If you have any other prayer concerns or ways we can serve you please let us know. We desire to journey with you. Have a blessed NEW YEAR in the Lord!
Remember, you are loved!
In His Grace,
Pastor Sam and the Staff
... to see all people WORSHIP God, CONNECT with His people, and join His MISSION in this world.
Our address is: 201 Dayton Ave, Collingswood, NJ, 08108