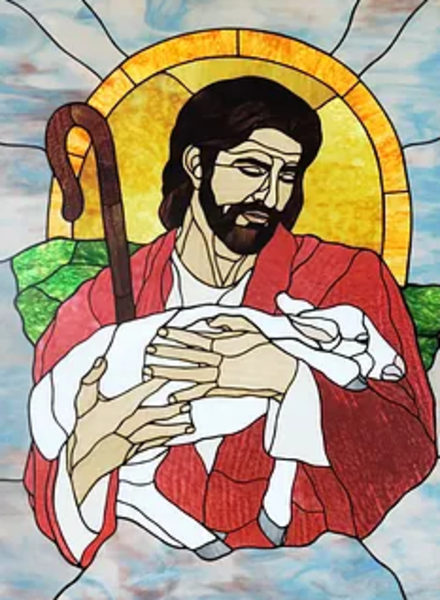 The Shepherd's Voice
Sunday, April 18, 2021
What's Happening Today
As We Gather
"Why are you troubled, and why do doubts arise in your hearts?" (Luke 24:38). These are questions our risen Lord and Savior Jesus Christ asked of His disciples in another resurrection appearance after that first Easter morning. They are questions that could also be asked of us numerous times in our daily lives as we face trouble and doubts. Yet as Jesus kept on appearing, He kept on showing them Himself, and more than that, He continued to teach and remind them that all that was written was fulfilled in and through Him. Though we cannot physically touch His hands and side, each time we gather, Jesus continues to speak to us, affirming His work, the Word fulfilled, and the worth of humanity for whom He came. Amid troubles and doubts, through Christ, we can "see what kind of love the Father has given to us" (1 John 3:1).
Today's Readings
First Acts 3:11–21 (Peter preaches salvation through Christ.) https://bible.faithlife.com/bible/acts/3/11-21
N. T. 1 John 3:1–7 (We are God's children now.) https://bible.faithlife.com/bible/1-john/3/1-7
Gospel Luke 24:36–49 (The resurrected Christ affirms the fulfillment of God's Word.) https://bible.faithlife.com/bible/luke/24/36-49
Today's Altar Flowers are Given to the Glory of God
By Charlotte Visbeck in honor of John Raymond Aldarelli's 21st birthday.
Our Christian Sympathy
is extended to the family and friends of (Rev. Dr.) Alan Ruscito, who died on Wednesday, April 7, and was given Christian burial on Thursday, April 15. Pastor Al and his wife Hannah assisted in our VBS many years ago, and he was our immediate neighbor on Woods End Road. May the God of all comfort strengthen all who mourn with the hope and promise of the resurrection and reunion in heaven.
April Mission of the Month
Would you like an opportunity to offer care and comfort to the faculty and staff who are greatly affected by the closure of Concordia Bronxville? The Atlantic District, in partnership with the other East Coast Districts of the Lutheran Church Missouri Synod, have formed the Care & Comfort Fund. This fund will be available to all faculty and staff and will be used, in full, to support their various needs in this time. Their desire is to help as many faculty and staff as they are able. The need is great. The Care & Comfort Fund will be able to offer the support they need.
Readers Wanted!
If you would like to join our small band of merry Readers, please contact Jeff Largiader (732-918-9028) or speak to Pastor. We are developing a rotation of Readers and would love to include you. Some level of skill in public reading is preferred, but not required because it can be learned. Please consider this opportunity to serve the Lord and our church.
Busy Bags
COVID friendly Busy Bags are available on the table in the foyer/narthex for children who would like an activity to do during the Service. These were printed, packaged, and sanitized in the home office of one person. Feel free to take one for your child(ren) and take them home with you. As these are a one-time use type of activity, they should not be returned or left at the church. Thank you.
What's Happening Soon
Friendly Seniors are Back!
Our Friendly Seniors will meet again this Wednesday, April 21, from 11:00 am to 1:00 pm. As usual, there will be lunch, an activity, and lots of wonderful fellowship and conversation. Please join us and bring a senior friend! Contact Judy Gruendling (732-899-6859) so she can plan for lunch.
What's Been Happening
Nursery School Scholarship Fund Update
The NS Staff and Board Members would like to thank all those who have contributed to our Scholarship Fund and let you know that we have used some of these funds for an enrolled student whose family is struggling financially due to the Pandemic. They are so very appreciative of this help that we are able to offer to them respectfully and discreetly. We rejoice in your generous gifts! Please continue to support the Nursery School either through the Scholarship Fund or directly to the Nursery School. Our school continues to thrive and has been (so far) able to stay open except for brief classroom closures earlier in the year. Please pray that we can continue with "in-person" learning through the end of May. Thank you!
Remember Our Homebound and Elderly
Please remember our homebound and elderly in prayer or with a card or phone call: Annaliese Benson, Fran McCallum,Robert Mueller, and Rev. Paul Voitko. Contact information is listed on the board in the foyer/Narthex.
Financial Information

Thank you for your continuing support!
This Week at Good Shepherd Lutheran Church
In Our Prayers
To add someone to our list, please fill out a pink Prayer Request Form and submit it to Pastor or the Church office. Also, please let us know when we can remove names. Prayer requests submitted without a pink form are removed after one week. If we have removed a name in error, please resubmit the name and accept our apologies. Thank you.
Missionaries:
Rev. Dale and Suzanne Kaster, Prague
Pastor Matt Lytikainen and the Kairos Network
Those Who Mourn: Family and friends of Alan Ruscito
Hospitalized: Jeff Luckenback
Under Doctor's Care:
John Aldarelli Alice Blaze
Dan Boettcher Sheryl Borkowski
Kieran Dillane John Eckna
Vicky Forte Punna Khanna
Ray Kuri, Sr Daniel McCallum
Linda McKelvey Erna Meyerle
Ruth Mohlenhoff Susan Rentas
Mena Schollenberger John Shand
Cathy Shawhan Dennis P. Smith Jr
Harler Jean Visbeck
Special Needs: Garrett T. Midgett II, Robert H. Mueller, the Murray family, Ilona Poitras, Steinbronn Family, and Zupanc family. Those in Texas affected by the winter storms. All who serve to keep us healthy, fed, and supplied.
Armed Forces: All who serve to keep us safe.
Justin Gruendling Kate Gruendling
Kelly Handy Travis Harvey Jonathan Kaster Matthew Orgill
Mason Remondelli David Schauer
Readings for Next Sunday
Acts 4:1–12 (Peter and John witness before the council.)
1 John 3:16–24 (Love one another.)
John 10:11–18 (Jesus the Good Shepherd)
I am a disciple of Jesus Christ.
Our address is: 708 Route 88, Point Pleasant Boro, NJ, 8742