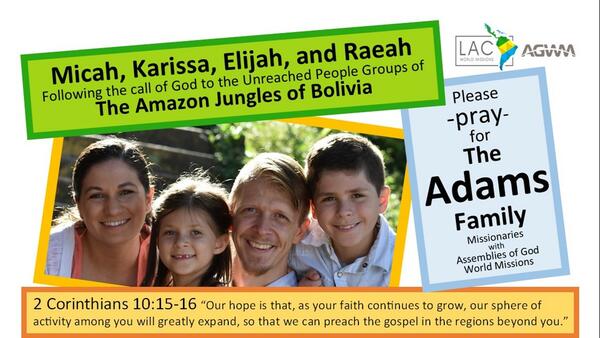 Special Guest Missionaries this Sunday!
September 27, 2020
Tomorrow Morning we have some very special guests and I pray that you will join us! We have the great honor of hosting our first Missionaries since the end of March and I am so grateful that they've agreed to be with us!
Assemblies of God Missionaries: Micah and Karissa Adams and their two kids (Elijah and Raeah) will be sharing their hearts and the call that God has placed on their lives to share the Good News of Jesus Christ in the Country of Bolivia. Come hear their story and their passion tomorrow and I am certain that you'll be glad that you did!
So… tomorrow morning our Outside Service begins at 10:00 and our Online Service starts at 10:45. Either option you decide to take advantage of will also include this great Missionary family.
Have a great rest of your weekend!
Craig
Welcome!
Our address is: 588 9th St, Imperial Beach, CA 91932, USA