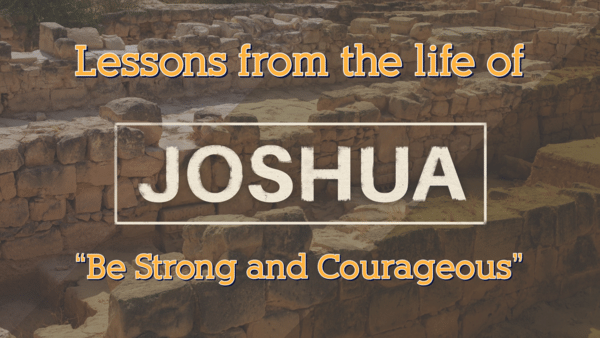 LESSONS FROM THE LIFE OF JOSHUA
"Be Strong and Courageous" November 8, 2020
This Coming Sunday at SCC...
The Weekend is here and a little rain never hurt anybody!
This Sunday we move on through our LESSONS FROM THE LIFE OF JOSHUA Series with a very special message with a title that quotes what God said to Joshua (three times) in Joshua Chapter One. Friends, this command from the Lord to Joshua is so right and so fitting for such a time as this and applies just as clearly to every one of us in these days.
"Be Strong and Courageous" was and is the command, the charge, that still rings true today! So join us this Sunday Morning at 10:45 for our in-person service inside the Sanctuary or watch this same service on line using one of our internet options also at 10:45.
We are very sorry and even embarrassed with the Livestream internet presentation that we have broadcast these previous weeks. However, our hard-working staff believe that, finally, all is in place and this week's presentation will be closer to what we want to be sending and, prayerfully, what you want to be seeing. Please take the time and opportunity to join us on line if you can't be with us in person.
May God continue to bless, strengthen and protect you all and keep His divine hand of protection on these United States!
See You soon!!
Welcome!
Our address is: 588 9th St, Imperial Beach, CA 91932, USA