The Little Scroll
Preaching the Gospel to all the Inhabited Earth!
Continued Prayers for Our New Members
Upcoming Events
Download
Saturday, October 16th  •  2–3 pm (EDT)
Latest News
Faith is an important part of Christianity. It's the reason why Christians follow Jesus and do what he says, even when they can't see how it will lead to anything good. Faith is a major theme in the Bible, from Genesis to Revelation. But faith isn't just following orders blindly—it requires logic too! So which one should you use? Common sense or faith? Let's discuss what the bible has to say about this topic using scriptures from both sides of the argument as well as your own common sense. For example, think about the story of Noah. Who built an ark for all the animals? It was God's idea and he did it with his own hands! But wait—why didn't he just pick a family at random to do this work instead of putting himself in danger by doing this job himself? Why would anyone trust themselves to do a project like this for generations to come? It doesn't make any sense! On the other hand, though, faith is what got Noah through. God told him he would be safe on the ark and so that's where he went even when all of his friends were laughing at him. He had faith in something bigger than himself, even when he didn't have a logical explanation as to why.
HELP US HELP THE HOMELESS… 21st Century Church of Christ and the podcast Something to Think About (
ww.somethingtothinkaboutpod.com
) have partnered to bring a vision I had to life and that was AGAPE gift bags…literally bags of love we donate to various shelters for example that not only include toiletries but little gifts such as women's silk scarves, socks, ponchos, and even pocket foil blankets! The homeless should be treated with dignity and love of neighbor as Christ commanded of us right? With your donation, you can have one of these bags donated with a personal label from you. If interested inbox me. Each bag costs $20 or you can pick your own item to include and donate that item. Peace and blessings! Or visit either page to make your own personal monetary contribution to this worthy and amazing International cause my partner and I have started and watching get bigger each day! Shout out to James Michael Pettiway for all of your hard work and support!
Home | 21st Century Church of Christ: The Faithful Church
Christ's Church for the 21st Century. Come and see what God has in store for His faithful servants. Learn and understand the Holy Scriptures. Our Lord will surely return to Earth and all shall bow down and give Him glory and honor!
www.faithfulchurch.org
Consider This Worthwhile Cause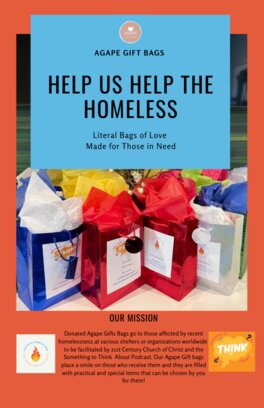 Preserving the faith of the first-century Christians
Our address is: Elkridge, Maryland