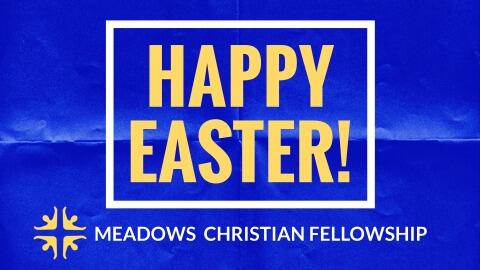 Meadows Christian Fellowship
MCF EASTER SUNDAY 2021
CHRIST IS RISEN! HE IS RISEN INDEED!
Happy Easter, and welcome to Meadows Christian Fellowship! We are so glad you could join us today to celebrate the resurrection of Jesus Christ.
As John Witvliet writes in The Worship Sourcebook, "All the hopes and expectations of Christians are realized in the resurrection of Jesus Christ from the dead, making Easter the most celebrative day of the church year." We are glad that you've joined us to celebrate the risen Jesus Christ today, as we worship in word and song, and through hearing Pastor Andrew's Easter message that A New Beginning Is Possible In Christ.
Please don't forget to fill out our digital Connection Card below, and if you're a first time visitor with us today, make sure to stop by our Welcome Center before you leave so that we can give you a special gift!
May God bless you this Easter!
Christ the Lord Is Risen Today

Christ Our Hope In Life And Death

2 Corinthians 5:16–6:2ESV
Let us get to know you!
Please take a moment to send us your information so that we may stay connected with you. Your information is carefully managed and protected.
How did you hear about us?