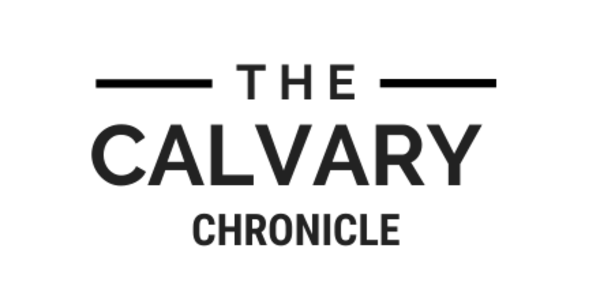 This Week at Calvary!
August 3, 2020
This Week's Readings
Week 31
Jonah; Matthew 11
2 Kings 13-14; 2 Chron. 25; Psalm 53; Matthew 12
Amos 1-3; Matthew 13
Amos 4-6; Psalm 55; Matthew 14
Amos 7-9; Matthew 15
Paper Goods and Walmart Gift Card Drive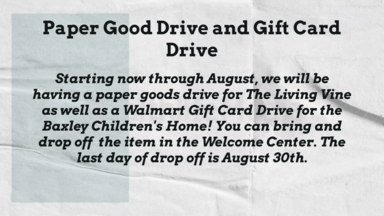 This Week's Blog!
Jonah: The Justice of God
By Chris Watson
In this week's Bible readings we find ourselves arriving at a very familiar Bible story, the story of Jonah. Oftentimes when his life's story is taught, we discuss obedience vs. disobedience to God. The story goes that the Word of the Lord came to Jonah to speak to the evil city of Ninevah. Jonah rather than carry out the Word of the Lord to these people, boards a boat headed thousands of miles the other direction. God exercises His authority over the winds and seas to cause the ship's crew to throw Jonah overboard. God saves Jonah and after 3 days in the belly of a fish, Jonah repents and is sent back to Ninevah to carry out the Word of the Lord. We find that the people of this dreadful city repent and God spares them. It is at this point that we typically finish with the story of Jonah and marvel at God's power, grace, and mercy.
There's a second part of the story of Jonah that I don't want us to miss. Let's not forget Jonah's response to the grace and mercy shown to the Ninevites. Jonah wants justice for the actions of the Ninevites. In fact, he tells God in Jonah 4:2, "O Lord, is not this what I said when I was yet in my country? That is why I made haste to flee to Tarshish; for I knew that you are a gracious God and merciful, slow to anger and abounding in steadfast love, and relenting from disaster." He wants justice to be served on the people of Ninevah. He wishes that grace wouldn't be bestowed upon them because he doesn't believe they deserve it. So, as if spending 3 days in the belly of a fish wasn't enough to teach Jonah about the grace of God, the Lord teaches him another lesson. As Jonah goes to sit outside the city and wait to see what God is going to do with them, God allows a plant to grow up over Jonah to give him shade and avoid discomfort in the heat of the day. The next day, God has a worm go eat the plant so that the plant is no longer there to give him relief from the heat and sun. As Jonah is filled with anger about the plant, God shows Jonah why this happened. There is nothing Jonah did to "earn" the right to have the plant to provide him shade. He did not plant it. He did not water it. He did not toil to prevent the weeds from growing up alongside it. However, God allowed the plant to grow, and then be taken away.
Is God's Justice not being carried out to your liking? Do you often wonder why bad things happen to "good people," while wicked people continue to prosper? 2 Peter 3:8-9 says, But do not overlook this one fact, beloved, that with the Lord one day is as a thousand years, and a thousand years as one day. The Lord is not slow to fulfill his promise as some count slowness, but is patient toward you,[a] not wishing that any should perish, but that all should reach repentance.
Connecting People to Jesus by Sharing Life Together.
Our address is: 4625 Waters Ave, Savannah, GA 31404, USA