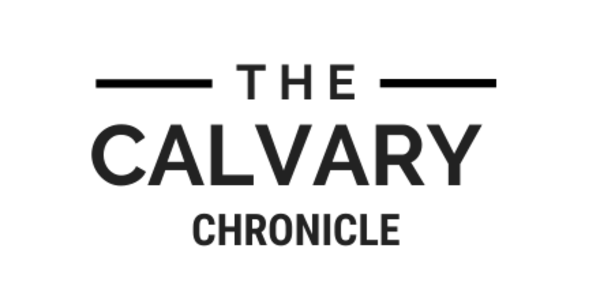 This Week at Calvary!
September 14, 2020
This Week's Readings
Week 37
Isaiah 45-48; 1 Corinthians 13
Isaiah 49-52; Psalm 69; 1 Corinthians 14
Isaiah 53-55; Psalm 128; 1 Corinthians 15
Isaiah 56-59; Psalm 70; 1 Corinthians 16
Isaiah 60-63; 2 Corinthians 1
State Mission Offering
The Month of September is State Mission Offering Month! Out goal is to raise $3,000 for the Georgia Baptist Mission Board. This years offering will go to help fund state care in these areas: human trafficking, pre/post natal care, childhood literacy, refugees and internationals, and foster care and adoption.
This Week's Blog!
1 Corinthians 13: The Love Chapter
By Jacob Mock
As we enter week 37 in our Bible in one year plan, we start out in 1 Corinthians 13. This chapter of scripture is commonly referred to as "The love chapter," which is a very timely passage. Being Christians and church members, most of us are certainly aware that love is an extremely important aspect of the Christian life. 1 Corinthians 13 tells us just how important it is.
"If I speak in the tongues of men and of angels, but have not love, I am a noisy gong or a clanging cymbal. And if I have prophetic powers, and understand all mysteries and all knowledge, and if I have all faith, so as to remove mountains, but have not love, I am nothing. If I give away all I have, and if I deliver up my body to be burned, but have not love, I gain nothing."
How well are you loving the people around you? Are you patient with them? Are you kind to them? Or are you quick tempered and rude? It makes sense that the world is not loving, but as Christians we should be the most loving people on earth! No other character trait can replace love. God's word says that it does not matter how much money you give away, how many hours you serve, or how many weeks in a row you attend church. If you are not a loving person, then you have nothing! This chapter in the Bible should cause us all to stop and reflect on how we treat the people around us. Let's be sure to love those around us well!
Missionary of the Week!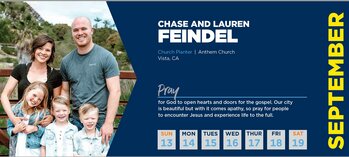 Chase and Lauren Fendel serve with NAMB in the San Diego, CA area. This area has 3,337,685 people with 86.2% of the population estimated as lost. There is 1 SBC church for every 16,361 residents.
Connecting People to Jesus by Sharing Life Together.
Our address is: 4625 Waters Ave, Savannah, GA 31404, USA