Announcements
for the Week of April 17

Join us for Lord's Day Worship this Sunday morning at 9:30 as we celebrate the glorious truth of Christ's resurrection from the dead.
The Old Testament passage this Sunday is from Job 19:23-27, the New Testament reading will be John 20:1-17, and the responsive reading will be Psalm 57:7-11.

The second Sunday evening session of Abide in the Word is this Sunday evening. You can tune in at 6:30 or any other time this coming week as we take a deeper look at 1 John and also take some time considering Belgic Confession Article 7.

After faithfully serving our congregation in the position of Resource Director for 17 years, Nancy Wassink has resigned. She will continue in the position through June to finish the rest of the Sunday School year and Vacation Bible School.
We have decided to modify the job description for the position to include some of the responsibilities Nancy has picked up over the years and to also add a few new tasks. The new title for the position will be Director of Resources and Communication. It is a part-time position with an expectation of an average of 18-20 hours per week. If you are interested in serving our congregation in this role, please speak with Pastor Mark or Jason Heard.
On April 24 at 4:00 PM our congregation will be hosting an
informational meeting for area churches with the Evangelical Presbyterian Church. The EPC is a Reformed denomination with roughly 600 churches. A pastor and ruling elder from the EPC church in Sartell, MN will be with us to offer information and answer questions. While this meeting is for congregations seeking a new home, our congregation members are welcome to join us and participate in the discussion. If you have any questions about the meeting, you can inquire with one of the Elders or Pastor Mark.

Save the Date!
This summer take a MONUMENTAL look at God's
greatness, June 6-10 at Vacation Bible School. We will explore the
vastness of God's love while trekking through the story of Joseph.
Socks
VBS needs socks! Used for staining nativity pieces (so no holes). We'll take your pairs or singles or that lonely one left in the dryer. A collection box is by the mailboxes.
Volunteers
Volunteers will be able to sign up next Sunday and registrations will also be out on April 24. We would appreciate any and all help from teens to grandparents and anyone in between. Recreation
leaders, Snack leaders, Bible story leaders, Crafts and Music, or grade helpers are invited to be a part of the VBS team. See a Director for more information: Caty Arp, Kristin Groen, or Nancy Wassink.

There are Pigs-in-the-blanket for sale. They are $12.00 a dozen. Call Linda Bleyenburg or Mary Ann Zylstra if you would like to purchase them.

Memorial Service:
There will be a Memorial Service for Marcia Uithoven, a former member and longtime friend of the congregation on Friday, April 22 at 10:00 a.m. at the Steen Reformed Church.
SAVE THE DATE:
We're having a Tea Party! All women (0-99+) are invited for tea and fellowship on Saturday, April 23 at 10:00 a.m. at First Christian Reformed Church in Edgerton. Sister's Tea will be celebrating our sisterhood in Christ as we encourage and build each other up. Tea, refreshments, and light lunch are provided. Floppy hats optional! There will also be a free will donation box and silent auction to benefit Royal Family Kids Camp. So gather your sisters in Christ and join us for a fun morning of fellowship and encouragement! If you have any question or would like to reserve seat(s) or a table, please contact Ashley Stoel (507-227-6446), Courtney Vis (507-920-2831), or Kelsey Schmidt (507-227-8570).
Hope Harbor Woman Day:
Hope Harbor is having a Woman Day on June 22 at the Heritage Event Center in Marshall. Flowers, sweets, makeup, massages, shopping, speaker, and more! Early bird registration is now open. $85 until April 30, $100 after May 1, and $115 after May 20. To register or for more information click here.
AOK Day:
The Southwest Minnesota Christian High School staff and students are preparing for their annual AOK day on Friday, April 29 from 12:30-3:00 pm. . We would like you to share in our Acts of
Kindness Day by allowing us to assist you with tasks around your home. Please call the school office by Tuesday, April 26 (442-4471) if we can assist you with window washing, lawn raking, gutter cleaning, or any other miscellaneous tasks you may need assistance in completing.
Work Day
Volunteer Work Day at Inspiration Hills on May 21, 9:00-3:00 p.m. Bring your church group, youth group, classmates, friends, or family, and spend the day outside preparing Inspiration Hills for summer camp. Your volunteer time helps us get the camp cleaned up from Winter and groomed and ready for summer. Lunch will be provided. Contact our office at 712-986-5193 or email ihills@inspirationhills.org to sign up today.
This Sunday
There will be no Sunday School this week.
Nursery: Amy Van Hulzen and Jacob Wassink
Children's Message: Nancy Wassink
Fellowship: Shelli & Jason Menning and Beva & Larry Snyder
Calling Elders: Loren Bleyenburg and Keith Van Hulzen
Next Week Sunday
Next Week Sunday
Nursery: Taylor Van Dyke and Kya Voge
Children's Message: Brenda Kleinjan
Fellowship: Orla & Dale Schuld and Duane & Carol Schmidt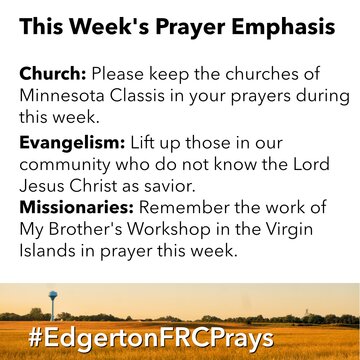 Our address is: 230 Maple St, Edgerton, MN 56128, USA