Announcements
for the Week of April 24

Join us for worship this Sunday morning at 9:30 as we celebrate the sacrament of baptism.
We return to Genesis for our sermon text this week as we continue the story of Joseph and look at Genesis 37:12-36. Our responsive reading is Psalm 58:1-11 and our public reading of scripture has us starting 2 Timothy as we read 2 Timothy 1:8-18.
If you unable to join us in person, the webcast of our service is available on our website, YouTube Channel, or Facebook Page.

Sunday at 4:00 PM our congregation will be hosting an
informational meeting for area churches with the Evangelical
Presbyterian Church. The EPC is a Reformed denomination with roughly 600 churches. A pastor and ruling elder from the EPC church in Sartell, MN will be with us to offer information and answer questions. While this meeting is for congregations seeking a new home, our congregation members are welcome to join us and participate in the discussion. If you have any questions about the meeting, you can inquire with one of the Elders or Pastor Mark.

We want to thank everyone for their prayers, cards, and calls when my brother John Fransen passed away on March 25. We appreciate your kindness.
Mina & Frank Jouwstra

After faithfully serving our congregation in the position of Resource Director for 17 years, Nancy Wassink has resigned. She will continue in the position through June to finish the rest of the Sunday School year and Vacation Bible School.
We have decided to modify the job description for the position to include some of the responsibilities Nancy has picked up over the years and to also add a few new tasks. The new title for the position will be Director of Resources and Communication. It is a part-time position with an expectation of an average of 18-20 hours per week. If you are interested in serving our congregation in this role, please speak with Pastor Mark or Jason Heard.

Bulletin:
The bulletin will be printed early next week. All bulletin announcements need to be in by Wednesday at noon.
Concert:
Hope Haven will host a Spring Concert featuring the Duttons on Saturday, April 30 at 6:30 p.m. at BJ Haan Auditorium at Dordt
University in Sioux Center, IA. The Dutton family is well known for their popular family friendly Branson, MO show. Tickets are $20 per person, or $50 for a family pass. Visit hopehaven.org for more information.
There are Pigs-in-the-blanket for sale. They are $12.00 a dozen. Call Linda Bleyenburg or Mary Ann Zylstra if you would like to purchase them.
This Week
Nursery: Taylor Van Dyke and Kya Voge
Children's Message: Nancy Wassink
Fellowship: Diane & Mark Brockberg and Duane & Carol Schmidt
Calling Elders: Kevin Kleinjan and Mike Drooger
Sunday:
4:00 p.m. Informational meeting about the EPC.
Monday:
9:00 a.m. We will be making pigs-in-the-blanket.
Tuesday:
1:00 p.m. We will finish the pigs.
Next Week Sunday
Nursery: Caty & Bergen Arp
Children's Message: Kristin Groen
Fellowship: Ora Bobeldyk and Orla & Dale Schuld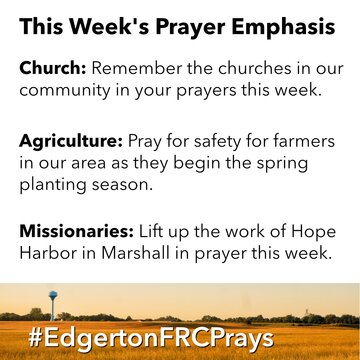 Our address is: 230 Maple St, Edgerton, MN 56128, USA