Announcements
for the Week of May 1

Join us for worship this Sunday morning at 9:30 as we celebrate Profession of Faith.
We return to Genesis for our sermon text this week as we continue the story of Joseph and look at Genesis 38:1-30. Our responsive reading is Psalm 59:1-10 and our public reading of scripture has us in 2 Timothy 2:1-13.
If you unable to join us in person, the webcast of our service is available on our website, YouTube Channel, or Facebook Page.

There are Pigs-in-the-blanket for sale. They are $12.00 a dozen. Call Linda Bleyenburg or Mary Ann Zylstra if you would like to purchase them.

Margaret Njuguna, our friend and missionary at the En-Gedi
Children's Home in Kenya, has just released a book she authored, When God Calls, The Detailed Account of One Woman's
Relentless Journey in Heeding God's Call. The books are available to anyone who would like to purchase one. The cost is $10. Contact Diane Westenberg (507-920-6888). Margaret writes about leaving a
successful job of 27 years to take a leap of faith and follow God's call. Though there were challenges and roadblocks, she persisted.
Volunteer Work Day at Inspiration Hills on May 21, 9:00-3:00 p.m. Bring your church group, youth group, classmates, friends, or family, and spend the day outside preparing Inspiration Hills for summer camp. Your volunteer time helps us get the camp cleaned up from Winter and groomed and ready for summer. Lunch will be provided. Contact our office at 712-986-5193 or email ihills@inspirationhills.org to sign up today.
This Week
Nursery: Caty & Bergen Arp
Children's Message: Kristin Groen
Fellowship: Ora Bobeldyk and Orla & Dale Schuld
Calling Elders: Jason Menning and Gene Westenberg
Monday:
1:00 p.m. Joy Circle
6:30 p.m. Elders Meeting
7:30 p.m. Deacons Meeting
8:00 p.m. Consistory
Tuesday:
7:00 p.m. Sunshine Circle
Wednesday:
9:30 a.m. Priscilla Circle
Next Week Sunday
Nursery: Alyssa Bleyenburg and Brynlee Lustfield
Children's Message: Amy Van Hulzen
Fellowship: Lesli & Harlan Dragstra and Cheryl & Cal Brouwer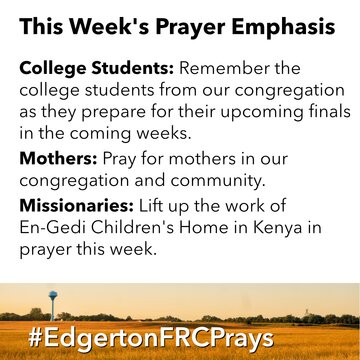 Our address is: 230 Maple St, Edgerton, MN 56128, USA