Announcements
for the Week of May 22


There are Pigs-in-the-blanket for sale. They are $12.00 a dozen. Call Linda Bleyenburg or Mary Ann Zylstra if you would like to purchase them.

Note:
Next week the bulletin will be printed early. Please have all bulletin announcements in by Wednesday at 12:00 p.m.
Mission Trip Meeting:
Mission Trip Attendees, there is a required meeting June 5, following church in the sanctuary. This is for all attendees and the parents of any youth attending.
Vacation Bible School:
Volunteers can sign up sign up and registrations are out. We would appreciate any and all help from teens to grandparents and anyone in between. Recreation leaders, Snack leaders, Bible story leaders, Crafts and Music, or grade helpers are invited to be a part of the VBS team. See a Director for more information: Caty Arp, Kristin Groen, or Nancy Wassink.
Prayer Partners Needed:
Sign up to be a Prayer Partner for a mission trip team member today! Our process will be different this year. You will receive a participant's name along with a Prayer Partner Guide on Send-off Sunday, June 19. Sign up sheet is on welcome desk. Deadline to sign up is June 12.
Note:
Margaret Njuguna, our friend and missionary at the En-Gedi
Children's Home in Kenya, has just released a book she authored, When God Calls, The Detailed Account of One Woman's Relentless Journey in Heeding God's Call. The books are available to anyone who would like to purchase one. The cost is $10. Contact Diane Westenberg (507-920-6888). Margaret writes about leaving a successful job of 27 years to take a leap of faith and follow God's call. Though there were challenges and roadblocks, she persisted.
Opportunity to Support:
Baseball, hot dogs, and a fundraiser for Dawson! With an outpouring of those wanting to help, a fundraiser for Dawson Vander Top and his family will be held on Tuesday, May 24 at the Southwest Christian High School parking lot. Dawson, SWC
sophomore and son of Cheney and Vonda Vander Top, was injured in an accident on Sunday, May 15 and is recovering at a Sioux Falls
hospital with multiple injuries. To show your support for Dawson and the Vander Top family, join us for a hot dog meal (hot dogs, chips, ice cream, and drink) being served from 4:30-7:30 p.m. and enjoy the baseball game being played the same evening. Dawson is a member of the baseball team, and we will encourage him with prayers to "ace" recovery to be home soon! Fundraising donations may be directed in three different avenues: 1) through SWC, 2) to the Vander Top account set up at First State Bank SW, Edgerton or First State Bank SW, Pipestone, or 3) through a Go Fund Me page set up for the Vander Top family. Thank you for the many prayers and other means you have and will support the Vander Top family with today and for the weeks to come.
Card Shower:
There is a card shower for Sylvia Poe (daughter of John & Sebia Gunnink) for her 80th Birthday. Cards can be sent to: Nathan Poe, 5538 Kennsington Circle, Johnston IA 50131.
Note:
Where is the world headed? Is Christ really coming? If so, what will happen when He does? When will it happen? What is our calling now? Today, people have many different views on what will happen in the future. Come to Edgerton PRC on Friday evening, June 3, at 7 PM to hear Pastor Matt De Boer explain what God's Word teaches about the future of this world and Christ's coming.

Thank you to the First Reformed Church Women for the flowers for our 50th Anniversary.
Rich & Ila Muyskens
This Week
7:00 PM Baccalaureate Service
Nursery: Kristin Bloemendaal and Kaden Brockberg
Children's Message: Jason Snyder
Fellowship: Tara & Johnny Menning and Brenda & Kevin Kleinjan
Calling Elders: Gene Westenberg and Mike Drooger
Next Week Sunday
Nursery: Kayla Buys and Brayden Dirksen
Children's Message: Brenda Kleinjan
Fellowship: Kristin & Mark Groen and Shanna & Jason Snyder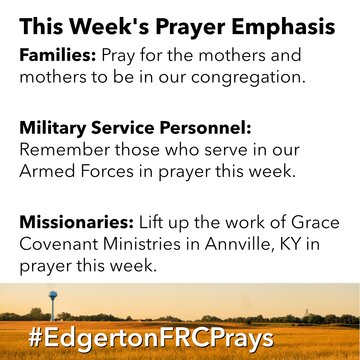 Our address is: 230 Maple St, Edgerton, MN 56128, USA