Announcements
for the Week of May 28

Join us this Sunday morning at 9:30 as we worship the Lord.
The sermon text this week has us continuing the story of Joseph in Genesis 41:37-57. The responsive reading is Psalm 61:1-8 and our public reading of scripture is from 2 Timothy 4:1-8.
If you unable to join us in person, the webcast of our service is available on our website, YouTube Channel, or Facebook Page.

Mission Trip Attendees, there is a required meeting June 5, following church in the sanctuary. This is for all attendees and the parents of any youth attending.

There are Pigs-in-the-blanket for sale. They are $12.00 a dozen. Call Linda Bleyenburg or Mary Ann Zylstra if you would like to purchase them.

Thank you to the First Reformed Church Women for the gift of flowers for our 50th Anniversary.
Phil & Kathy Menning

Prayer Partners Needed:
Sign up to be a Prayer Partner for a mission trip team member today! Our process will be different this year. You will receive a participant's name along with a Prayer Partner Guide on Send-off Sunday, June 19. Signup sheet is on welcome desk. Deadline to sign up is June 12.
Missionary Book:
Margaret Njuguna, our friend and missionary at the En-Gedi
Children's Home in Kenya, has just released a book she authored, When God Calls, The Detailed Account of One Woman's Relentless Journey in Heeding God's Call. The books are available to anyone who would like to purchase one. The cost is $10. Contact Diane Westenberg (507-920-6888). Margaret writes about leaving a successful job of 27 years to take a leap of faith and follow God's call. Though there were challenges and roadblocks, she persisted.
Talk on Eschatology:
Where is the world headed? Is Christ really coming? If so, what will happen when He does? When will it happen? What is our calling now? Today, people have many different views on what will happen in the future. Come to Edgerton PRC on Friday evening, June 3, at 7 PM to hear Pastor Matt De Boer explain what God's Word teaches about the future of this world and Christ's coming.
Fundraiser:
Help us Ace this Fundraiser! We are excited to team up with other local nonprofits (ATLAS of Sioux Center, Inspiration Hills, Justice For All Ministry, The Oaklyn Foundation, and Siouxland Habitat for Humanity) to host the first ever Collaborative Christian Cards "Poker Run"! The event will take place on Saturday, July 16 at 1 pm at various locations to pick up a card and learn more about how the organization makes an impact in our communities. The event will wrap up at 5 pm and end at the Children's Park Shelter in Sioux Center for a free will donation meal from the Sioux County Pork Producers, a chance to buy a new card, and prizes for the best and worst hands! The cost per person is $50. All proceeds from the fundraiser will be evenly split between the participating nonprofits. Register at https://www.eventbrite.com/e/collaborative-christian-cards-tickets-260264607447
This Week
Nursery: Kayla Buys and Brayden Dirksen
Children's Message: Jason Snyder
Fellowship: Kristin & Mark Groen and Shanna & Jason Snyder
Calling Elders: Loren Bleyenburg and Jason Heard
Wednesday:
9:30 a.m. Priscilla Circle
Next Week Sunday
Nursery: Londa Dirksen and Carly Groen
Children's Message: Amy Van Hulzen
Fellowship: Tricia & Mike Jouwstra and Jill & Loren Bleyenburg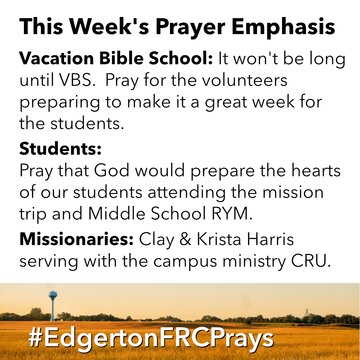 Our address is: 230 Maple St, Edgerton, MN 56128, USA