Important Message from Morris
Hello fellow Logos user,
For over 20 years I've had the privilege of being the authorized trainer for Logos and providing various training products. With this email, I'm thrilled to announce our most bold and comprehensive training venture yet: A NEW AND IMPROVED ONLINE TRAINING WEBSITE!
If you're already a subscriber, please review the new features and details as described below.
If you're not a subscriber yet, please check out all that's available to you in the ever-expanding video training library with a low-cost subscription.
As always, all of us at MP Seminars are working hard to be your source for Logos training.
In Him,
Morris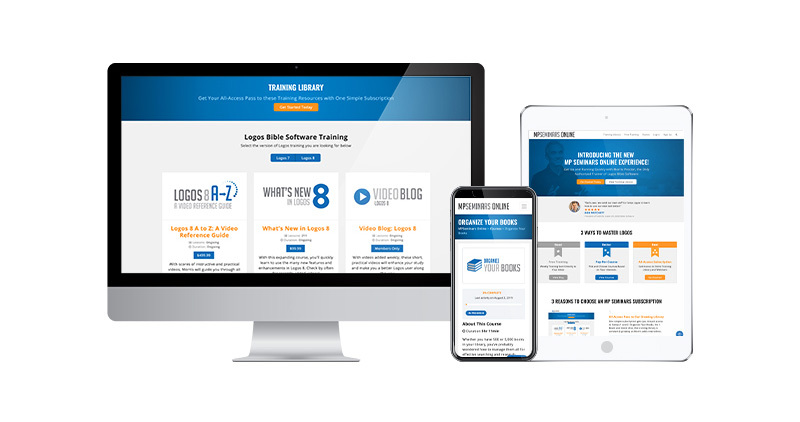 More training resources than ever
Fast, user-friendly site with free and paid content at your fingertips
Optional pay-per-course for most courses as an alternative to subscribing
Webinars all posted to site with full control over play / pause / playback speed

You'll now access the site at mpseminars.com instead of mpseminarsonline.com
Cleaner, more user-friendly layout and course progress indicators
All your course progress and account data will remain intact
Your username and password will remain the same
If you saved your password using a browser, the browser may not automatically fill in your password since the URL has changed. If this happens, DON'T WORRY — you'll likely be prompted to save it again. If you've forgotten it, you can easily change your password from the login screen.

If you haven't yet taken advantage of our incredible online video training library, now is the perfect time. Features of your membership will include:
All-access pass to our extensive and ever-expanding Video Training Library
New content posted almost weekly, including training for every Logos 8 update
Automatic progress tracking
And much more!
While you'll notice big changes to mpseminars.com, you'll still find:
Morris' FREE weekly training blog posts
Registration available for in-person training events when they're posted
Our address is: Murfreesboro, TN, USA