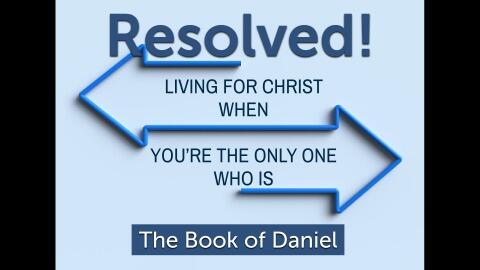 The LORD is seeing to "it!"
Church Family: One of God's names He uses for Himself is Jehovah Jireh which means, The LORD will provide or The LORD will see to it. That name is to be an encouragement for us. God wants you to know right now that He is seeing to "it!" Whatever "it" is that you are struggling with, He is seeing to "it." He is not a passive participant in "it." He is bringing "it" about purposefully and beautifully. When God sees to something, His seeing is always accompanied with doing. The LORD is sustaining all of creation right now. He is seeing to all of His creation being worked out according to His plan and purpose right now. He is seeing to "it." All of "it." And this includes you and I and our schedule today. Right now, God is continually guiding and controlling everything that is happening at this very moment in every nook and cranny in this universe at the same time that we are actively working, moving, relating, and making decisions. God is working at the same we are working. You are not ever working alone with the results dependent upon you only. Sometimes we do not have the same intent as God, but He moves and acts and leads through our actions and intentions to fulfill His plan and purposes with our involvement.
So, as you do your work in your life are you confident that God is doing His work in your life for your good? Are you confident that He is working everything for your good even if persecution, hardships and calamities may be part of His plan? Brothers and sister in Christ! We have the promise that there is a divine reason for every bad thing to happen to us even if we do not ever learn what that reason is on this side of heaven.
That is one of the purposes for the story of Daniel's life. God worked out His specific, purposeful, powerful sovereignty as Daniel lived in captivity for 70 years throughout endless times of evil that came against him. This week in Daniel 5, he is now over 80 years old faithfully living out his retirement years in Babylon. Through Daniel's faithfulness, God wants us to have endless hope as He works out His purposeful and sometimes painful sovereignty in our lives. Just like in Daniel's life, God wants us to have hope when the world mocks our faith, convictions and morals. God wants us to have hope when Godless rulers rule our nation. God wants us to have hope when the enemy is standing in front of us making God-less demands. God wants us to have hope when circumstances make it look like we are defeated. Why? Because He is purposefully and powerfully working out His plan.
Let joy, hope, love, perseverance, boldness, holiness and unity prevail! God is God and He is in powerful, loving control of "it."
Daniel 5:23 ...the God in whose hand is your breath, and whose are all your ways...
I look forward to worshipping with you Jehovah-Jireh this Sunday, Steve
Our address is: 180 NC-210, Hampstead, NC 28443, USA