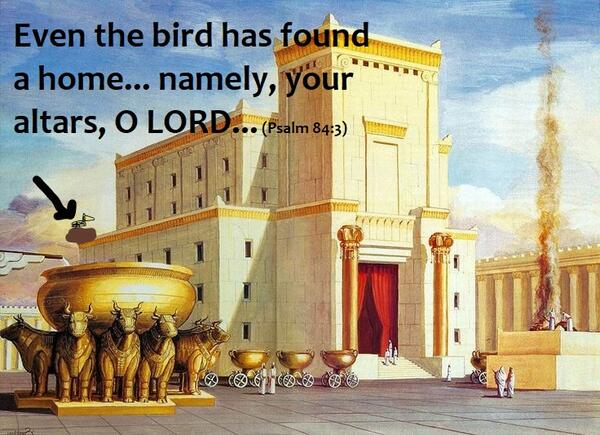 St. Paul's Weekly Update
Weekend of December 5, 2021 - Advent 2
Lucky bird! Blessed worshiper.
A few weeks ago, we talked about how lying awake at night makes us feel like a lonely bird on a roof (Psalm 102:7). But in Psalm 84:3, our bird seems to have found a new home.
"Even the bird has found a home, and the swallow a nest for herself, where she may place her young--namely, your altars, O LORD of Armies, my King and my God." (Psalm 84:3)
In Psalm 84, the Psalm writers are daydreaming about being in the Temple of the LORD. The first two verses read, "How lovely is your dwelling place, O LORD of Armies! My soul becomes weak and even wastes away for the courts of the LORD; my heart and my flesh cry out for the living God."
For some reason or another, it seems the psalmist is unable to be in God's house. He longs to be there with all his heart. He feels like he is wasting away when he can't be there.
And that's why he's very jealous of the bird. There were many nooks and crannies in Solomon's temple, so it would be no surprise that mamma birds would make nests up high for themselves and their young. The psalm writer is jealous of the birds! They get to be close to the altars of the LORD of Armies, his King and God, while he is stuck far away. He wants to be there so he can appreciate what the birds never truly could--the blessings and blessedness that come from being in proximity to God and his word.
"Blessed are those who live in your house; they are ever praising you... For better is one day in your courts than a thousand elsewhere (Psalm 84:5, 11)."
When you feel like a lonely bird on a roof, follow the example of the birds in Solomon's temple. Be jealous of them, and don't let the lucky birds alone enjoy what is meant for your blessing. This Advent we'll have even more opportunities to worship than usual, and we can long for them, and find joy in being where God comes to us in Word and Sacrament.
Prof. Brug writes on this verse, "We are free to worship God anywhere. Nevertheless, our churches should hold a special place in our hearts. There we have been baptized, confirmed, and married. There we have witnessed these events in the lives of our loved ones. There we have heard words of comfort at the deaths of family members and friends. From the pulpits we have heard God's Word. At that altar we have received Christ's true body and blood, which was given and shed for our forgiveness. We too can say, 'How lovely is your dwelling place, O LORD Almighty.' It is true that we can worship God anywhere, but may we never deprive ourselves, through our own negligence or indifference, of the joy of joining fellow believers in God's house. God does not need us to come to his house, but we need to be there."
+++
Special Advent Midweek Services - Wednesday @ 6:30pm
We Proclaim the Savior from Heaven -- with the Shepherds!
Guest Preacher: Pastor Jacob Kempfert
Sunday Worship @ 8 & 10:30am


Bible Class and Sunday School @ 9:15 at the School


Monday Night Services Resume January 3rd
Wednesday Bible Classes Resume in January


+++
Invite family and friends!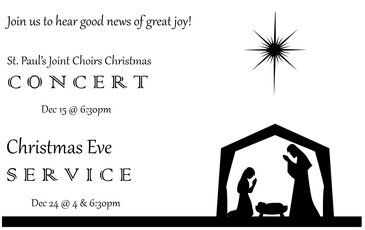 Advent 2 Worship Notes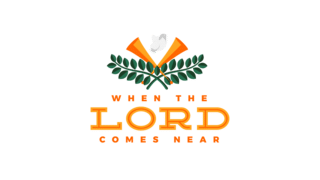 Series Theme: When The LORD Comes Near
"Advent" is a Latin word that means "coming." The season of Advent is the four week period before Christmas that the Church uses to connect the two "comings" of Christ. The first time the Lord came into our world it was as a tiny, helpless baby, born in a manger in Bethlehem. However, when Jesus comes again, it will be in all his power and glory with his angelic army behind him. He will be coming as judge at the end of time. Let us use these four weeks to see how the events of Jesus' first coming remove all our fears about his second coming. We can hold our heads high when the Lord comes near.
Theme this Sunday: When the Lord Comes Near, He Humbles His People
People tend to feel a lot of pressure this time of year. We want our houses to look good for out-of-town guests. We want to impress people with the thoughtfulness of our gifts. What a welcome relief, therefore, to hear what is required to meet the Lord: only repentance. You see, Jesus is not someone we need to impress with our good works. Indeed, repentance is the opposite of work. Repentance is the humble admission of our sin combined with the joyful trust that everything needed to bring us close to God has already been done by him.
First Reading: Malachi 3:1-7b
Look at Malachi 3:1. Who is the messenger who will prepare the way before the LORD?
Here Malachi prophesies about John the Baptizer. (See Matthew 11:10 for details.) John would prepare people for the arrival of the master they were seeking when they complained, "Where is the God of justice?"
What will the coming of the LORD be like?
When Jesus, God's messenger, came the first time, Malachi said he would be like strong soap or hot fire to purify people. These images picture the often-painful process God uses to remove people's selfish ways and to create lives of faith which honor the God of justice.
Psalm 66 - Those who trust the LORD cry out to him with joy and not with fear
Second Reading: Philippians 1:3-11
What brings Paul joy when he thinks of the Philippian congregation?
He is excited because God has shared that same grace with them that he has experienced through the gospel. This is his underlying joy through everything. (Does this endear you to your fellow Christians?)
What does he want for their lives (and ours) up to the time of Christ's return?
He prays that they will be able to understand clearly and make the right choices of what is best. This will lead them to exhibit a life without blame before God. This comes from a knowledge and depth of insight connected with Jesus. (Is your spiritual life progressing?)
Gospel Reading: Luke 3:1-6
In contrast to some of the great men of that era, to whom did the word of the Lord come? Where?
God did not speak directly to the Roman emperor or the Jewish high priest. He spoke directly to John the Baptist, in the desert of all places. (Today too, God casts down the mighty from their thrones, but he lifts up the lowly.)
On what did John the Baptist center his preaching?
John was known for his baptizing. People were prepared for it by repenting. In Baptism, they found forgiveness of sins through faith.
How had the prophet Isaiah described John's task?
John would be a lone voice getting people ready to see the Messiah when he arrived on the public scene. It was to be a preparation like that of an arriving king. This spectacular coming would rescue the whole world.
Hymns: 326 (new), 316, (308, 659), 310:1,4
Worship helps from: https://wels.net/worship-help/wh20211129/
+++
Christian Worship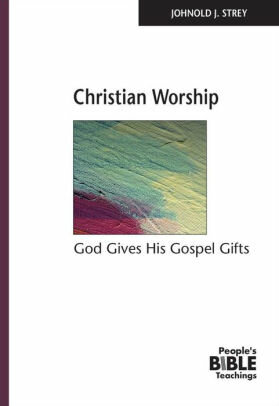 As we continue to introduce the new hymnal, we'll share some thoughts from the new book above, Christian Worship: God Gives His Gospel Gifts (available here from Northwestern Publishing House ) will be summarized.
11. Liturgy -- The Middle: The Hymn of the Day
Each scripture reading in the service is followed by singing. God's people can't help but burst out in song in response to the proclamation of his word. A special feature of Lutheran worship is the Hymn of the Day.
When Martin Luther was reforming the church, one of the ways he would bring the truths of the gospel to the people was through song. This Advent season, our midweek series will go through one of his hymns that teaches the Christmas story, "From Heaven Above to Earth I Come."
Some of the finest composers in history were Lutherans who used their talents to compose music that summarized and proclaimed the truths of particular Sundays in the church year. J.S. Bach (https://www.youtube.com/watch?v=98UjjwzJBFE), Gottfried Stötzel (https://www.youtube.com/watch?v=nZwTfW_DSog), and Michael Praetorius (https://www.youtube.com/watch?v=wb9lIMxq2yE) are some of the most prolific.
So what goes into choosing a Hymn of the Day? Strey writes, "...[T]he suggestions offered by those who prepare a church body's worship resources are given with a great deal of thought. A Hymn of the Day may be selected for its historical connection to a specific Sunday, the strength of its gospel message, its connection to the readings and thoughts for that day, its musical heritage in Lutheranism, or for other practical reasons--and often for several of these reasons."
Let's use the Hymn of the Day for this Sunday as an example. It is "On Jordan's Bank the Baptist's Cry." The theme for this Sunday centers around God humbling his people to prepare for Christ's coming, as he did in the ministry of John. The tune comes from none other than Michael Praetorius (listen to a wonderful setting here: https://www.youtube.com/watch?v=hHWo3kIjPnE), and the text composed by Charles Coffin focuses on how the message of John still humbles us to look to Christ in faith as we await his second coming. "Then cleansed be ev'ery life from sin and furnished for a Guest within, and let us all our hearts prepare for Christ to come and enter there."
+++
Other Devotional Materials:
WELS Daily Devotions: https://wels.net/dev-daily/
Family devotions: https://wels.net/family-devotion/
Bible Reading: Through my Bible in 3 years from Wels.net. Or "The God's Story of Salvation" plan from the Forward in Christ magazine: forwardinchrist.net/bible-readings-2021 .
+++
Contact
St. Paul's Lutheran Church and School
Church: 1020 Court St.
School: 2745 W. Genesee Ave.
Our address is: 1020 Court St, Saginaw, MI 48602, USA