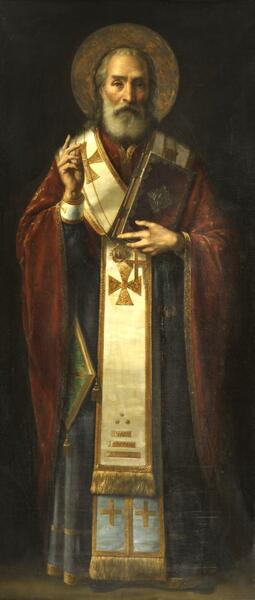 St. Paul's Weekly Update & Funeral Announcement
Weekend of December 12, 2021 - Advent 3
Jolly Ol' St. Nick
Jolly Ol' St. Nick was a real person. Not much can be known about him with certainty, but it's clear that he was a generous man. According to the Oxford Dictionary of the Christian Church, "His symbol is sometimes three bags of gold, the dowry he is supposed to have given to three girls to save them from degradation." But it's not his generosity that is the most important thing to know or emulate.
Jolly Ol' St. Nick was someone who believed in Jesus, and cared deeply about the truth of his Savior.
Nicholas, a bishop of a church in Myra (present-day Turkey) was imprisoned for his faith in Jesus. And sometime after he was released, attended the Council of Nicaea in 325 AD. This is the council that worked so hard to refute the false teaching that Jesus was not true, eternal God, equal to the Father in glory. This council, based on a study of God's Word, produced the Nicene Creed, which we still confess today.
So, feel free to emulate Jolly Ol' St. Nick's generosity this season. As Paul wrote to Timothy, "Instruct those who are rich in this present age not to be arrogant or to put their hope in the uncertainty of riches, but rather in God, who richly supplies us with all things for our enjoyment. Instruct them to do good, to be rich in good works, to be generous and willing to share (1 Timothy 6:17-18)."
But remember, we can only emulate his generosity and good works when we first emulate his faith.
St. Nick would be appalled at the line, "do good for goodness sake!" The real Santa Claus put his hope in God who richly supplied him with salvation and all things he needed in life, and so he was good for Jesus' sake--out of gratefulness to his Savior. We, too, have been given the gift of faith in our Savior. So if you really want to be inspired by St. Nick this season, treasure that gift of faith! Treasure the truth about your Savior! And then yes, "be generous and willing to share," giving gifts that remind us of the gift our Savior.
+++
Special Advent Midweek Services - Wednesday @ 6:30pm
We Proclaim the Savior from Heaven -- with the Angels!
Guest Preacher: Pastor Patrick Ernst
Sunday Worship @ 8 & 10:30am


Bible Class and Sunday School @ 9:15 at the School


Monday Night Services Resume January 3rd
Wednesday Bible Classes Resume in January


+++
Funeral Announcement and Notice of Another Member Entering Heaven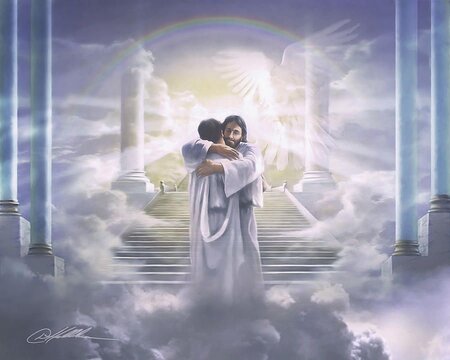 Our dear brother in Christ, Robert Wenzell, was called to his eternal home on December 4th.
In addition, our dear brother in Christ, Steve Rosebrock, was suddenly called to his eternal home in his sleep Sunday night.
Even as we mourn, we rejoice in the promises God made to Robert and Steve in their baptisms, promises they firmly believed. Their bodies, sanctified by the Holy Spirit, now rest until the last day. Their souls, purchased by the blood of Christ, rejoice in the loving presence of their Father.
The funeral for Robert Wenzell will take place at St. Paul's this Thursday, December 9, at 12pm, with visitation from 10:30-12pm. All are welcome to gather around Christ's promises, receive comfort from God's Word, and to comfort the family. Please keep them all in your prayers.
Bob's obituary can be found here: https://docs.google.com/document/d/1hZI6qcfxU1JFuZgWrwb7dqQ37WQVKRIP/edit?usp=sharing&ouid=113110570009022447565&rtpof=true&sd=true
Funeral Arrangements are pending with the Rosebrock family. Please keep his wife Betsy, daughter Ashlyn, sisters Kim and Karen, and father Al in your prayers.
The Lord is my shepherd; I shall not want.
He maketh me to lie down in green pastures:
he leadeth me beside the still waters. He restoreth my soul:
he leadeth me in the paths of righteousness for his name's sake.
Yea, though I walk through the valley of the shadow of death,
I will fear no evil: for thou art with me;
thy rod and thy staff they comfort me.
Thou preparest a table before me in the presence of mine enemies:
thou anointest my head with oil; my cup runneth over.
Surely goodness and mercy shall follow me all the days of my life:
and I will dwell in the house of the Lord for ever.
Psalm 23
Invite family and friends!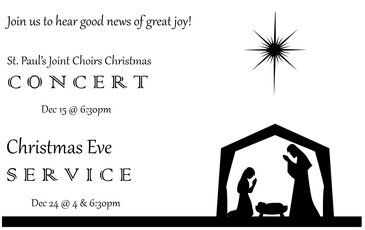 Advent 3 Worship Notes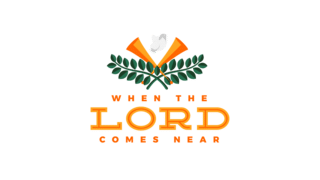 Series Theme: When The LORD Comes Near
"Advent" is a Latin word that means "coming." The season of Advent is the four week period before Christmas that the Church uses to connect the two "comings" of Christ. The first time the Lord came into our world it was as a tiny, helpless baby, born in a manger in Bethlehem. However, when Jesus comes again, it will be in all his power and glory with his angelic army behind him. He will be coming as judge at the end of time. Let us use these four weeks to see how the events of Jesus' first coming remove all our fears about his second coming. We can hold our heads high when the Lord comes near.
Theme this Sunday: When the Lord Comes Near, He Brings Joy
The coming of Christ into the world the first time created joy like none other. His reappearing will bring unimaginable joy to all who really know him and trust in him. The better we know God's grace to us in forgiving all our sins and his concern for all our needs, the more we will seek to serve him and help others. Once again, we will rejoice.
First Reading: Zephaniah 3:14-17
What is the emotion that he desires in "Zion"?
Daughters of Zion, Israel, and Daughters of Jerusalem signify God's people. He prepares them for emotions of joy and gladness as well as a quiet peace inside. With fear and sadness removed, they get their hands eagerly focused on doing his work.
What is the motivation for such emotions?
The Lord has taken away the punishment for their rebellion and now protects them. How true that is for us in the person of Jesus who died for sins, now rules over all things, loves us, and rejoices in us as he leads us to joyfully serve him.
Psalm 130 - Those humbled by God's message of repentance cry out to God and receive forgiveness and joy
Second Reading: Philippians 4:4-7
What two attitudes does Paul encourage in us here?
Paul tells us to rejoice and to live not for ourselves but let our gentleness (treating others kindly and fairly) be evident to all. Anxious? Paul says to pray (for others too).
How can someone feel joyful in the troubled world we see all around us?
The Lord is near! God's peace will guard our minds in Christ Jesus.
Gospel Reading: Luke 3:7-18
What did John the Baptist say comes with real repentance?
John told the crowd that they should produce "fruit" in keeping with repentance. If they were truly sorry for their sinfulness, the fruit of faith—a fitting response—would follow. Real repentance cannot lead to smugness, complacency, or habitual repetition of the same sin.
What are some examples of actions that fit real repentance?
Some actions which fit with real repentance, John says, include sharing with those in need, not abusing your position by cheating others, and being content with what you have.
What was the final goal of John's preaching?
John's goal in preaching was to lead people to grasp what sin is and how bad its results are, so they could be drawn to one much greater than he. That man was Jesus, the Christ, who was destined to die for them and who would send the Holy Spirit to create this type of life in them.
Hymns: 827 ("new" Gerhardt!), 324, 524, 306
Worship helps from: https://wels.net/worship-help/
+++
Christian Worship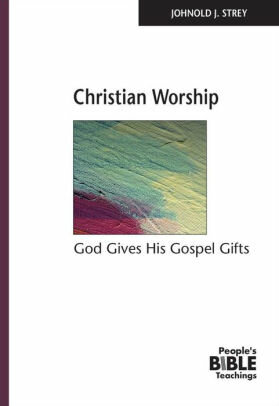 As we continue to introduce the new hymnal, we'll share some thoughts from the new book above, Christian Worship: God Gives His Gospel Gifts (available here from Northwestern Publishing House ) will be summarized.
11. Liturgy -- The Middle: The Sermon
One of the jobs that the Apostle Paul encouraged young Pastor Timothy to do was preach. "Devote yourself to the public reading of Scripture, to preaching and to teaching" (1 Timothy 4:13). The word preach in Greek generally means to announce a message as a herald (Strey, 120). A herald doesn't make up messages--he simply shares what the King has told him to share.
That's what a faithful pastor does--he studies and then shares the message that God has given him to proclaim. This can happen in different styles and for different amounts of time. The most important feature of any sermon is proclaiming the gospel. Every sermon must be Christ-centered, as well as faithfully proclaim what that particular text has to say, both the law and the gospel. The goal is to "let the message of Christ dwell among you richly." The message of Christ--not good advice, not cute stories (though sometimes I use those for attention breaks/grabbers, but only to point to the message hopefully!). It might not seem exciting to our sinful nature, but our new man knows that "faith comes from hearing the message, and the message is heard through the word about Christ" (Romans 10:17).
+++
Other Devotional Materials:
WELS Daily Devotions: https://wels.net/dev-daily/
Family devotions: https://wels.net/family-devotion/
Bible Reading: Through my Bible in 3 years from Wels.net. Or "The God's Story of Salvation" plan from the Forward in Christ magazine: forwardinchrist.net/bible-readings-2021 .
+++
Contact
St. Paul's Lutheran Church and School
Church: 1020 Court St.
School: 2745 W. Genesee Ave.
Our address is: 1020 Court St, Saginaw, MI 48602, USA