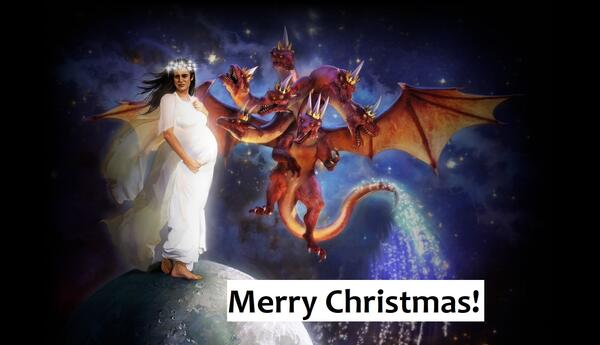 St. Paul's Weekly Update
Weekend of December 19, 2021 - Advent 4
Merry Christmas from Revelation
In Revelation 12, John sees a vision of a woman about to give birth (v. 2), and there is a giant dragon ready to devour the child (v. 4). It's an apocalyptic vision that doesn't often make it on to Christmas cards--but maybe it should!
It shows that Christmas is more than a cute little baby being born in a manger.
The pictures are easy to figure out, especially when you use Scripture to interpret Scripture.
The woman in this vision isn't Mary, but the church (Galatians 4:26). She has twelve stars around her head (v. 1, think 12 tribes, 12 disciples...) and is protected by God for 1,260 days after her son is born, Revelation's normal number for the New Testament era of the church until Jesus comes back (also known as 3 1/2 years).
The Son is Jesus, the one "who will shepherd all the nations with an iron rod" (vs. 5, Ps 2:7-9).
The Dragon is the Devil, the serpent who is the enemy of the church and the promised child ever since the beginning (vs. 4, Genesis 3).
This vision shows that although Satan opposes Jesus and tried to destroy him after his birth, not only is he unable to harm Jesus, but he is also unable to harm the church. That's an important message around Christmas! Jesus isn't just a cute little baby to make us feel warm and fuzzy. Jesus is the promised ruler who enters the cosmic struggle against Satan. We, the church, are also involved in this cosmic struggle. It is not easy! But the ruler who is born is unharmed, and the church is protected, and Satan is defeated.


That's a Christmas message worth sharing!
So... you're welcome for preparing your Christmas card for this year:
Revelation 12:1-6, 10-12
"A great sign appeared in the sky: a woman clothed with the sun, with the moon under her feet and a crown of twelve stars on her head. 2She was pregnant, and she cried out in pain and agony as she gave birth.
3Another sign also appeared in the sky: There was a huge red dragon that had seven heads and ten horns and seven crowns on his heads. 4His tail swept away a third of the stars in the sky and threw them to the earth. The dragon stood before the woman, who was about to give birth, so that he could devour the child as soon as it was born.
5She gave birth to a son, a male child, who will shepherd all the nations with an iron rod. Her child was snatched up to God and to his throne. 6Then the woman fled into the wilderness, where she has a place prepared by God in order that she might be fed there for 1,260 days....
10 I heard a loud voice in heaven, saying:
Now have come the salvation and the power and the kingdom of our God
and the authority of his Christ,
because the accuser of our brothers has been thrown down,
the one who accuses them before our God day and night.
11They conquered him
because of the blood of the Lamb and
because of the word of their testimony.
They did not love their lives in the face of death.
12For this reason, rejoice, you heavens and those who dwell in them.
Woe to the earth and the sea,
for the Devil has gone down to you.
He is full of rage, because he knows that his time is short.
Merry Christmas!
+++
Final Advent Midweek Service - Wednesday @ 3:30 (Concert at 6:30!)
We Proclaim the Savior from Heaven -- with our hearts!
Not-Guest Preacher: Pastor Julius Buelow
Sunday Worship @ 8 & 10:30am
School Christmas Service Sunday @ 4pm


Bible Class and Sunday School @ 9:15 at the School


Monday Night Services Resume January 3rd
Wednesday Bible Classes Resume in January


+++
Invite family and friends!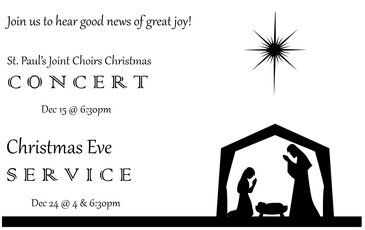 Advent 4 Worship Notes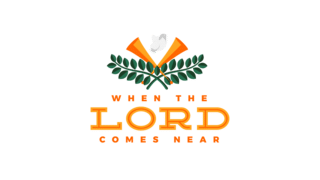 Series Theme: When The LORD Comes Near
"Advent" is a Latin word that means "coming." The season of Advent is the four week period before Christmas that the Church uses to connect the two "comings" of Christ. The first time the Lord came into our world it was as a tiny, helpless baby, born in a manger in Bethlehem. However, when Jesus comes again, it will be in all his power and glory with his angelic army behind him. He will be coming as judge at the end of time. Let us use these four weeks to see how the events of Jesus' first coming remove all our fears about his second coming. We can hold our heads high when the Lord comes near.
Theme this Sunday: When the Lord Comes Near, He Lifts Up The Humble
By this time of the holiday season, people are often weighed down. They feel guilty about presents that are not perfect, or parties that did not go as planned, or year-end projects that did not get completed. To top it all off, now is when it dawns on people how little attention they have given to the spiritual preparation Advent invites. If that is how we feel, perhaps the frenzy of December has actually done us a favor. We have been stretched to our limits. We have been made aware of our shortcomings. We have been humbled. Perfect! For being made aware of our weaknesses does not disqualify us from God's care. It does the opposite. It is what prepares us for the work he does best. He is a God who lifts up the humbled.
First Reading: Micah 5:2-5a
What is going to make little Bethlehem great?
In connection with Christmastime, the city of Bethlehem will be known throughout the world because the Ancient of Days, the Ruler of Israel, the Savior will be born there.
What effect will that child of Bethlehem have on us today?
He will be our peace and calm our hearts. He will be the one who watches over us like a shepherd but with the power of the universe at his disposal. Such a picture of his tender care for us will reach throughout the world. (Do you realize that peace?)
Psalm 130 - Those humbled by God's message of repentance cry out to God and receive forgiveness and joy
Second Reading: Philippians 4:4-7
Why wasn't God pleased with the sacrifices of the Old Testament times?
The ritual offerings of the sacrifices could not do away with sin, nor could they calm the guilty conscience. However, they did help the nation of Israel realize the death sentences of sin as well as look forward to the promised substitute, the Messiah, who would provide eternal forgiveness.
What assurances do you have now that Jesus has finished his work?
Jesus' sacrifice on the cross of Christ had to be done only once, and it became effective for everyone. Because of it, we are considered holy in God's sight and prepared for being transformed to be like him. (Is this the central part of your faith and life?)
Gospel Reading: Luke 1:39-55
What happened when Elizabeth heard Mary's greeting?
The baby in Elizabeth's womb, John the Baptist, leaped for joy. Then the Holy Spirit filled her with new insight into what was happening. What awesome things the Spirit does in connection with the message of Jesus!
What does Mary first call God in her song?
In her song, Mary calls God her "Savior." She was a sinner, just like all of us. No one should pray to her.
Summarize the content of the song in your own words.
Mary knew God was fulfilling the promise he had made to Abraham and had repeated for centuries. Generations to come would look at this event and see how God powerfully lifts the humble up to experience the great things God has done for us by his grace in his Son.
Hymns: 955 (New!), 327, Distribution: 662, 668, 602:3
Worship helps from: https://wels.net/worship-help/
+++
Christian Worship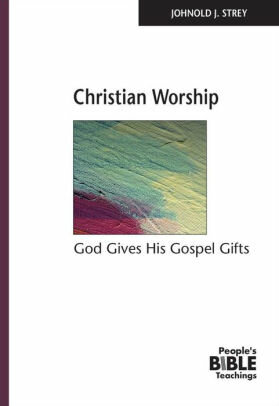 As we continue to introduce the new hymnal, we'll share some thoughts from the new book above, Christian Worship: God Gives His Gospel Gifts (available here from Northwestern Publishing House ) will be summarized.
11. Liturgy -- The Middle: The Prayer of the Church
One of my favorite ways to pray is to pray for something for myself, then to extend that to the people I love, and then to extend that to everyone. "Dear Jesus, you pour out the Holy Spirit through your Word. Give me your Spirit through your Word and strengthen my faith, as well as the faith of my wife and children, as well as the faith of my extended family, my church, and... everyone!"
The New Testament often encourages God's people to pray (Ephesians 5:19, 6:18; Colossians 4:3, Matthew 5:44, James 5:14, Matthew 26:41). In a section about instructions in worship in 1 Timothy 2, Paul writes about people praying publicly in worship on behalf of all sorts of things and people. The Prayer of the Church, then, can be a broad prayer. "First of all, then, I urge that petitions, prayers, intercessions, and thanksgivings be made for all people, for kings and all those who are in authority, in order that we might live a quiet and peaceful life in all godliness and dignity (verse 1)... Therefore, I want the men in every place to pray, lifting up holy hands without anger or argument...(verse 8)."
+++
Other Devotional Materials:
WELS Daily Devotions: https://wels.net/dev-daily/
Family devotions: https://wels.net/family-devotion/
Bible Reading: Through my Bible in 3 years from Wels.net. Or "The God's Story of Salvation" plan from the Forward in Christ magazine: forwardinchrist.net/bible-readings-2021 .
+++
Contact
St. Paul's Lutheran Church and School
Church: 1020 Court St.
School: 2745 W. Genesee Ave.
Our address is: 1020 Court St, Saginaw, MI 48602, USA