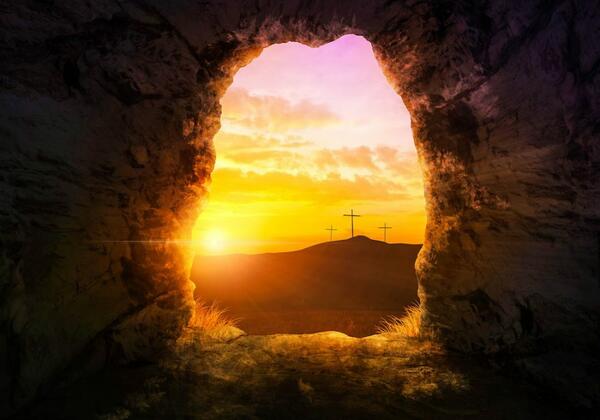 St. Paul's Weekly Update
Notes and Announcements for Holy Week 2022
Oh, blessed death! Oh, most glorious life. It's Easter!
Easter devotion by Rev. Daniel Deutschlander (On Giving Advice to God, NPH, p. 182, 183)
Oh, blessed death! Oh, most glorious life. It's Easter! He has burst forth from the grip of death. He has triumphed over the hosts of hell. And now he lives--lives ever more. He died to sin once for all--that means for me too, even for me. And now he takes me with him out of the cold, clammy grip of death, out of the grace, out of that house of the dead, and into the bright sunshine of Easter Sunday morning.
As he died and now lives to the glory of God, so he takes me too into a new life with him. It is a life delivered from sin, a life washed with forgiveness brought by his Word and Sacraments. What, then, will be my answer to this most holy of days, this most holy event of all the events in history and in my own history? Shall I chase the Easter Bunny, running aimlessly across the lawn? Shall I stuff myself with brightly colored eggs (while forgetting that they are just symbols of the resurrection)? Shall I dress myself in Easter finery for a parade designed to impress people with my good taste?
How silly it would be, if that's what Easter was all about. No, even before I head off to church, I will bask in the sunshine of his grace in the new life that is mine from the resurrection. Oh, I know that I am still weighed down with my nature. I know that I will still be tempted even today to put myself first. I know that at day's end I will still have confession to make, pardon to crave, grace to seek. Ah, but--and that's the joy of this day--from God's point of view my sins have already been left behind in the empty grave. Instead of sin, I have pardon; in place of guilt, there is grace heaped upon grace. For Christ is risen! ...
Join in the apostle Paul's exultant hymn: I am alive to God in Christ Jesus! If Christ Jesus is alive and I am in him, then I can never die; for Christ died once and dies no more. His life is mine and mine is his. We are by the message of his death and resurrection bound together with the ties of his love and grace that not death, not the devil, not hell itself can break. For they lie vanquished, smashed, broken, and defeated by our triumphant Savior. And his triumph is ours. That's why he came. That's why he died. That's the fruit for us of his rising again. It is all for me; it is all for you.
Prayer: Dearest Jesus, the tomb is empty! Not just your tomb but mine as well can collect mold and and must. For I am not there. I am risen with you into the bright sunshine of your Father's grace and favor. Oh, joy beyond all earthly gladness! Write it, O God, on my heart and mind: Christ is risen! He is risen indeed! Alleluia!
+++
Holy Week Services & Hymns
What a week! We leave behind our "earthly" time to enter God's sacred time this holy week. Each day is sanctified by the word of God, songs, hymns, spiritual songs, special choirs, brass, and prayer as we remember in a special way what Jesus has done for us!
Maundy (Holy) Thursday: 6:30pm
416 When You Woke That Thursday Morning
659 Jesus Christ, Our Blessed Savior
417 It Was a Dark and Dismal Night
664 Wide Open Stand the Gates
677 The Death of Jesus Christ, Our Lord
930 Go, My Children, With My Blessing
Psalm 116
Good Friday: 1:30 traditional & 8pm Service of Darkness
Different services
421 Son of God, by God Forsaken
422 A Lamb Goes Uncomplaining Forth
558 Salvation Unto Us Has Come
Psalm 22A
867 Afflicted Saint, To Christ Draw Near
419 Sing, My Tongue, the Glorious Battle
947 Lamb of God, Pure and Holy
Psalm 22B
Also many special choral songs and solos in both services
Easter: 7am Sunrise & 10:30am Festival with Communion
Different services with different sermons
443 Awake My Heart with Gladness
460 Alleluia, Alleluia! Hearts to Heaven (with brass)
453 The Tomb is Empty (with school choir)
442 Christ the Lord is Risen Today; Alleluia
441 I Know that My Redeemer Lives
445 He's Risen, He's Risen
Psalm 118
454 Alleluia! Jesus is Risen
937 God's Right Hand and Holy Arm (https://youtu.be/AudpPxOp_RQ)
447 Christ is Risen, He Is Risen Indeed (Choir)
439 Christ Jesus Law in Death's Strong Bands
471 Now All the Vault of Heaven Resounds
470 Like the Golden Sun Ascending
461 He Is Arisen! Glorious Word!
Psalm 16
See you in God's House!
Think of family and friends to invite! Pray that God gives opportunity.
Thank all the wonderful instrumentalists and choirs for their work to God's glory!
+++
Funeral for Joyce Obermiller


The funeral for our sister in Christ Joyce Obermiller will be held at 12:00 p.m. Saturday, April 16, 2022, at the church, with visitation for the hour before.
"The Lord is my shepherd, I shall not want."
Obituary: https://www.gephartfuneralhome.com/obituary/joyce-obermiller
+++


WELS International Youth Rally
This summer's International Youth Rally is in Knoxville, TN, under the theme: "Here and Now."
For information about the rally, go to https://wels.net/serving-you/christian-life/discipleship/youth-rally/. To sign up, please contact or email Allen or Ginny Ash (alginash at yahoo.com), who are planning on going and willing to chaperone. Our deadline to sign up will be April 20th so we can get the early bird discount.
+++
Prayers:
-For the family and friends of Joyce Obermiller
-For Mr. Needham as he continues to deliberate his calls
Bring prayers of thanksgiving and intercession to God!
Contact
St. Paul's Lutheran Church and School
Church: 1020 Court St.
School: 2745 W. Genesee Ave.
Our address is: 1020 Court St, Saginaw, MI 48602, USA