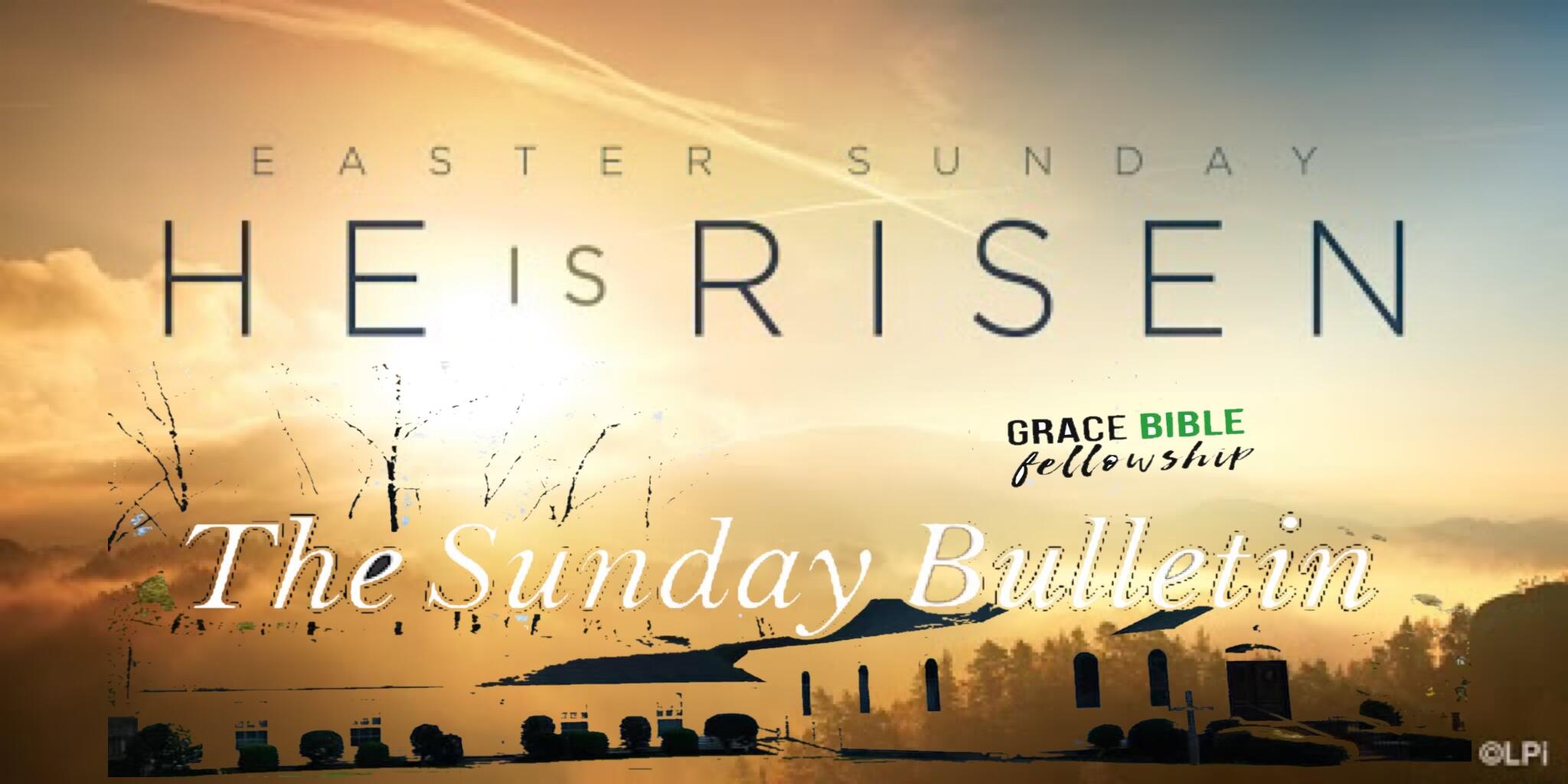 Grace Bible Fellowship April 4, 2021
𝙊𝙧𝙙𝙚𝙧 𝙤𝙛 𝙒𝙤𝙧𝙨𝙝𝙞𝙥
𝘼𝙥𝙧𝙞𝙡 4, 2021
11:00 𝙖.𝙢.
3828 Brownsville Hwy.
Jackson, TN 38301
731-695-3052
www.gracebfellowship.com
facebook.com/gracebfellowship
Bill Williamson, Pastor
Prelude "Easter Song"..…………………Martha & Bryan Dawson
Welcome and Announcements………….…..…..….…..….John Few
Opening Prayer
Hymns of Praise………(323 and 357)……….………Brad Sargent
Special Music……………………………………..…"The Old Rugged Cross"
Jeff Long & The Messengers
The Lord's Supper
Message…………………………………………………….Bill Williamson
Special Music………………………………"At the Foot of the Cross"
Kay Hutchison & Brad Sargent
Closing Prayer
𝘽𝙚𝙣𝙚𝙫𝙤𝙡𝙚𝙣𝙘𝙚 𝙎𝙪𝙣𝙙𝙖𝙮.
This is Benevolence Sunday. Please mark your gift accordingly.
𝙉𝙤𝙩𝙞𝙘𝙚
We ask that you make wise decisions
regarding your health. We have designated
the back two pews for those wanting
to remain socially distanced. Please wear
a mask if you feel more comfortable.
𝘼𝙘𝙩𝙞𝙫𝙞𝙩𝙞𝙚𝙨 𝙏𝙝𝙞𝙨 𝙒𝙚𝙚𝙠
​ Sun. 11:00 a.m. Morning Worship
Live on Facebook
Children will meet in the Fellowship Hall
​Wed. 6:00 p.m. Bible Study (In-Person)
Also Watch Live on Facebook
​
​ ​
𝙒𝙚𝙡𝙘𝙤𝙢𝙚 𝙑𝙞𝙨𝙞𝙩𝙤𝙧𝙨
We welcome all who are visiting today.
It is a blessing to have you with us. Please fill out a visitor card and place it in the offering plate.
We hope you will come again.
𝘼𝙥𝙧𝙞𝙡 𝘽𝙞𝙧𝙩𝙝𝙙𝙖𝙮𝙨
Carla Eldridge 3rd Patricia Dawson 8th
Carol Williamson 21st
Thanks for your great support!
𝙀𝙖𝙨𝙩𝙚𝙧 𝙈𝙚𝙨𝙨𝙖𝙜𝙚
The Resurrection - Our Living Hope
1 Peter 1:3-5
"Blessed be the God and Father of our Lord Jesus Christ, who according to His abundant mercy has begotten us again to a living hope through the resurrection of Jesus Christ from the dead, 4 to an inheritance incorruptible and undefiled and that does not fade away, reserved in heaven for you, 5 who are kept by the power of God through faith for salvation ready to be revealed in the last time." 1 Peter 1:3–5
1. Hope for Today
2. Hope for Tomorrow
• Incorruptible – It cannot perish, it does not age, deteriorate or die. Your inheritance will be just as secure tomorrow as it was the day you accepted Jesus.
• Undefiled – It cannot be polluted or defiled, dirtied or infected. Your inheritance will be without any flaw or defect.
• Not Fade Away – It will last forever and ever. No outside force will be capable of wearing it out or to be wasted away.
3. Hope for the Future
"What we suffer now is nothing compared to the glory he will reveal to us later. 19 For all creation is waiting eagerly for that future day when God will reveal who his children really are. 20 Against its will, all creation was subjected to God's curse. But with eager hope, 21 the creation looks forward to the day when it will join God's children in glorious freedom from death and decay. 22 For we know that all creation has been groaning as in the pains of childbirth right up to the present time. 23 And we believers also groan, even though we have the Holy Spirit within us as a foretaste of future glory, for we long for our bodies to be released from sin and suffering. We, too, wait with eager hope for the day when God will give us our full rights as his adopted children, including the new bodies he has promised us. 24 We were given this hope when we were saved. (If we already have something, we don't need to hope for it. 25 But if we look forward to something we don't yet have, we must wait patiently and confidently.) Romans 8:18-25
Let us get to know you!
Please take a moment to send us your information so that we may stay connected with you. Your information is carefully managed and protected.
How did you hear about us?