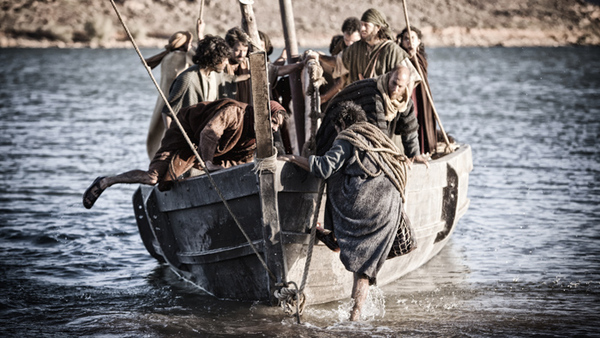 Fishers of Men
Go Therefore An Make Disciples (Mark 16:15-19)
Witnessing To The Lost Should Be A Habit
What did the Word of God command of each of us as followers of the Lord Jesus Christ? Did not Jesus Christ tells us to go an make disciples of all nations? Yes, of course He did tell each of us to be about the business of leading others to the cross. But, in the Church of today we witness everything, but, obedience to carry forth the command to make disciples.
The question we each must ask of ourselves is; are we living in obedience to the divine mandates of the Lord Jesus Christ? Many of us have friends we'll around everyday. And we've yet to witness to them about our personal relationship with the Lord Jesus Christ.
Instead we've become content with just living here within this present sphere of life. To daily fit in with the ungodly behavior of those we're around an know as friends. But, the Word of God tells us "Witnessing to the lost should be a habit" for those who've confessed saving faith in the redemptive work of Jesus Christ.
That's why here at "Robert McAuthor Festivals" we daily seek to walk in obedience with the divine mandates of the word of God. This is the reason for this "News Letter" to encourage believers to live a obedient faith-filled lifestyle in the presence of the unbelieving world system.
Here's what the Word of God tell each believer to do daily in some way or other. And He said unto them, Go ye into all the world, and preach the gospel to every creature. He that believeth and is baptized shall be saved; but he that believeth not shall be damned. And these signs shall follow them who that believe; In my name shall they cast out devils; they shall speak with new tongues;
They shall take up serpents; and if they drink any deadly thing, it shall not hurt them; they shall lay hands on the sick, and they shall recover. So then after the Lord had spoken unto them, he was received up into heaven, and sat on the right hand of God.
And they went forth, and preached every where, the Lord working with them, and confirming the word with signs following. Amen! A prayerful reading of these passages of the Word of God reveals the divine desire of the Lord Jesus Christ for His followers. To be about the business of being fishermen of this great human sea of lost souls this side of heaven. Looking for a great read Click Here God bless.
If you're ever in our area we would love to meet you in person @ Sunrise Family Worship Center. Our Pastor and his wife would love to shake your hand an welcome you to our wonderful fellowship of believer's. Our address is: 415 West Parker Road, Houston, Texas
Jesus Christ plus nothing is all you really need ....