Enews: Pilgrim Year Begins
From the Rector:
I've been doing a lot of thinking in these last few months about pilgrimage – that we think in new ways about those things that we once knew as constants in our lives. For churchgoers like you and me, that has meant regular in-person corporate worship, the sharing of Holy Communion, a parade of infants newly baptized every few months, and then catching up on what is happening in the parking lot or around a table in the Parish Hall over coffee and donuts.
We hope and trust that in due time Baptism and Eucharist will return for many of us to ground our weekly and seasonal sacramental life, for it is through the waters of baptism we are formed and made Christians, and at the altar, we are nourished with Christ's presence in the bread and in the wine.
During this extended Pandemic-tide (as I've heard it referred to in church circles) we might want to place another experience alongside these two foundational sacraments: pilgrimage. What is being suggested especially now is that we re-imagine what it means to be a part of the local church community. A church, a parish, a congregation is no longer a static thing contained by physical space. We are worshipping and meeting online – staying connected while physically apart. Until there is a safe vaccine available, the vision for our common life may be one where persons are more spread out, on a shared journey together, gathering in small groups. These are days when we make more of a solitary walk. A pilgrimage. This coming program year (September to May) I invite us to learn in new ways what it means to be a Christian pilgrim. More to follow.
In Christ, Mark+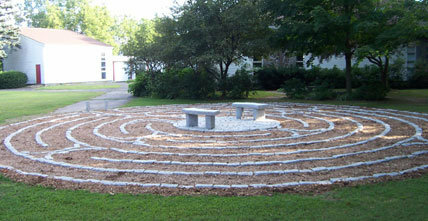 Care Packages for our Students Away
We understand that this year can be especially hard for those away at school. If you'd like us to send out a care package to your child, please send Sally their names and addresses. It is a small token to let our youth know that we are all together, despite the miles apart.
Our Faithlife Community is Growing
We are now 80 people strong! Do join this new way to stay connected.
Get started today by visiting Faithlife.com with your PC or Mac by creating an account with your email. It will invite you to find the Christ Church Exeter group.
You can also download a free app for your phone. Faithlife is a way for you to stay up-to-date on upcoming parish events, learn more about opportunities to serve, share prayer requests, grow in your knowledge of the Bible (never a bad thing for Episcopalians!) deepen your faith and connect in small groups.
A List of our Programs and Offerings
Please use this link to download our yearly publication. It is filled with much information about all that is happening during this unusual time.
Outdoor Eucharist Sunday at 8:00 a.m.
This coming Sunday may be our final outdoor service for the season, depending on October's weather. We are preparing guidelines to offer indoor worship. Details to come soon. You must sign up beforehand to attend. Make sure you bring your own lawn chair! Please use this link to sign up. Zoom and YouTube worship continues to be offered at 10:00 a.m.
The Anchor Legacy Society is adding new members before All Saints' Day
Through Christ Church's Anchor Legacy Society, you can make a gift that benefits both our present and future members. Planned gifts also ensure that the church will have the resources needed to continue its mission and ministry for many years to come strengthening our endowment. Planned giving is not reserved for those with great wealth. It can be as simple as adding a bequest to the church in your will. Other options, such as charitable gift annuities provide a guaranteed income for life and substantial tax savings.
We will be honoring new members on November 1, 2020. Please contact the church office or the Rector for more information.
In-person Pastoral Appointments
Mark continues to schedule pastoral one-on-one meetings outside with proper safe social distancing for anyone who would like to talk. Like all pastoral conversations, what is shared is confidential. Feel free to arrange any time (except Mark's day off of Friday) by emailing Mark or call him on his cell 860-490-8544.
Family Chapel Service "On Demand"
While we are not able to meet in person, Sally is offering a new way for worshipping at home. Each week, we have a video link of the readings and a reflection on the readings. It is our hope that this will allow households to come together when they have a quiet moment and follow this simple worship service.
September 27th Service:
Our reader is Elsa Bishop: HERE
Lesson Reflection video: HERE
Email Sally Farrell if you'd like to get on the distribution list. sfarrell@christchurchexeter.org
We invite your continued generosity and giving. We continue to receive pledges and donations that are being mailed into the office. Thank you! Visit our online Giving Page here to learn to how to give online. Donations can be auto-deducted from your account at a schedule that you specify.
Upcoming Events
Download
To dial in by phone, call: 1 (301) 715 8592 or 1 (253) 215 8782 Meeting ID: 971 4981 1945
Sunday, September 27th  •  10–11 am (EDT)
Download
Join the Rector each Tuesday morning at 10 a.m. via Zoom to study the Bible readings for the following Sunday. It will be a time of conversation and reflection.
Tuesday, September 29th  •  10–11 am (EDT)
Download
Our focus is to learn and grow, deepening our faith in God, and developing bonds with one another so that we hold confidences and pray for one another.
Contact Cynthia Mariano for more information and link to meeting.
Wednesday, September 30th  •  10:30 am – 12:00 pm (EDT)
Living, Connecting, Serving
Our address is: 43 Pine St. Exeter, NH 03833, USA