Weekly Newsletter 4/29/2022
NEW SERIES STARTING SUNDAY: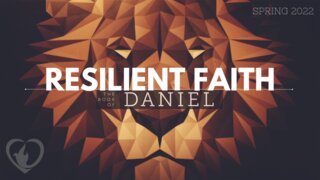 We will spend 7 weeks exploring the book of Daniel, a story of resilient faith in a time of exile, a time when everything was pressuring the friends of God to compromise - a time very much like our own!
Graduate Recognition Info Needed
GRADUATING SENIORS (or parents of) WE NEED TO HEAR FROM YOU!
Information is needed by Sunday, May 22 for Graduate Recognition.
Please email the church office with your name, plans for after school and a picture of yourself. trinity.secretary@verizon.net
COLLECTION FOR AGAPE IN BLOOMSBURG
Sunday, May 1 we will take a special collection for Agape in Bloomsburg. Their building is in need of rain gutters so they are reaching out to local churches to help them meet this need. Simply put, Agape is "love from above to our community" (a lot like our Love-in-action, but on a much larger scale!)
Look for the special donation box in the lobby on Sunday. Our goal is to collect $500-$1000.
Firewood Available
FIREWOOD IS AVAILABLE
IN THE WOODED LOT!
THERE ARE A LOT OF LIMBS LEFT BEHIND FROM HAVING THE WOODED LOT HARVESTED. HELP YOURSELF TO THE FIREWOOD.
THE BUILDING LOAN IS PAID OFF! WHAT NOW?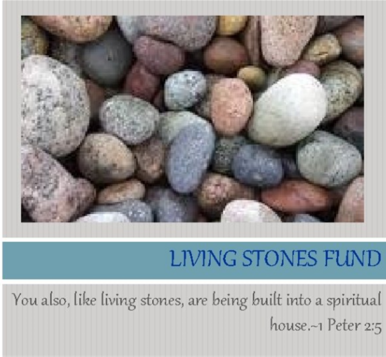 LIVING STONES FUND
"As you come to him, the LIVING STONE—rejected by humans but chosen by God and precious to him—you also, like LIVING STONES, are being built up into a spiritual house to be a holy priesthood, offering spiritual sacrifices acceptable to God through Jesus Christ."
1 Peter 2:4-5
WHERE WE'VE BEEN
Over 150 years ago, Trinity Church launched on Center Street in downtown Danville, where they gathered for a century of worship and ministry together.
Now, for the past 50 years, we've met at our "new" home on the hill of Lombard Avenue. For over 20 years, we've been faithfully paying down a building loan from 2001 that more than doubled the size of our facilities, better positioning us to serve all ages of our community faithfully. Thanks to the faithfulness of God and the generosity of God's people, this debt has now been fully paid.
Now it's time to build for the future.
WHY IT MATTERS
This is not about bricks and mortar, which are temporary. This is about the eternal impact of our ministry together in Christ. It's about the way this perishable building serves the imperishable Kingdom of Christ and his people—the living stones being built into a spiritual house. As we steward the property God has provided for us, we're building for the future work God will do through his people in Danville, work that will bring transformation in the present and last into eternity.
The Living Stones Fund will allow us to make the necessary repairs, renovations, and updates in our church facilities that will help us continue serving the generations to come. The difference this time is, we aren't taking on debt, but building for the future.
WHAT IT'S FOR
Our goal is to raise $500,000 over the next five years. Funds will be used for important projects like: Fellowship Hall Renovations, Parking Lot Refinishing, HVAC Replacements (15 Units throughout building), Office Wing / Kitchen / Parlor Updates, Parsonage Updates, and more.
Churchwide Work Day(s)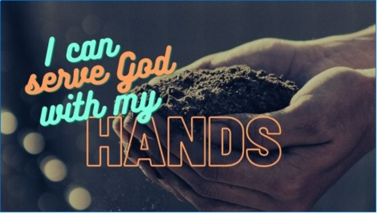 1. Pick a job and sign up for it as an
individual or group.
2. You pick the date(s) in MAY
you want to work on it.
Sign up on the bulletin board in the lobby or email the church office
Outdoor:
-Clear trails and straighten up wood lot (several groups/people needed)
-Pick up sticks/limbs & trash, replace sod clumps around church property
-Replace fence at playground along Locust Lane
-Compost pile
-Scrape & paint blue shed
-Run conduit and electric to pavilion.
-Repair/replace leaking water hydrant at pavilion
-Parsonage: New deck stairs & repair railings, power wash & stain
-Parsonage: replace front right downspout
-Parsonage: Install bathroom vent through roof
Indoor:
-Fellowship Hall: paint lower half of north wall & stage front
-Paint upstairs hallway
-Lobby: Recessed light conversion to LED
-Fellowship Hall: Organize storage areas (design/purchase/install hangers, shelving, etc.)
-Deep Clean Kitchen
Adopt A Flower Bed for the Season!
HELP KEEP OUR CHURCH PROPERTY
BEAUTIFUL
WE HAVE 1 FLOWER BED LEFT THAT NEEDS ADOPTED!
When you adopt a flower bed for the season, it is yours to maintain however you see fit by weeding, trimming, mulching, planting, etc.
Thank You!
Doris Freese would like to thank everyone that sent birthday cards celebrating her 90th birthday on April 19. She couldn't believe all the people who remembered and was very pleased with all of them!
GIFT CARDS we have in stock:

Amazon, AMC Theaters, Bason's Coffee, Big Lots, Bath & Body Works, Burger King, Cracker Barrel, CVS, Domino's, Giant, Happy Dining, Home Depot, Lowes, Moe's, Olive Garden, Panera, Red Lobster, Red Robin, Sheetz, Starbucks, Subway, Taco Bell, Wal Mart, Weis
PLUS hundreds more to order from
Your purchase benefits the LIVING STONES FUND!
Stop by the church office Mondays or Wednesdays, 9-1 or call your order in and pick up on Sunday!

In our Thoughts and Prayers
Our Church Family:
Bob & Patti Swanson, Susan Huber, Shirley Santucci, Bette Grove
Extended Family:
Mrs. Sherwood Appleman, Eddie Tyler, Melinda Gorwin, Steve Finn, Karen Scott, John S, Jennifer Derr, Myron Anderson, Bonnie Bower, Michael Dougherty, Randy Rossman, Carrie & Wes Nichols
LAMbs:
Betty Barnhart, Christine Bialecki,
Miriam Cropf, Jim Fasold, Doris Freese, Peggy Gerst, George & Kate Humbert, Sam Morrow, Carole Ovelman, Shirley Santucci, Wealthy Shutt, Randy Swartz, Darlene Swope
Serving in the Military:
Damon Blevins, Dan Harris, Heather Muse, Janessa Nichols, Ian Robinson, Nick Seybert, Dakota Sweeney, Joshua Taylor
Local Law Enforcement:
Garon Fenstermaker
Circle of Prayer Churches:
Queen Claysburg, Millerton, Daleville CovingtonTwp, Christ Shippensburg, Madisonburg, Coolidge Hollow Wellsboro, Elimsport Allenwood, Runville Bellefonte Hope Hanga Sierra Leone, First West Pittston, Bethlehem Codorus
Email or call the church office with any prayer requests
trinity.secretary@verizon.net
570-275-1255
Financial Information

Contributions Received 4/24/2022:
General Fund: $3,165.18 (used for utilities, missions, programming, maintenance…)
Living Stones Fund: $667 (used for "major" building upkeep/projects & HVAC)
Love in Action (to date): $5,084
Our address is: Danville, PA 17821, USA