Weekly Newsletter 5/6/2022
Informal "Town Hall" Style Meeting
Representatives from the Leadership Council will hold an informal time of questions, input and information on Sunday, May 22 immediately following the second service. Come and "be in the know!"
Show you "THRIVE"
Trinity "THRIVE" t-shirts
will be available in the lobby beginning Sunday, May 15
for a $13 donation.
Card Ministry
The CARD MINISTRY will be making cards Monday, May 16 at 9:30am in the
Parlor. Come join us if you can!
Churchwide Work Day(s)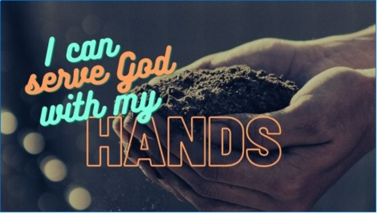 SERVE GOD, SERVE YOUR CHURCH
CHURCH, PARSONAGE & PROPERTY NEEDS
There are several jobs around the church & parsonage that need done. Sadly, there wasn't a strong response to the poster/sign-up in the lobby. Please consider what you can do to help take care of the church. Respond to this email to sign up for a job and do it at a time that works best for you in MAY (preferably).
PARSONAGE: Replace front right downspout (3 volunteers needed)
New deck stairs, repair railings, power wash & stain (Acor, 3 more volunteers needed)
Install bathroom vent through roof (2 volunteers needed)
INDOOR: Fellowship Hall- paint lower half of north wall and stage front
Paint upstairs hallway
Lobby: recessed light conversion to LED
Deep Clean Kitchen (Barb Barron, 3 more volunteers needed)
Fellowship Hall: organize/clean out all closets (Lori Fanelli, 3 more volunteers needed)
OUTDOOR: Clear Trails and straighten up wooded lot (Chambers, several more needed)
Pick up sticks, limbs and trash (Reenie, Christina, TLC school-agers)
Compost Pile
Run conduit and electric to pavilion
Playground Fence: sturdy up, cut posts, stain
Repair/replace leaking water hydrant at pavilion
Adopt A Flower Bed for the Season!
HELP KEEP OUR CHURCH PROPERTY
BEAUTIFUL
All flower beds have been adopted! Thank you volunteers!
GIFT CARDS we have in stock:

Amazon, AMC Theaters, Bason's Coffee, Big Lots, Bath & Body Works, Burger King, Cracker Barrel, CVS, Domino's, Giant, Happy Dining, Home Depot, Lowes, Moe's, Olive Garden, Panera, Red Lobster, Red Robin, Sheetz, Starbucks, Subway, Taco Bell, Wal Mart, Weis
PLUS hundreds more to order from
Your purchase benefits the LIVING STONES FUND!
Stop by the church office Mondays or Wednesdays, 9-1 or call your order in and pick up on Sunday!

In our Thoughts and Prayers
Our Church Family:
Una York, Christina Barron, Bob & Patti Swanson, Susan Huber, Shirley Santucci, Bette Grove
Extended Family:
Lorraine Dougherty, Earl Stafford, Brayden Rovenolt, Mrs. Sherwood Appleman, Eddie Tyler, Melinda Gorwin, Steve Finn, Karen Scott, John S, Jennifer Derr, Myron Anderson, Bonnie Bower, Michael Dougherty
LAMbs:
Betty Barnhart, Christine Bialecki,
Miriam Cropf, Jim Fasold, Doris Freese, Peggy Gerst, George & Kate Humbert, Sam Morrow, Carole Ovelman, Shirley Santucci, Wealthy Shutt, Randy Swartz, Darlene Swope
Serving in the Military:
Damon Blevins, Dan Harris, Heather Muse, Janessa Nichols, Ian Robinson, Nick Seybert, Dakota Sweeney, Joshua Taylor
Local Law Enforcement:
Matthew Gerst
Circle of Prayer Churches:
Jonestown Orangeville, West Hill Carlisle, Howard, Shirleysburg, Prospect New Park, Liverpool, Mill-Green Millville, Clearville, Faith Montoursville, Shehawken Starrucca
Email or call the church office with any prayer requests
trinity.secretary@verizon.net
570-275-1255
Financial Information

Contributions Received 5/1/2022:
General Fund: $6,612.04 (used for utilities, missions, programming, maintenance…)
Living Stones Fund: $1536 (used for "major" building upkeep/projects & HVAC)
Love in Action (to date): $5,084
Our address is: Danville, PA 17821, USA