Weekly Newsletter 7/29/2022
From the Church Office
PLEASE NOTE:
THERE WILL BE
NO NEWSLETTER
FRIDAY,
AUGUST 12
VBS and Texas Roadhouse...
Some EXCITING news! Texas Roadhouse in Selinsgrove has donated coupons for a FREE kid's meal with the purchase of an adult meal. IN ADDITION TO THE FREE MEAL, for everyone that dines at Texas Roadhouse Monday, Aug 8 between 3p and 10p with the attached flyer, TR will donate 10% of the food sales to Trinity Church to go to our VBS mission this year. PLUS you can purchase Texas Roadhouse gift cards from the church to pay for the adult meals and the church will earn 8% of the gift cards sold. IT'S A WIN/WIN! Be sure to take the flyer with you so the church gets credit. Print one from here or pick one up in the church lobby.
Texas Roadhouse Fundraiser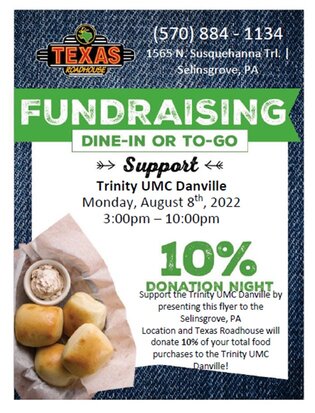 ATTENTION MEN...
Wanted: Kayakers, kayaks and men for
logistics support
Jonathan Spahr and Pat Chambers are planning a morning of kayaking on Saturday, August 20 between Bloomsburg and Danville with a picnic lunch at the church pavilion following. Contact Jonathan or Pat for details/sign up.
Nominations
Our Nominations Team has started meeting to begin the process of filling vacancies on the governing boards of the church. If you are interested or know of someone that would be a good fit in one of the vacancies listed, please let the Nominations Team know by completing this section and put in any of the offering boxes, email or return it to the church office. Thank you!
Leadership Council: 2 vacancies
Suggestions:_____________________________
____________________________________________
Childcare Board: 3 vacancies
Suggestions:_____________________________
____________________________________________
Nominations Team: 2 Vacancies
Suggestions: ____________________________
____________________________________________
Suggestions are needed by Sunday, August 28.
Thank you!
FINANCE UPDATE
Contributions Received 7/24/2022:
General Fund: $2,473.58 - this is 40% of the weekly amount needed to meet the budget for ministry & operations
Living Stones Fund: $13,431
Living Stones Balance to date: $23,277.22
6/28/22 new Fire System deposit (-4,572.50)
Love in Action (balance to date): $4,531
LiA paid out 1st Quarter: $425.00
LiA paid out 2nd Quarter: $225.00
Online Designated Giving
With more people getting away from using offering envelopes, this is just a reminder that you are able to designate offering through online giving as well. Each month we have "Special Sunday Giving" to raise money for different ministries in our conference and in our church. If you give online and would like to make a contribution to one of these ministries, select "other" and list the ministry you are designating the contribution to. This can be done for any special collections at church, such as VBS. As long as you select "other" and type what the money is designated for, your contribution will go to that ministry/collection
CRAFT & VENDOR FAIR
The 9th annual Trinity Learning Center's Fall Festival will be held Saturday, October 22, 2022, 10a-3p. For the second year in a row the festival will be held outdoors, RAIN or SHINE! Vendors are signed up on a "first come, first served" basis. Email tccfundraising@yahoo.com for more information or questions you may have.
Church Office Hours
The church office is OPEN
MONDAY THRU THURSDAY, 9a - 1p*
*Because of how busy the church is throughout the week, please be aware that appointments must be scheduled through the church office if you would like to meet with Pastor David
GIFT CARDS we have in stock:

Amazon, AMC Theaters, Bason's Coffee, Big Lots, Bath & Body Works, Burger King, Cracker Barrel, CVS, Domino's, Giant, Happy Dining, Home Depot, Lowes, Moe's, Olive Garden, Panera, Red Lobster, Red Robin, Sheetz, Starbucks, Subway, Taco Bell, Wal Mart, Weis
PLUS hundreds more to order from
Your purchase benefits the LIVING STONES FUND!
Stop by the church office Monday thru Thursday, 9-1 or call your order in and pick up on Sunday!

In our Thoughts and Prayers
Our Sympathies to:
Andy, Deanna & Chloe Drabant on the passing of Andy's dad, Tom from life to life eternal.
Our Church Family:
Coleen Snover, Una York, Lucas Broyan, Barb Barron, Laurie Newman & family, Bob Culver, Ken Millar, Jackie Woodruff
Extended Family:
Peyton, Tom Drabant, John, Bill Magliane, Dean Reibsome, Rose Appelman, Karen S, Family of Tom Summers, Philip W, Curry Family, Karen, Randy, Nate, Sue, Michelle,
LAMbs:
Betty Barnhart, Christine Bialecki,
Miriam Cropf, Barb Daise, Jim Fasold, Doris Freese, Peggy Gerst, George & Kate Humbert, Sam Morrow, Carole Ovelman, Shirley Santucci, Wealthy Shutt, Randy Swartz, Darlene Swope
Serving in the Military:
Damon Blevins, Dan Harris, Heather Muse, Janessa Nichols, Ian Robinson, Nick Seybert, Dakota Sweeney, Joshua Taylor
Local Law Enforcement:
Jason Bedisky
Circle of Prayer Churches:
Mt Zion Harding, St Luke's Shade Gap, Milan, Mount Olivet Mechanicsburg, Gandorhun Sierra Leone, Lemasters
Email or call the church office with any prayer requests
trinity.secretary@verizon.net
570-275-1255
Our address is: Danville, PA 17821, USA