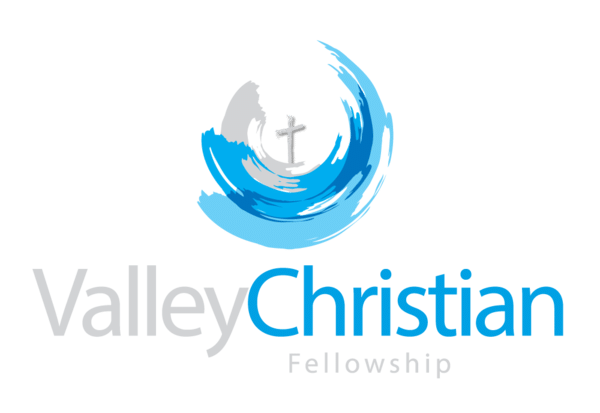 Valley Happenings
January 28/29, 2023
Welcome
Let us know if you have joined us online or attended a service, have a prayer request, would like to be added to the pastor's email list, or want to get involved. Find a connection card in the bulletin, online connection cards at www.vcflongview.org/connect, or call 360-425-1061.
WE WOULD LOVE TO HEAR FROM YOU!
Upcoming Events

Couples Check-up Couples Check-up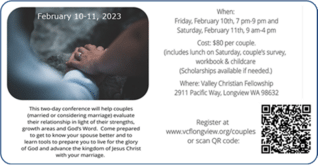 Sermon Guide
Love is Christ-Inspired
January 28-29, 2023 
~~ The Christ-Inspired Church Reflects Christ's Love ~~
● Christ __________ the Church.
‌
So if there is any encouragement in Christ, any comfort from love, any participation in the Spirit, any affection and sympathy, . . . Phil 2:1
○ The Christ-inspired church is ________.
. . . complete my joy by being of the same mind, having the same love, being in full accord and of one mind. Phil 2:2
○ The Christ-inspired church is ________.
Do nothing from selfish ambition or conceit, but in humility count others more significant than yourselves. Let each of you look not only to his own interests, but also to the interests of others. Phil 2:3-4
‌
Put on then, as God's chosen ones, holy and beloved, compassionate hearts, kindness, humility, meekness, and patience, bearing with one another and, if one has a complaint against another, forgiving each other; as the Lord has forgiven you, so you also must forgive. Col 3:12-13
‌
‌I therefore, a prisoner for the Lord, urge you to walk in a manner worthy of the calling to which you have been called, with all humility and gentleness, with patience, bearing with one another in love, eager to maintain the unity of the Spirit in the bond of peace. Eph 4:1-3
‌‌
○ ‌The self-inspired church is _________.
‌
○ ‌The self-inspired church is ___________.
● The church _______ best when it _______ like Christ.
Have this mind among yourselves, which is yours in Christ Jesus, . . . Phil 2:5
○ Christ _________ himself.
. . . who, though he was in the form of God, did not count equality with God a thing to be grasped, but emptied himself, by taking the form of a servant, being born in the likeness of men. Phil 2:6-7
‌
▪ By setting aside _________--"in the form of God"
▪ ‌By setting aside ________--"equality with God"
▪ By taking on _____________
‌
Jesus, knowing that the Father had given all things into his hands, and that he had come from God and was going back to God, rose from supper. He laid aside his outer garments, and taking a towel, tied it around his waist. Then he poured water into a basin and began to wash the disciples' feet and to wipe them with the towel that was wrapped around him. He came to Simon Peter, who said to him, "Lord, do you wash my feet?" Jesus answered him, "What I am doing you do not understand now, but afterward you will understand." John 13:3-7
‌
▪ By taking on ___________
‌
And being found in human form, he humbled himself by becoming obedient to the point of death, even death on a cross. Phil 2:8
‌
And taking with him Peter and the two sons of Zebedee, he began to be sorrowful and troubled. Then he said to them, "My soul is very sorrowful, even to death; remain here, and watch with me." And going a little farther he fell on his face and prayed, saying, "My Father, if it be possible, let this cup pass from me; nevertheless, not as I will, but as you will." Matt 26:37-39
‌‌
▪ By taking on ___________
‌
I am poured out like water, and all my bones are out of joint; my heart is like wax; it is melted within my breast; my strength is dried up like a potsherd, and my tongue sticks to my jaws; ‌you lay me in the dust of death. For dogs encompass me; a company of evildoers encircles me; they have pierced my hands and feet--‌I can count all my bones--they stare and gloat over me; ‌they divide my garments among them, and for my clothing they cast lots. Ps 22:14-18
● ‌Christ's humility and obedience led to His _________.
‌
Therefore God has highly exalted him and bestowed on him the name that is above every name, so that at the name of Jesus every knee should bow, in heaven and on earth and under the earth, and every tongue confess that Jesus Christ is Lord, to the glory of God the Father. Phil 2:9‑11
‌‌
● The Christ-inspired believer is:
○ _________
○ _________
○ _________
‌
Prayer Request

Bible Reading Plan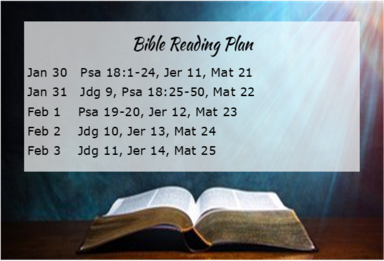 Opportunity
OPPORTUNITY TO GIVE THROUGH OFFERINGS:
Mail to: Valley Christian Fellowship, 2911 Pacific Way, Longview, WA 98632
Online giving: https://vcflongview.org/give or log in to your Faithlife account. For assistance call 360-425-1061 Monday-Friday.
*Online giving fees are less when choosing the bank account option versus a bank card.
OTHER WAYS TO SUPPORT VALLEY
Amazon Smile: Register at https://smile.amazon.com. Connect your account to Valley Christian Fellowship. Each time you shop, go to https://smile.amazon.com and a percentage of the purchase will be donated to Valley.
Fred Meyers: Visit www.fredmeyer.com/account/communityrewards/enroll. Sign into your Fred Meyer account, type Valley Christian Fellowship and select the church. Each time you use your rewards card you'll be helping Valley.
Giving to community charities? Send gifts directly to charity at the following addresses:
*Community House, PO Box 403, Longview, WA 98632.
*Cowlitz County Chaplaincy, PO Box 2578 Longview, WA 98632
*Caring Pregnancy Center, 1010 Fir Street, Longview, WA 98632
Bless Every Home
https://blesseveryhome.com/signup/
Our address is: 2911 Pacific Way, Longview, WA 98632, USA