The Frontline Report - April 2022
Then He said to them, 'O foolish ones, and slow of heart to believe in all that the prophets have spoken! Ought not the Christ to have suffered these things and to enter into His glory?'
-Luke 24:25-26 (New King James Version)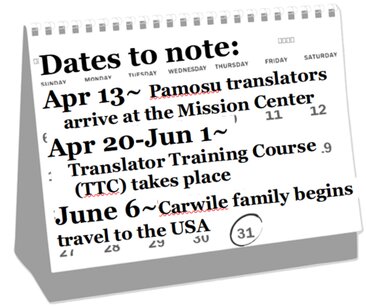 Greetings,
Praise be to God! The Initial Skills Course (ISC) progressed through to completion! Several of the teachers were ill at various times but none of the participants had to miss a session. All of the translators said they were glad to come and that they learned a lot. Being comfortable using reference materials will serve them well in life and particularly in Bible translation.
When the official 2022 schedule of courses was published, the Translator Training Course (TTC1) was slated to begin later than our team had expected. The translators were able to travel back to their homes and spend a few weeks with family before five of them return to continue training.
The returning translators plan to arrive days before the start of TTC1 to be able to practice using software on laptops with Jason. A good understanding of how to use the computer in the translation process will allow Jason to keep working with the Pamosu translators while the Carwile family is in the United States.
With the Carwile's international travel beginning the second week of June, now is the time to plan for meeting together face-to-face! We are grateful for those who partner with our ministry and encourage Bible translation efforts and our family personally. We look forward to seeing you!
So if you are a partner or interested in hearing about missions in Papua New Guinea, please email us! This year(2022) we will be in California late June, July, and August, and in Montana mid September through December.
You can check this google calendar for availability. https://calendar.google.com/calendar/u/2?cid=Y19lc3FiZW5lbXE2bG1za20xYWdza2trczU1MEBncm91cC5jYWxlbmRhci5nb29nbGUuY29t
And you can picture us in the vehicle shown below. What an answer to prayer! Thank you to all who prayed for wheels for our family, especially to Kevin and Liza for answering our prayer so tangibly.
As we remember Christ's resurrection, please reflect with us upon all the miracles God works in each of our lives everyday.
Two of those miracles which are very present and powerful being God's word made flesh, and God's holy scriptures preserved for us through the ages.
For His Glorious Name,
Jason & Brenda Carwile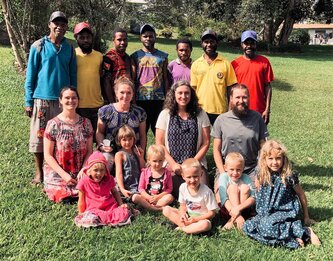 Courtney and Megan, who support the Pamosu translation work from the Mission Center, were able to meet the translators for the first time last month. The children front and center are: Charity, Marie, Esther, Hosea, Norman, and Felicity from left to right.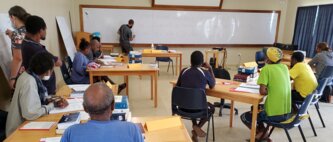 The classroom setting for ISC. The course was filled with interactive lessons and more traditional instruction in Grammar, Pronunciation, Study Skills, Critical Thinking, and Reading Comprehension.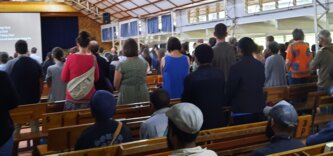 During the weeks between training courses the translators visited family while Jason and Brenda attended regional meetings and the biannual Papua New Guinea branch conference.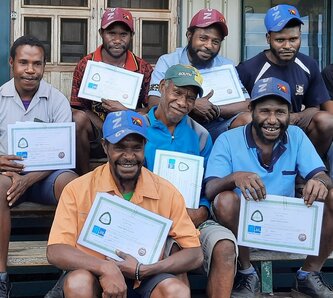 Ilasa, Gebi, Gabriel, Mark, Mambe, Neisong, and Baig with their ISC certificates(from left to right, back to front).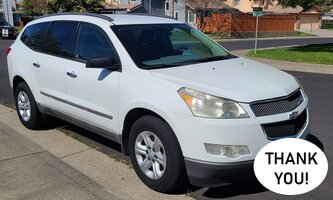 An 8-seated answer to prayer as we prepare to traverse the globe!

Jason and Brenda Carwile
jason_carwile@wycliffe.org - brenda_carwile@wycliffe.org
PO Box 1 (177) Ukarumpa, EHP 444, Papua New Guinea
Visit our website at https://pamosu.org

Our address is: 77XC+7J Mesekor, Papua New Guinea