Weekly Update
July 20 - July 26, 2022
Sunday, July 24, 2022
Mark 14:1-9
Please note that masks are not currently mandated, only recommended during Sunday services.
Family Meeting
There will be a family meeting on Sunday, July 31 right after the service. It will last about 30 minutes. Please plan to attend.
Thank You From OCC Committee
Thank you to all who supported our OCC cookout. Your gifts will help us fill and send 172 boxes so far. Thanks!
We accept contributions any time. Checks should be made to CrossPointe Church WITH OCC ON THE MEMO LINE. Cash can be put in an envelope with your name, amount and OCC on the outside. Both can be placed in the tithe collection box. Electronic donations are accepted also designated OCC. Our deadline is coming early October.
Faithlife App & Website Feedback
We want to hear from you! As we seek to make the website and the Faithlife mobile app as helpful as possible, we'd like your feedback. Please take a minute to visit the survey link below to tell us what features have been helpful and any issues you have had.
Farewell O'Maras!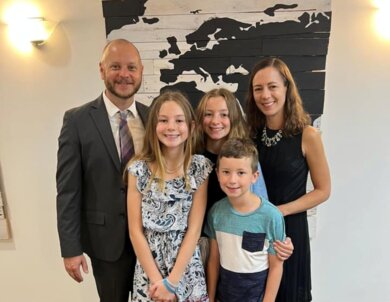 The O'Maras have made their way to Italy! Please keep them in your prayers and consider supporting them financially. You can give through our website here selecting "Italy Church Plant - O'Mara Family" from the dropdown menu, via Paypal to admin@crosspointemd.org notating "O'Mara Family" in the special instructions, or you can do so by check directly to CrossPointe Church notating "O'Mara Family" in the memo line.
You can go to www.omaras.org to sign up to stay connected with the O'Maras. This website will give you an overview of their plan, how you can support them, and is the gateway to connecting to their monthly letter and social media outlets.
2022 Walk & Run For Life - Church Captains Needed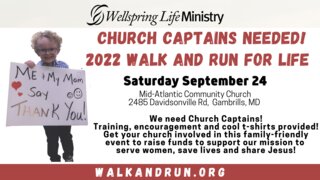 Please contact Scott, scrook@crosspointemd.org, if you are interested in being a church captain for this event.
Summer Office Hours
The church office summer hours begin June 8th. We will be open Tuesday-Friday, 9:30am-2:30pm.
Ukraine Relief
As a family of churches, Sovereign Grace is working with an associated church plant in Ukraine and a partner church in Hamburg, Germany to care for those being affected by the ongoing war. To date, Sovereign Grace Churches (SGC) has given over $14,000 to relief efforts. You can watch this video in which Mark Prater, who leads Sovereign Grace, talks about the relief efforts and how SGC is seeking to serve in this trying time. If you would like to give financially you can do so through the Europe Development Fund here (last one on the list) as all monies given will go to disaster relief through this church plant on the ground in Ukraine.
New Form for Building Requests
Anniversaries & Birthdays
Anniversaries
Al & Carol Chilla, 7/10
Birthdays
Caitlyn Protzman, 7/1
Joshua Young, 7/1
Joyce Spring, 7/6
Daniel Kayanan, 7/8
Robert Morgan, 7/8
Chris Culling, 7/10
Eric Turnquist, 7/10
Cheyanne Lowery, 7/12
Ed O'Mara, 7/12
Tonya Gross, 7/16
Jim Cefaratti, 7/21
Jeremiah Stout, 7/21
Gregory Colebrook, 7/22
Norman Logan, 7/22
Phyllis Neumann, 7/22
Are we missing your anniversary or birthday?
Sovereign Grace: Our Family of Churches
New Sovereign Grace Missions Video (Featuring Ed!)
There is a new Sovereign Grace mission update about the Sovereign Grace Development funds and how God is using them to see the gospel go forward through our family of churches. The development funds are the result of generous givers committed to seeing the gospel proclaimed and churches established in places that don't have a gospel presence, throughout the world. Ed is one of the pastors who helps administrate the European fund. Take a look at the video here and check out the SGC Missions blog here for further information and ways to give, including to the development funds!
CrossPointe Church is in partnership with Sovereign Grace Churches in that we share the same mission and values. Here are a few ways to keep in touch with what is going on.
Where Christ's Love Changes Lives!
Our address is: 365 Jones Station Road