Weekly Update
September 21 - September 27, 2022
Sunday, September 25, 2022
A Great Commission Church
Ephesians 4:11-16
Please note that masks are not currently mandated, only recommended during Sunday services.
Corporate Prayer
Jesus said His house should be a house of prayer. Starting this week, we invite all prayer warriors to join us every Friday morning, 8-9 a.m. in the church sanctuary to pray for our nation, our community, and one another. See you then!
Middle School Bible Study
Middle School Sunday Bible Study to begin this Sunday, Sept 25! NEW TIME, 9-9:45 AM in the prayer room. Any questions, contact Denise Colebrook via Faithlife or dcolebrook@arnoldchristianacademy.org OR 410-982-3677
OCC Luncheon
Christmas is 3 months away but the OCC committee is winding up this year's fundraising with a luncheon on September 25th. This is our last event for the 2022 season. We will be going to the warehouse in October and packing the boxes in November. Please be generous as each box is a Gospel opportunity.
Women's Breakfast (TBD)
Ladies we will be planning a women's breakfast for the fall, but we need your help organizing and planning. If you would like to help plan the meal, communicate details, or you're interested in sharing a devotion or testimony, please contact the church office.
Men's Breakfast
The men of CrossPointe Church will be meeting for breakfast, worship and fellowship on October 8 at 8:00 AM. Bring your favorite breakfast food to share. The church will provide beverages. Great opportunity to invite a friend!
Musicians and Tech Individuals Needed
We are looking to expand our worship and tech ministries! Do you have musical skill or a desire to learn the soundboard, lyric projection, or lights? If this describes you and you have a love for Christ and a desire to serve, please reach out to Eddie Spuler (espuler@crosspointemd.org).
Photographer needed!
OCC is looking for someone who likes to take pictures to document our events with photos. If this is you, please contact Sue Guzik in person or text 410-980-0684.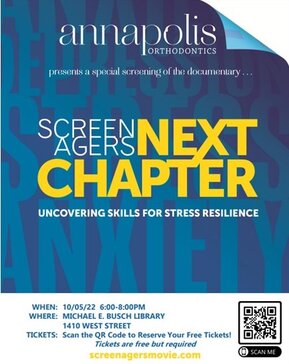 Teenagers and parents are all invited to come & watch Screenagers: The Next Chapter hosted by Annapolis Orthodontics! This movie offers insight into teens growing up in a world inundated with electronics, and it gives practical advice about interacting with screens in a healthy way. Its emphasis on healthy coping skills, personal connection, and community demonstrates that help is available, and it is good to rely on one another.
After the movie, Bruce Turnquist, a licensed psychologist will be available to answer anonymous questions the audience submits. Our hope is that the movie and subsequent discussion will help equip you and your teenager to navigate healthy relationships in the modern world.
New Form for Building Requests
Anniversaries & Birthdays
Anniversaries
Steve & Sue Napolitano, 9/2
Glenn & Julie, Briles, 9/3
Scott & Angela Crook, 9/4
Ed & Robin O'Mara, 9/5
Ray & Anne Angell, 9/16
Peter & Annie Cox, 9/21
Adam & Jeannine Ward, 9/27
Birthdays
Bill Keksz 9/5
Ben De La Fuente, 9/7
Noah Crook, 9/11
John Protzman, 9/12
Rachel McMahon, 9/14
Dori Cefaratti, 9/17
Al Woodward, 9/23
Terry Goodman, 9/26
Are we missing your anniversary or birthday?
Sovereign Grace: Our Family of Churches
New Sovereign Grace Missions Video (Featuring Ed!)
There is a new Sovereign Grace mission update about the Sovereign Grace Development funds and how God is using them to see the gospel go forward through our family of churches. The development funds are the result of generous givers committed to seeing the gospel proclaimed and churches established in places that don't have a gospel presence, throughout the world. Ed is one of the pastors who helps administrate the European fund. Take a look at the video here and check out the SGC Missions blog here for further information and ways to give, including to the development funds!
CrossPointe Church is in partnership with Sovereign Grace Churches in that we share the same mission and values. Here are a few ways to keep in touch with what is going on.
Where Christ's Love Changes Lives!
Our address is: 365 Jones Station Road