Weekly Update
November 16 - November 22, 2022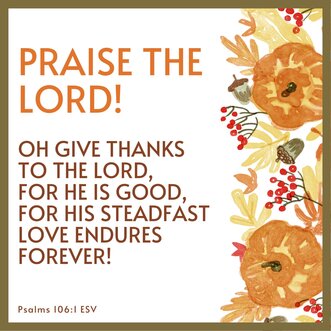 Sunday, November 20, 2022
Thanksgiving Service
Please contact Scott, scrook@crosspointemd.org, if you would like to give a testimony.
Cefaratti Care Group Thanksgiving Meal
Thursday, November 17, 6:30- 9, at the home of Maureen Czebotar, 865 Wilson Rd N, Arnold. You are welcome to join us, even if you haven't yet found a care group home. Turkey and dinner rolls provided, bring a side dish or dessert to share. RSVP Please!
Text 410-544-2004 or email innspiration@gmail.com
Church Office Hours for Thanksgiving
The church office will be open by appointment only next week, 11/21-11/25.
Ladies' Christmas Brunch
Ladies-Interested in strengthening our bonds as sisters? In developing new friendships? Come to our Ladies Christmas Brunch on Saturday, December 10th at 9am-11am. Enjoy good food! Music! Fellowship! Bring a dish to share. If you would like to give a testimony of how God has blessed you contact Joyce Spring by November 30th. If you are coming sign-up in the lobby.
Operation Christmas Child
The final count is in. The church packed 252 Operation Christmas Child Shoeboxes and individuals and families added another 42 for a grand total of 294. Thank you to everyone who helped in any way this year to spread the Gospel to children worldwide. Now the OCC committee is going to take a break but we will be back in January. In the meantime, if you would like to make a donation, you can put a check made to CPC and OCC on the memo line or cash in an envelope labeled OCC in the tithe box or electronic transfer noted for OCC. We may never see the end results here on earth but many will be in heaven because of these shoeboxes.
Corporate Prayer
Jesus said His house should be a house of prayer. We invite all prayer warriors to join us every Friday morning, 8-9 a.m. in the church sanctuary to pray for our nation, our community, and one another. See you then!
New Form for Building Requests
Anniversaries & Birthdays
Anniversaries
Larry & Deb Rinker, 11/4
Rick & Diane Sardella, 11/25
Birthdays
Susan Morgan, 11/1
Scott Crook, 11/5
Sue Guzik, 11/6
Deborah Logan, 11/10
Angela Crook, 11/11
Rosa Calvert, 11/17
Richard Jones,11/17
Michael Molinaro, 11/18
Steve Napolitano, 11/21
Debbie Collins, 11/24
Kat Skelley, 11/28
Jessica De La Fuente, 11/29
Are we missing your anniversary or birthday?
Sovereign Grace: Our Family of Churches
New Sovereign Grace Missions Video (Featuring Ed!)
There is a new Sovereign Grace mission update about the Sovereign Grace Development funds and how God is using them to see the gospel go forward through our family of churches. The development funds are the result of generous givers committed to seeing the gospel proclaimed and churches established in places that don't have a gospel presence, throughout the world. Ed is one of the pastors who helps administrate the European fund. Take a look at the video here and check out the SGC Missions blog here for further information and ways to give, including to the development funds!
CrossPointe Church is in partnership with Sovereign Grace Churches in that we share the same mission and values. Here are a few ways to keep in touch with what is going on.
Where Christ's Love Changes Lives!
Our address is: 365 Jones Station Road