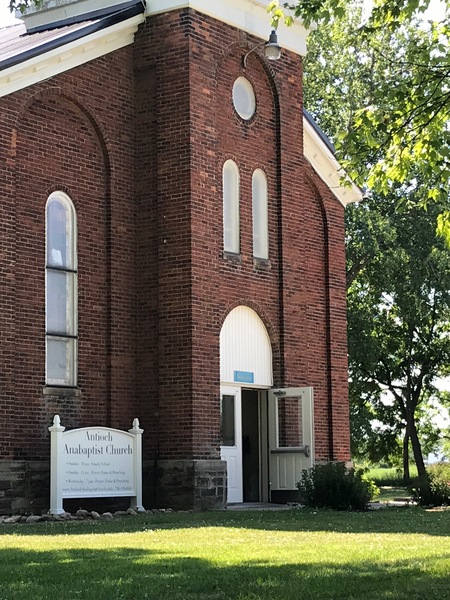 One-Anothering Well: A Commitment to The New Commandment
Some News You Can Use from Antioch
If you did a man-on-the-street poll and asked "how would you define a Christian" what do you suppose they would say? If you asked the average person who attends the average church "how would you define your fellow church-goers or church? What would they say?
What if we asked people who have visited our church or those who attend? If they were honest, what would they say? The answer to these questions should interest all of us; and we should do all that we can to see that we answer as Christ would answer.
The answer is not "holier than thou" or "hypocrite" or "judgmental" as some on the street or average church might say. Nor is it "doctrinal skirmishes" or "denim skirts". The answer is defined clearly by Jesus Christ whom every Christian is obligated by loving devotion to follow.
The Christian is to be (not behave like) one who in everything and to everyone operates with a motive, manner, message, and mission characterized by Christlike (not culturally defined) love.
The enemy of true love is whatever threatens righteousness. The enemy of unbiblical love is whatever threatens one's love for self or an idolatrous self-concept.
Christians are people committed to the new commandment of Christ. Whatever we think, say, and do, we do for the highest, purest good of another, and to demonstrate what God's love is and does.
Friend, does that define you? Is every interaction with every human being you encounter, everything you think, say, and do, motivated by Christ? Does your love seek to adjust or bend others to what pleases you or to what is best for them? A new command I give unto you, that ye love one another; as I have loved you (From John 13:34-35).
Today I'm calling us all to a new level of commitment to the new commandment to love.
While we cannot control what others think, say, and do, we can and must make sure that everyone at Antioch loves and is loved well. Love is not merely sentiment. It seeks to be and do good, not just look, or feel good.
Emotions of love must be the result of true and faithful love. I may have to love in a way that does not make someone look or feel good. But it is for their good and I'll do so in a considerate way.
The local church is a place where people learn and practice loving each other (even the not so lovable) well. It's what Christ defined as His "brand" (1 John 3:14).
We're learning. We're practicing. We're also engaging in whatever it takes to become a compelling community of believers who are noticeably living in unity, growing in maturity, and fervent in charity. Diverse people demonstrably in love with each other.
In Jesus' discourse to His disciples, on the night of His going to give His life, in love, for their (our) good, He commands them (and us) four times to love each other (John 13:34-35, 15:12, 17).
Why the emphasis? In part, they were fighting among themselves about who was greatest! Comparing ourselves among ourselves and injuring others for our own benefit is not only unwise, but also disturbingly unloving.
Jesus calls the kind of love we are to have one to another a "new commandment". What's new? The original commandment, called the great commandment, was to love our neighbors as ourselves. We know how to do that because we know how to manipulate circumstances, possessions, and other people to our benefit.
But Christ's command is new: Love others like He loves us. He then indwells us with His holy Spirit to empower the kind of love He expects.
To have love one to another is to possess the capacity, ability and control of sincere appreciation and high regard for each other in such a way that it aims at their greatest good and puts the character of Christ and His selfless love where others can behold and experience it (Rom. 5:5, 6-8).
Let's look at seven ways we can practically love one another well daily, starting today:
1) Love is commitment before emotion (Pro. 16:3). Love grows out of faithfulness to Scripture not by following sentiments (1 John 2:3-6).
A branch united to a healthy vine grows fruit. Our love grows out of and evidences our union with Jesus and commitment to continual practice of biblical love (John 15:5-17).
2) Love seeks to be good, not look good. It gives from roots grounded in principle, not pragmatism, politics, or personal preferences. Love's goal is the highest good of others after consideration (Heb. 10:24).
Love studies to discern, then do what is best, not convenient. It discerns when to be tender or tough, silent or speak, to confront or cover sin, to disciple or discipline. It's never self-serving or self-righteous.
3) Love goes all in to give, not get. It gives generously. Like grace, love gives what is needed, not deserved. (1 John 3:14-18).
Someone said, "You make a living by what you get; you make a life by what you give." Love finds opportunities to serve and bless others without remuneration (Gal. 5:13-14, Rom. 13:8-10).
4) Love seeks cooperation and communion, not competition or comparison. Love invests its energy in the edification of others; in esteeming others above self instead of exalting self above others (Phil. 2:1-5).
5) Love walks at least twice as far as is reasonable (Mt. 5:38-42). Some people require more time, distance, effort, and grace to get to a godly destination or disposition. Go the extra mile, Christ did (Phil. 2:6-8).
6) Love talks half as much as it listens (Jam. 1:19-20, Eccl. 5:1-2). It asks good questions with the goal of hearing and understanding another's story or perspective and waits considerately before speaking.
7) Love rescues and recovers what sin has ruined (Gal. 1:3-4). It's Christ's mission through us (Lk. 5:31-32, 19:10, 2 Cor. 5:18-20).
Love finds no pleasure in other people's pain. It stoops to pull those who sin up and will not stand for putting those who've sinned down (To learn more click here).
Friend, if you haven't been habitually loving others like Christ loves you and them, you haven't been behaving like a Christian. It's time to be one. Talk to God about it and lay hold of His wonderful and glorious new commandment.
Don't let go until He blesses you in such a way that going forward your love to all others, especially those right here at Antioch, will be the kind of love that defines you as a Christ-follower who is living in unity, growing in maturity, and fervent in charity because Christ's holy Spirit rules your heart and mind. Today, right now, you can make a commitment to the new commandment. Will you?
We're real people, with real problems, seeking real progress spiritually; hungry to manifest a lively hope in Christ.
Our address is: 4649 Alabama Rd, Medina, NY 14103, USA