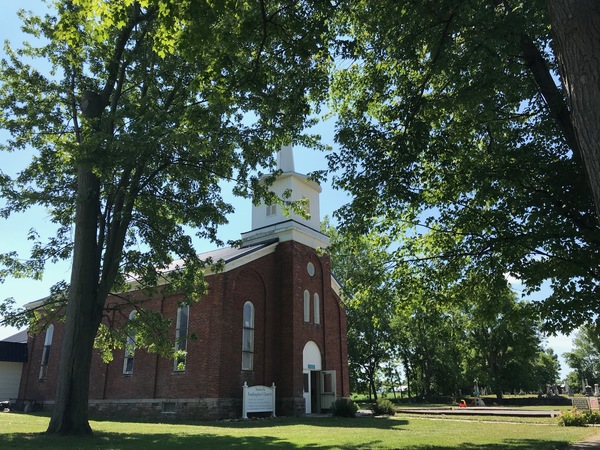 One-Anothering Well: Members One of Another
Some News You Can Use from Antioch
When one becomes a member of a social, political, religious or civic organization they do so to identify with the values and mission of that organization. Their membership has meaning and purpose as they work together for a common cause.
Families are made of members who share a common ancestry, identity and responsibility to secure each other's well-being and future generations, bring honor to the family name, and become productive positive influences in society.
In each of these examples the members are joined one with another striving to maintain common values and objectives. Now, the human body also has many members (hands, feet, eyes, ears, etc.) joined together but in such a way that they are not just joined one with another, they are members one of another. Whatever happens to one member affects the whole body - all other members. Stub a toe and the who body knows!
God likens those born again to a spiritual body, a living organism (not religious organization) with members one of another, organically joined. Those born again are placed into the family of God as members who share common ancestry: Not Adam, but God; and a common identity: Not self or sinner, or guilt or shame or past or personality. They share the life of Christ, His ancestry, His past, present and future. His identity!
Members of God's family also bear the responsibility to secure each other's well-being, future generations, and bring honor to the family name by becoming productive positive influences in society for the cause of the gospel.
Moreover, they become members in particular of the organic, spiritual body of Christ: Members one of another, not just members one with another. God calls this body the church.
Everything one member thinks, says or does, affects all others. What you and I think, say and do affects the entire body of Christ - let that sink in! When one of us stubs our spiritual toe or stumbles through sin, self-centeredness, or circumstances of life, suffers or succeeds, it affects us all (1 Cor. 12:25-27).
The mission of effectively exalting Jesus, edifying each other, and evangelizing the lost is every-member dependent.
The body of Christ, the church, does not work as effectively or remain as healthy when body parts (members) are missing, spiritually unhealthy, have unattended needs, or for other reasons remain unavailable or disconnected.
Every local church is every-member dependent because every member has a unique function within the body, placed there by the Creator, our Lord Jesus Christ. Let's consider One-Anothering Well: Members One of Another (From Rom. 12:1-8).
To be a member in particular of the body of Christ one must be born again - that's all. To be a member in particular of the local church one is to have a credible evidence of the new birth, has followed the Lord in scriptural baptism (immersion), and has been given and accepted the right hand of fellowship.
With membership and a conscience void of offense between God and man the believer is then welcome to participate joyfully and peacefully in the Lord's Supper (communion), the table of God's family!
They are also expected to be active and committed contributors to the welfare of all members and the work of our mission. Membership must be meaningful. It's too serious to be casual or half-hearted.
Every member of the local church must be committed to caring well for each other, cooperating in the co-mission Christ has given us, and securing the continuance of the church 'til Christ comes.
Here's three things that will help us grow healthier as members one of another serving together in one accord:
1. Abide, Don't Just Attend. Our fellowship begins in spiritual union with Jesus Christ and therefore unites us to other believers in compelling community that is invigorating and inviting (John 15:5, 1 John 1:3-7).
We are to work toward being "inseparable" from this fellowship except under the most extreme circumstances: Like an arm or leg (Rom. 12:4-5, Eph. 4:25), or in some respects a marriage (Eph. 5:29-32).
2. Awareness of Your Oneness Is Built on Deeds Not Sentiments (Col. 4:7-9, 12, 1 John 2:19). An amputated limb is affectionately remembered, missed, and at times even "felt", but is also no longer useful.
Avoid living, loving and serving each other off past deeds, accomplishments, selfish gain or sentiments. Make yourself a meaningful member whose ministry to others would be sorely missed today (Rom. 14:7).
3. Be Active but Not Aggravating (Eph 4:12-16, Gal. 5:13-15). Develop healthy actions, attitudes and affections that foster good will and stable, secure relational health among all others at our church (2 Th. 1:3).
Every child of God is gifted. Know your role, be faithful, and stay in your lane (1 Cor. 12:17-20, Eph. 5:25-27). The health of our church is dependent upon every member identifying, developing and serving their spiritual gifts and resources in a manner that nourishes and cherishes each other.
Friend, perhaps your membership here is defined as "with others in our church": You attend regularly, serve, give, love but do so out of convenience or culture, not deep conviction and commitment to all others and our mission.
Maybe you're not a member yet. You come but seem to be an outsider or a spectator, not a participant, or member in particular with a purpose. In either case would you pray about becoming a member one of another? Connected, committed, in community.
We can all be all-in and committed to making Antioch a gospel-revealing, not just gospel-preaching, community. A church that as one author said, "displays the power of the Word we hear through the community we see."
Will you help us be a church where everyone commits to living in unity, growing in maturity and being fervent in charity? Will you seek the next step to being a member who makes a difference? This series of messages will help you identify steps to take. You can also ask a mature believer to disciple you in meaningful membership.
We're real people, with real problems, seeking real progress spiritually; hungry to manifest a lively hope in Christ.
Our address is: 4649 Alabama Rd, Medina, NY 14103, USA