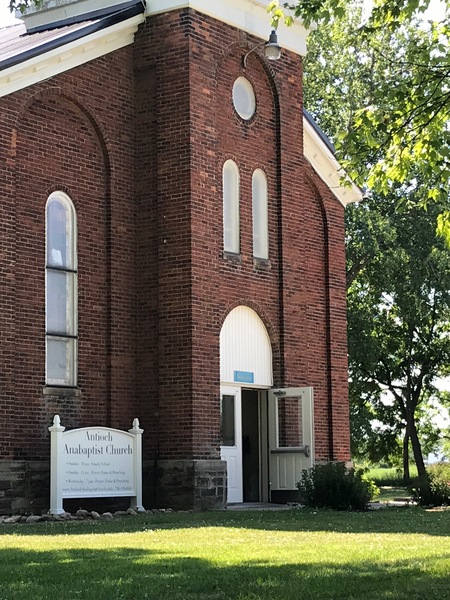 One-Anothering Well: Kindly Affectioned
Some News You Can Use from Antioch
What do you naturally cherish or favor? You know. It is the thing you desire to be first in line to attain. Your affection for it is effortless. It is what causes pain when denied and pleasure when delivered.
Ask a mother what comes naturally, and her affections will be kind, generous, and tender toward her child. Fathers and siblings also have this kind of natural or kindly affection.
Blood is thicker than water ancient wisdom suggests. It implies familial bonds are stronger than all other friendships or love. In Christ, our heart should produce this kind of natural familial affection for all other believers (1 Th. 2:7-12). Does this describe you?
Church members are called to a familial bond where blood (the blood of Jesus Christ) produces a bond that is stronger than any other friendship or love. After all, we're members of the same body and family. We're blood kin in Christ (Mk. 3:31-35).
Christ's blood is thicker than water, so we seek to never belittle or be-grudge and to always bless and build each other up: A ministry to all members (From Romans 12:4-10, 16).
To be kindly affectioned is to naturally show favor that is disposed to tenderness and familial love. In two places the Bible speaks of those "without natural affection". They are hard-hearted, unkind, reprobate and selfish. But the believer is not so because they are rooted and grounded in the love and life of Jesus Christ.
To honor and prefer others is to promote what advances another in status, rank or fortune: "Go ahead of me, please". It will not rob one's dignity or worth: "I go first".
This quality of relationship creates compelling community characterized by genuine humility that creates an atmosphere that promotes healthy relationships where tender affection and appreciation for each other replaces indifference or cool acceptance.
We one-another well when we harmoniously minister to every member, not a select or preferred few. This must be our normal. Without exception we only think well, speak well, and act well, one to another.
Kindly affectioned means we cannot think poorly, speak poorly, look down upon or mistreat any other. When this is true church-wide, we'll have a compelling community that powerfully reveals the gospel. A few thoughts to help be closer kin:
1. Avoid Relational Herniation (Rom. 12:16, Pro. 30:32).
· God did not design relationships to lift up oneself. We're too heavy: it causes pain. You risk serious injury to our body if you seek to elevate yourself. Work at making others look, sound, and be good.
· When we seek to elevate others, to look for and affirm the good in them, to enjoy and respect them, and let them know it, we'll have the inexhaustible power of God to help us lift them above ourself.
2. Practice Putting Others First until It's Painful, Then Keep Practicing (Acts 24:16).
· Relational health can be a painful process. The pain of proper practice (and some failure) will give way to pleasure as you transform the fat of lazy relational habits to new and healthier ones.
· Make a move toward and greet others in a way that avoids unhealthy offenses. Prioritize greetings by the hardest to easiest and in such a way that lets them know you can be trusted and a source of help.
3. Relational Security Is Grown by Deposits Not Withdrawals (Rom. 12:10, 16).
· Build another's worth by not worshipping your opinions / abilities (Jer. 9:23-24). Bank accounts require deposits to grow secure. Being kindly affectioned is the currency of healthy relationships and makes room for an occasional good faith "withdrawal" when we become selfish or sin against others.
· Being generous givers of grace and charity, ministers of what is needed not deserved, builds relational reserves. Avoid thinking, saying, and doing things that dimmish the worth of others emotionally, spiritually and relationally (withdrawals). Invest in making the riches of Christ's grace accessible.
When our hearts are humble, we'll seek God concerning changes we need to make to view every other member as one deserving of fondness, tenderness and generosity. We'll seek to advance their status, rank, and fortune.
This reveals what living in unity, fervent in charity and growing in maturity is. Will you commit to a ministry to all members in good faith - to one-anothering well and building a compelling community?
We're real people, with real problems, seeking real progress spiritually; hungry to manifest a lively hope in Christ.
Our address is: 4649 Alabama Rd, Medina, NY 14103, USA