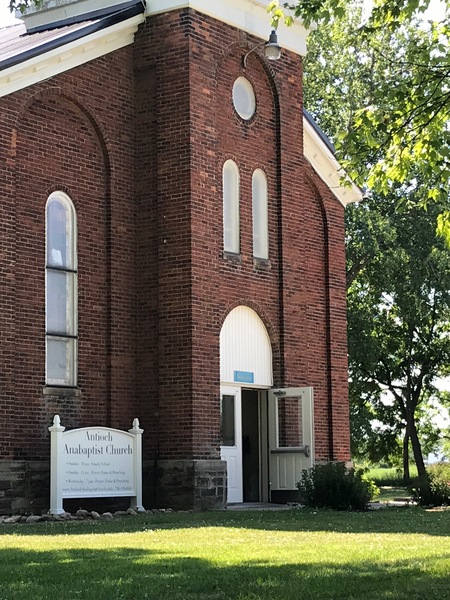 One-Anothering Well: And Be Ye Kind
Some News You Can Use from Antioch
When you think of those who engage in healthy and fulfilling relationships, get along well with others, make and keep friends easily, and maintain good relationships, what attributes come to mind? Those who one-another well have at the root of their relationships the fruit of God's indwelling Spirit: Love, joy, peace, longsuffering, gentleness, goodness, faith, meekness, temperance. Only living things can produce fruit.
Fruit can't be manufactured, it is grown. For there to be healthy relational fruit, there must be life-supplying roots. If we choose to relate to others through the works of the flesh (sin and self-centeredness) relational roots wither, dry up, and eventually die. Some works of the flesh that get in the way of healthy relationships include complaining, competing, cancelling, being critical, contentious, controlling, condemning, or cruel.
But God's word says, "And be ye kind one to another, tenderhearted, forgiving one another." Good relationships are the result of recognizing corrupt motives, mouths, and manners that are wrapped up in sin and self, then refusing to give them place in our relationships by taking personal responsibility to tenderheartedly give to each other the gift of kindness and forgiveness, not what our flesh thinks they deserve.
And be ye kind. We appreciate receiving the gift of kindness and forgiveness. So, we give it always to all others. When the basket of relational fruit is delivered kindness is its wrapping. If we don't see genuine kindness on the outside, we're lacking genuine life of Christ on the inside. (From Eph. 4:20-32):
1. The Loss from Frustrations (30). When we allow our frustrations and hard-heartedness to control our relational interactions it's not holy and grievances get in the way of God's power to one-another well.
2. The List of Flesh (31). Resentment, harsh feelings, anger with a history; rage, tantrums, violent passion; animosity, hostility; bickering, shouting down; insults, disrespect, demeaning, slander, abusive speech; wishing evil on others, spite, meanness. These are corrosive to the roots of relational health and hope.
3. The Life with Follow-Through (32, 20-32). And be ye. Put off, put away, put on. Stop this, do this instead! When we give way to the life the Spirit of God empowers, we promote relational health.
Kindness shows "an eagerness to put others at ease. It is a sweet and attractive temperament that shows friendly regard." It is "an unselfish concern for the welfare of others, and a desire to be helpful even at great personal sacrifice." Sounds a lot like Christ doesn't it (Titus 3:3-7, Pro. 18:24)?
Choosing acts of kindness loosens the deep and ruinous roots of bitterness that defile and destroy relational health so that they can be removed and replaced (Heb. 12:14-17). When we sense v. 31, we submit to v. 32 until only v. 32 survives. This begins healing the hurts and restoring hope in life together.
Let's be honest. Until you're ready to think, speak, and act with kindness and compassionate interest in others, you're not revealing Christ in you: Your flesh is in control and your relationships are at risk.
4. The Love that Forgives (32). When we value relationships as much as Christ, we overlook offenses and give no safe-haven to grudges and grievances that desire retaliation (Rom. 5:6-10). We choose to edify not vilify those who falter, to be a friend instead of a faultfinder. We choose ministry over misery.
One-anothering well is a choice you can and must make. To borrow from Moses, "I call heaven and earth to record this day against you, that I have set before you [relational] life and death, blessing and cursing: therefore choose life, that both thou and thy seed may live." Friend, be ye kind and forgive. Your family, friends, and our fellowship are counting on you. Christ who forgave you (and others here) deserves no less.
Relational health is the result of fertilizing healthy roots that can reach freely and deep into the life that is in Jesus. When the basket of relational fruit is delivered kindness is its wrapping. Put it on. If we don't see genuine kindness on the outside, we're lacking genuine life rooted in Christ on the inside (Eph. 3:14-21).
My friend, when others think of the gift of relational health wrapped with kindness, will your name be on the gift tag? It can and it should. I encourage you to choose [good relational] life: It starts in the heart by committing to loving acts of kindness that promote living in unity, fervent charity, and growing in maturity.
If you think these messages might be helpful to others you can share this link or sign them up here.
We're real people, with real problems, seeking real progress spiritually; hungry to manifest a lively hope in Christ.
Our address is: 4649 Alabama Rd, Medina, NY 14103, USA