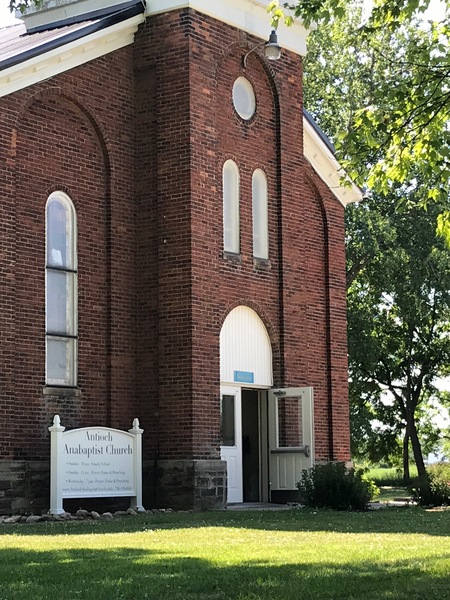 Are Gifts the Reason? Yes.
Some News You Can Use from Antioch
Have you ever received a gift that was so thoughtful, so perfectly tailored to your personality or need that you knew the person who gave it carefully considered you and crafted their gift with you uniquely in mind? If feels good, doesn't it?
You've heard it many times, probably said it a time or two, "Jesus is the reason for the season". Is it possible that gifts are also the reason for the season? Yes. But!
Friend, have you ever been co-opted? Someone uses your name for their own personal gain without your permission and it doesn't feel good, right?
The commercialization of Christ's birth and giving gifts to each other misses the reason for the gifts this season and exchanges the person of Jesus Christ for a pagan excuse to covet what we don't need and allow cultural pressure to replace our lifelong, year-round praise to Christ.
When Jesus Christ was born, gifts were given to Him. May we consider that gifts are the reason this season and return our attention to giving God what he deserves (Honor & Holiness) and what others desperately need (Hope). Before we consider what gifts to give, let's be reminded of three reasons why Christians give:
1) To reciprocate the quality of Christ's love within us; 2) to reflect the consecrated love of Christ given to us: 3) to reveal the kind love of Christ to others. Gifts are always given, never earned; must be received but can be rejected or remain unopened; and reveal the recipient's attitude of gratitude toward the giver.
When the wise men came to Jesus at His birth, the gifts they brought were not given to each other or Mary. The gifts that season were given to Jesus Christ. Each of the gifts were carefully chosen and crafted with Christ in mind by these special envoys who led by a star traversed afar. (From Matt. 2:1-11):
When we have genuinely given our lives to God, we live a life that glorifies God. Let us never co-opt the name of Christ by failing to recognize who Jesus Christ is and to carefully consider what gifts He deserves:
1. Gold. Give Honor as To a King (Isa. 9:6-7, Lk. 1:26-35).
We reciprocate love to God when we give honor and glory to Jesus Christ for who He really is and not who we desire Him to be. He needs nothing, but deserves everything (Psa. 24, Rev. 5:9-14).
Friend, does your life reciprocate with a love that gives all glory and honor to Jesus Christ? When you recognize what He's given, you'll want to give back.
2. Frankincense. Give Holiness as Like a Priest (Eph. 5:1-2).
Christ went to great lengths to make us holy. The gift of incense given to Christ at His birth reflected the belief of the givers that Jesus was indeed the fulfilment of prophesy (Psa. 72:7-11, Isa. 60:1-7).
When we live a decidedly holy life, we reflect the belief that Christ died to make us holy and offer the fragrance of a life well lived (Rom. 12:1-3). Friend, what does your life presently reflect? Visit the altar of incense and give God thanks and praise.
3. Myrrh. Give Hope as If a Preacher (Mt. 1:18-23, Lk. 2:8-11).
The prophets of old preached the King and His kingdom (Mt. 3:1-2). In Psa. 72, Isa. 60 there was no mention of myrrh, only gold and incense. Those foretold of His 2nd coming as King of glory.
Myrrh points to His 1st coming to save us from our sins! The bitter herb becomes the blessed hope we preach (Tt. 2:11-14, Rom. 10:13-15)! By giving the gospel to others we reveal Christ's gift of love and the greatest gift ever given (John 3:16, 1:12-14).
Friend, the gift of God's love is wrapped in the gospel, please give it year-round! A gift can be received or rejected but never earned.


Gifts can also be received but remain unopened. To reject God's gift of the gospel reveal's one's ignorance or utter ingratitude. What is worse than a gift born of great sacrifice rejected by the recipient? To receive a gift and leave it unopened is careless at best and calamitous if left so (John 3:36).
Are gifts the reason for the season? Yes. But! Friend, there's a gift waiting for you. Whatever gifts you plan to give and receive this season, I pray you'll leave them be until you truly experience forgiveness for and freedom from sin and enter righteous and eternal life thru Jesus Christ our Lord.
To repent, believe, and receive the gospel is to open God's gift to you that changes everything. Friend, this season give God honor that reciprocates for His love, give God holiness to reflect God's love, and give others the gospel to reveal God's love. You don't have to wait for a special day to open or give God's gift, open and give it today! Click here to find out how.
We're real people, with real problems, seeking real progress spiritually; hungry to manifest a lively hope in Christ.
Our address is: 4649 Alabama Rd, Medina, NY 14103, USA