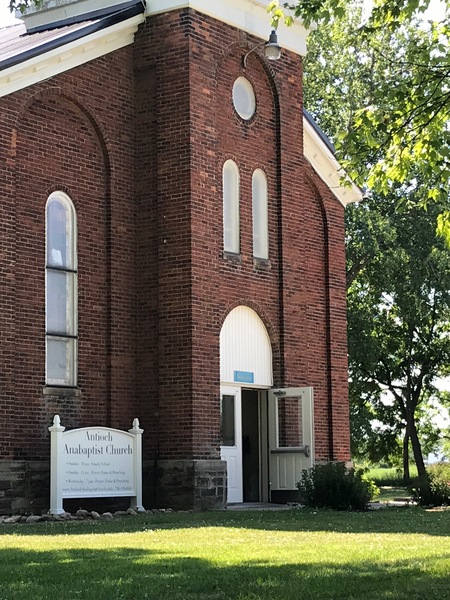 Forward A Year Ago: Our Identity in Christ
Some News You Can Use from Antioch
Have you ever felt like you don't know who you are anymore? Maybe you wonder how you fit in somewhere with all the demands and changes taking place in your life.
This past year of political, societal, medical, financial, and social unrest has created ideal conditions for a crisis of identity that makes some ask, who am I and where do I belong? An identity crisis can be a life changing opportunity or disaster.
When we face an identity crisis, we are at high risk of making irrational or unwise decisions that alter our lives and those we love. Many relationships are ruined by an identity crisis.
The prodding of "new year's resolutions" can motivate poor choices even more. Be careful and be Christlike. Let's look at the present help, perpetual hope, and powerful homage to God our identity in Christ affords each of us.
Since we began this church, we've brought in the new year with a message to be Forward A Year Ago (FAYA - 2 Cor. 8:7-11). Let's be honest, we're real people, with real problems, and real pain who make real progress when we live out of our new identity in Christ, not the old self. (From Gal. 2:20):
1. Our Identity in Christ is Present Help. So, Live Today Looking to Christ (Gal. 2:20a).
· I am crucified with Christ: nevertheless I live. Before you can have a new identity in Christ you must be crucified with Christ. Our daily resources are found in identification with His riches and risen life.
· This year, start now, wherever you are, whatever you or others around you go thru, look to the Lord for your help in time of need. He's always present (Acts 17:27-28, 27:20-25, Heb. 12:1-3, 4:16).
2. Our Identity in Christ is Perpetual Hope. So, Live Each Day Like Christ (Gal. 2:20b).
· Yet not I, but Christ liveth in me. Our identity in Christ enables perpetual, generous ministry that brings the God of hope to others and reveals the gospel that's been hid (Col. 1:25-29, 2 Cor. 4:1-5).
· In Christ we live like Christ and seize opportunities to tell others what Christ could when we couldn't! We're FAYA when we perpetuate hope by sharing our own difficult experiences (Rom. 5:1-5).
3. Our Identity in Christ is Powerful Homage. So, Live Each Day Lifting Christ (Gal. 2:20c).
· When we meet others in their identity crisis with powerful gospel witness, we do homage to the risen Lord and reveal the path to life that can only be found crucified in Christ (John 12:20-33, 14:6-9).
· Our new identity is powerful when it seeks to magnify Jesus Christ while also mortifying self (John 3:30, Col. 3:1-5a). Starting today, lower self, lift the Saviour; do homage to your identity in Christ.
· To be FAYA in revealing help, hope, and homage to Christ presently, perpetually, and powerfully remember your identity in the faith of the Son of God who has given us His Spirit (2 Tim 1:7):
1) Live Powerfully (Rom 8:31ff). You're more than conquerors. Live fearlessly.
2) Live Charitably (1 Pet. 4:8). Love gives, love forgives. Live fervently.
3) Live Soundly (Eph. 6:13-18). Trust God and serve Him. Live faithfully.
When we know and yield to our identity in Christ we'll have a present help, perpetual hope, and do powerful homage to God. Join me in starting this new year by renewing your mind and manner of life by virtue of reading, studying, praying, and yielding to your new identity in Christ. Start with a fresh study of Rom. 5-8, Gal. - Col. You'll learn who you are in Christ, and then put Him on!
My friend, God in you will help you live powerfully, charitably, and soundly. Will you ask Him to renew your identity in Him right now so you too can be FAYA?


Don't know who you are or where you fit in? Let this crisis of identity end today. Here's How.
We're real people, with real problems, seeking real progress spiritually; hungry to manifest a lively hope in Christ.
Our address is: 4649 Alabama Rd, Medina, NY 14103, USA