Weekly News
A Place of Grace -March 20, 2021
Special Speaker- March 21st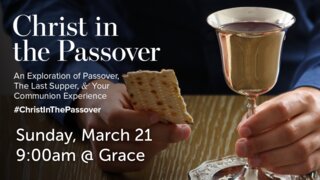 Join us tomorrow, March 21st, at 9:00am for a special speaker about Passover from a Jewish perspective. Stay for an additional presentation and Q & A at 10:30a.m., too.
Uganda: Books, Bags, & Medicine '21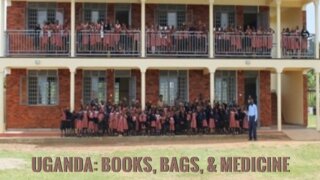 The Colemans are heading to Uganda in July! Would you consider donating toward: the library at Genesis Primary school, gift bags for the 20 school staff members, or toward prescription medicines for the medical clinic days? If so, you may make your check out to Grace Bible Church- (just earmark it toward Uganda 2021 Mission Trip). Please, more than anything, be praying for the trip- that the people would grow in their knowledge and love of our great God! Thank you MUCH!
Start Saving for VBS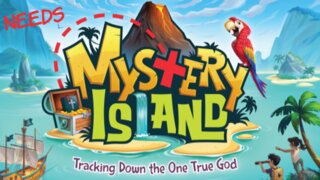 Please start saving paper towel and toilet paper rolls for VBS. We'll have a list out for other items needed soon. Thank you!
Our Church Family Fellowship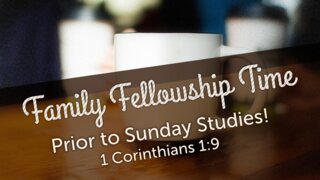 After an unprecedented year, it will be great to "get back together." Join us after the morning worship service for a church-wide family fellowship time before Sunday Study Groups meet at 10:30am. Enjoy coffee, tea, and donuts and catch up with one another after a busy week.
Reading Plan TODAY!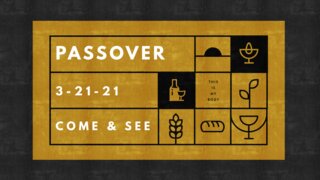 It's amazing how God works. If you are at the spot for today's reading (Matthew 26), then you will have read a perfect passage for our special event tomorrow, Christ in the Passover.
To join the New Testament Reading plango to your faithlife page, the A Place of Grace Group and check the activity feed or look under group readings on the right and choose CONNECT.
Missions Update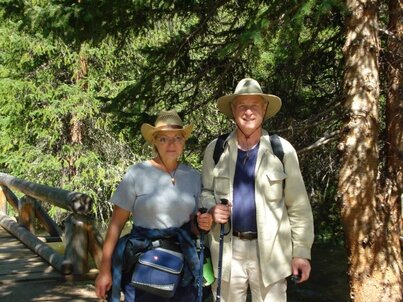 "We count ourselves extremely blessed to have Grace Bible Church in our lives. Not only by our being there to minister for 12 wonderful years, but also to have you as our sending church is more of an encouragement than we ever could have thought or dreamed of years ago. Your love, your support, your prayers, your encouragement, and your faithfulness have inspired us in so many ways. Thank you! We also hope (depending on the COVID situation) to be back among you for a weekend this summer. Until then, give each other hugs from us. We love you guys!" Read more...
Library Completely Open Sundays!!
The title of this book doesn't do it justice! It will be your best read of the year... See HERE for more detail.
The print and MEDIA libraries will be open on Sundays between the morning worship service and Sunday Study Groups. Come browse the shelves and check out books, magazines, DVD's and audio items in the back of the sanctuary and in the fellowship hall.
You may also come in to the church on Tues, Thurs, or Fri., from 10-2 or contact the office (285-9862) or request an item before Sunday and the office can set it aside for you to pick up.
You can browse our library online by clicking HERE: you can also get here anytime by going to the church website at aplaceofgracegbc.com . At the top left triangle menu click: "connect," "resources," and then "search our library."
Good Friday Service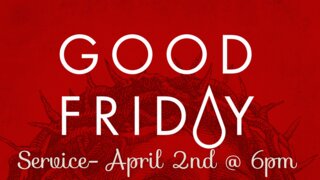 The Good Friday service this year will be April 2 at from 6-7pm.
Resurrection Celebration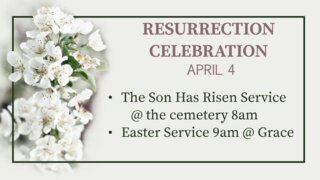 April 4 will be a day for celebrating the resurrection of our Savior! Join us for both the Son Has Risen Service at the cemetery (8am) and for the worship service at 9am at Grace.
Free e-book for March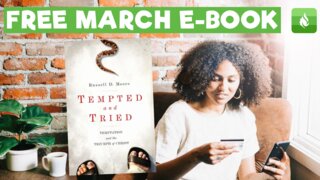 This month's free ebook from faithlife is Tempted and Tried by Russell Moore.. For those of you on faithlife with Grace, you have access to e-reader and it's monthly free titles. Get this $13-15 value free only in Feb HERE. See the office if you need help getting a free faithlife account 285-9862... happy to help!
Prayer Life @ Grace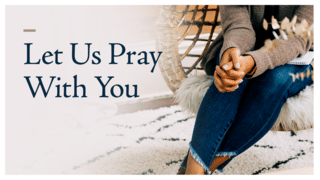 Want to stay up-to-date on prayer requests of the Grace Bible family? Go to the church app and click on prayers or visit the activity page at faithlife HERE. You can share a request by e-mailing the office@aplaceofgracegbc.com.
Want to connect with Grace online?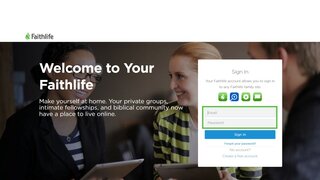 Connecting with our church family online all begins by getting a faithlife membership at faithlife.com, then adding "A Place of Grace" under groups . Besides having a place to read and share prayer requests (and so much more) you may get free access to faithlifetv and Logos Bible study. Contact the office if you need any assistance. We're happy to help (285-9862)
Our Grace Bible Church app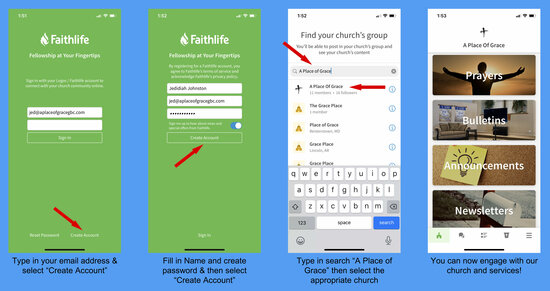 Want to stay caught up with what's happening at Grace? See this...
A PLACE OF GRACE
Our address is: 755 Spencer Parkway/PO Box 6248